Wires hang precariously between the trees at the edge of the Sanjay Dubri Tiger Reserve in the Siddi district of Madhya Pradesh. The voltage that shoots through the wires is dangerously high, much above the permissible limit – strung low by poachers that have only the worst intentions at heart. An unsuspecting female bear wanders close to the edge of the forest. Decades of anthropogenic pressure on the sloth bear population of the reserve, fueled by poaching, afforestation and rapid urbanization, have left the remaining bears in the area in a perilous and desperate state, forcing them closer to the edge of the forests in search of water to drink, and fruits and berries to eat. For this unsuspecting adult bear, her desperation for food is doubled by the fact that she has two mouths to feed, her own and that of the tiny cub that is clinging tightly to the fur on her back, utterly helpless and wholly dependent on his mother for food and protection.  It is this terrible hunger that drives the female bear to the edge of the jungle, and into the high voltage death trap that ensnares her at the periphery, killing her and orphaning her cub with a sudden evil jolt of electricity.
Forest Department officials find her the next morning, her cub still clinging to her limp body and trying desperately to nurse from his dying mother. They call in the vets from Wildlife SOS, but it is already too late for the mother bear, who succumbs to her injuries, leaving behind her terrified and confused baby.
Sniffer dogs arrive at the scene of the crime, and their expert noses lead them and the officials to the culprits. Caught red-handed with the tools they had used in their possession, the six poachers eventually confess and have since been arrested for crimes committed in violation of various sections of the Indian Wildlife Protection Act of 1972.
Rendered motherless by their cruelty, the ten-week old cub is transferred into the custody of Wildlife SOS and moved to our Agra Bear Rescue Facility, finding a new home and family waiting for him at the rescue facility's specialised Cub Weaning Centre. We name him Mowgli. The terror of all that he has seen and experienced in his first few weeks has left its scars on this tiny baby, and he appeared scared and restless. He refuses to eat initially, and paces constantly about the enclosure when not trembling quietly in a corner. At night, he cries incessantly, too confused and scared to sleep, despite the presence of Satinder, the keeper that has been assigned to him, who now spends his entire day and night at the cub weaning centre to slowly get the baby accustomed to his presence and eventually, hopefully, derive some comfort from knowing he is around.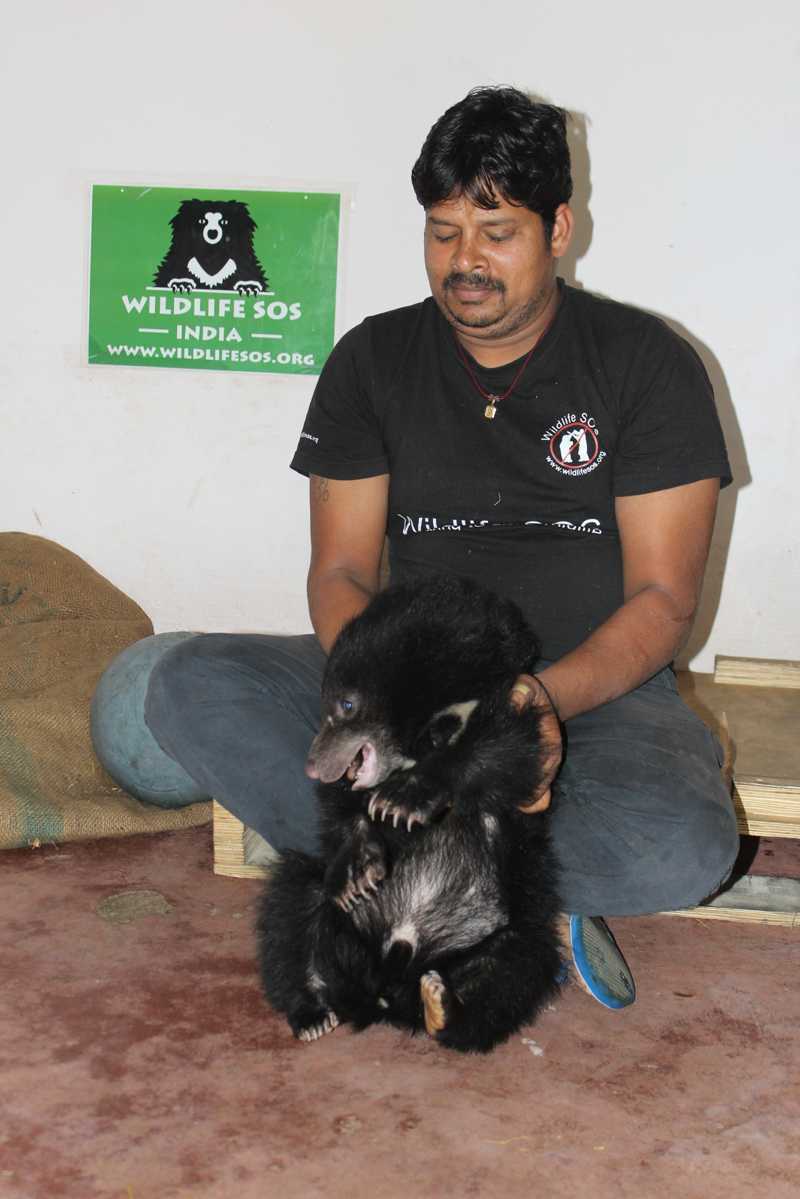 Satinder is gentle and kind, and has cared for rescued sloth bear cubs at Wildlife SOS for 14 years now. His years of experience have taught him the patience of a mama bear, and he spends hours cajoling Mowgli and calmly coaxing him to accept the bottle of warm milk he has prepared for the young cub. During play time, Satinder takes Mowgli to an open patch and encourages him to climb trees and dig little mud pits with his tiny paws, giving him room to explore and play without ever letting him out of his sight.
In time, Mowgli has developed a bond with his keeper, and appears to be reciprocating the love he showers on him. As he dozes off at night, he always does a quick check to ensure that Satinder is around before going to sleep. A surprisingly early riser, Mowgli is generally awake much before sunrise, and realising that his keeper is still asleep, will spend his time playing happily with his enrichment ball, tossing it noisily about the night shelter till the racket wakes up his keeper just in time for sunrise and the first bottle of milk for the day. He greets Satinder gleefully as soon as he is awake, running up to him with all the energy his little legs can muster. Mowgli is slowly developing a love for the outdoors with its exciting smells and sounds, and although he isn't strong enough to get far up yet, he has decided that climbing trees is his favourite sort of adventure, even scurrying up broken logs and sitting atop them proudly. His keeper is extremely fond of him, and encouraging of all his playful escapades and energetic running about, but particularly loves the warmer afternoons when our little bear tires of all the fun and just wants to snuggle up for a bottle of milk.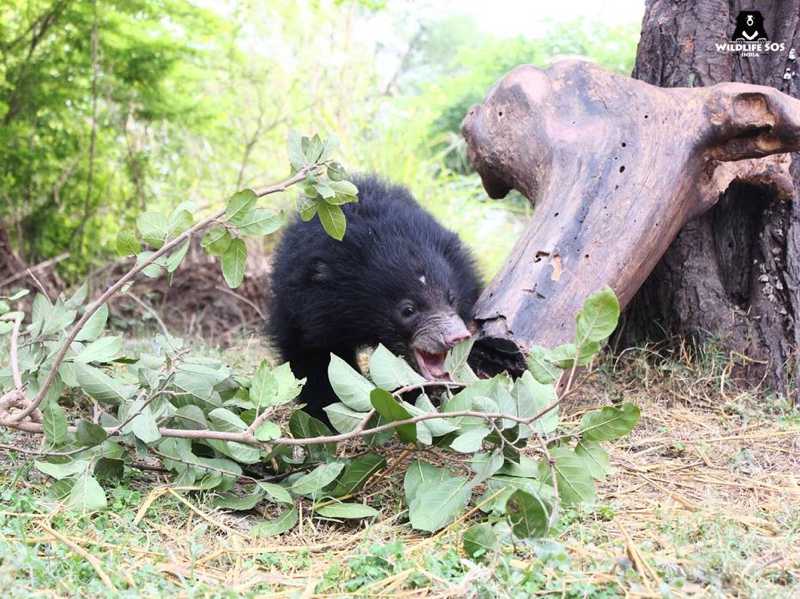 The vets at ABRF are thrilled to report that Mowgli absolutely loves his milk, and now feeds without any trouble, going through a bottle of lactogen every 3 hours as prescribed by them. He is growing well, and steadily gaining weight at a healthy rate – now almost 9.2 kilos!
We're all thrilled that Mowgli is settling in well, and has found a foster mother and best friend in his wonderful keeper. But we realise the huge undertaking and responsibility we have towards this delightful cub and ensuring that he lives a life of safety and good health. To help us provide Mowgli with the care he needs, consider sponsoring him at this link.