In yet another incident that proves that poaching and illegal trade of wildlife species continues to be prevalent in India, three poachers in possession of several kilos of rare pangolin body parts were intercepted in Gwalior, Madhya Pradesh.
The Wildlife SOS Anti-Poaching Unit (FOREST WATCH) recently received intelligence about an illicit wildlife trade cartel in the state of Madhya Pradesh. The Wildlife SOS team led by our co-founder Kartick Satyanarayan launched a joint operation with the State Forest Department and the M.P. Police Department in coordination with Wildlife Crime Control Bureau to conduct an undercover raid.
What followed was a daring operation that lasted several hours and resulted in the interception of three poachers on a motorcycle in the evening on 24th May 2016. We were able to nab the perpetrators in the outskirts of Gwalior city just as they were about to make their escape in the getaway vehicle. On searching the poachers; a bag containing over three kilograms of scales of the endangered Indian pangolin was discovered.
The contraband was immediately seized by the enforcement authorities and men were taken into custody. On interrogation, the poachers confessed that they had killed pangolins and removed their scales and body parts and were transporting them to sell to wildlife traffickers. They further revealed they were a part of a larger wildlife trafficking network that operated within the state and were in touch with other criminals involved in illegal wildlife trade in other states and Indo-Nepal border.
India is home to two species of pangolins-The Indian pangolin (Manis crassicaudata) and the Chinese pangolin (Manis pentadactyla).  They are also found in the neighbouring countries of Sri Lanka, Nepal, Bhutan and Myanmar. Both species are protected under Schedule I of the Wildlife Protection Act 1972 and the Indian pangolin is listed as Endangered on the IUCN Red Data List, whereas, the Chinese pangolin is listed as Critically Endangered.
Pangolin is one of the most traded species in the world and India is unfortunately a major supplier of pangolin meat and scales across illegal markets in China, Vietnam and Thailand. There is a great demand for pangolin meat in Southeast Asian countries, where it is a delicacy. Their blood is believed to have aphrodisiac properties and their scales are used in traditional oriental medicine to 'cure' various diseases, including headaches, asthma and certain cancers.  Local trade of pangolin meat and scales have also been reported in the states of Andhra Pradesh, Kerala, Tamil Nadu, Orissa, Manipur, Tripura, Assam, Nagaland and West Bengal.
Poaching of pangolins or the possession and illegal trade of their body parts is a criminal offence leading to imprisonment for between three to seven years. International trade of pangolins is prohibited under the Convention on International Trade in Endangered Species of Wild Flora and Fauna (CITES). However, despite such binding laws and strict regulations, there is a growing demand for this endangered species in the international market.
Vikram Singh Parihar, DFO Gwalior said "This was a joint operation based on intelligence that we received from Wildlife SOS and WCCB and we hope to increase our night patrolling and informal networking systems to prevent such heinous crimes. We are happy to take assistance from organisations like Wildlife SOS to fight this crime"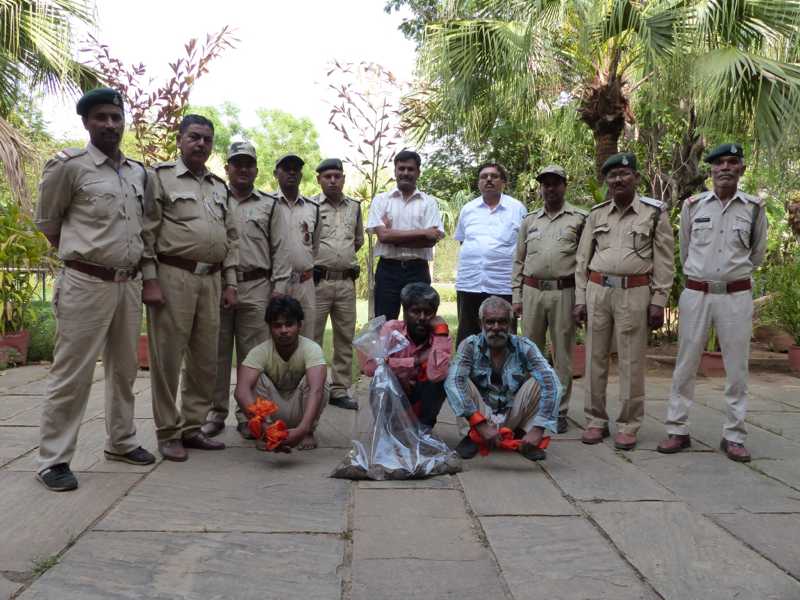 Kartick Satyanarayan, Co-founder of Wildlife SOS, said, "Pangolin scales can sell on the international black market from anywhere between $600-$800 per kilogram. Despite having a strong legal framework that regulates and restricts the flow of wildlife trade, incidents such as this confirm that poaching and illegal trafficking of wildlife species goes on right under our noses in the country. With a growing demand for its body parts in the international market, this unique wildlife species is being pushed towards extinction at an alarming rate."