For nearly all 53 years of her life, Rhea has been a circus elephant, facing horrific abuse and neglect. Possibly poached from the wild as a calf, torn away from her family and herd, she spent the early childhood years of her circus life being beaten into submission, punished regularly and deprived of food and water. She was kept tied in confined spaces, her movement restricted by heavy chains and tight ropes that dug painfully into her legs. The horror of her living and working conditions continued through her entire life, as she was forced to perform in the circus that held her captive.
Through those nearly five decades of trauma and unimaginable pain, Rhea had two sources of comfort- tied beside her in the dingy circus tent, sharing in her sorrow, were two more female circus elephants named Mia and Sita.
In the wild, elephants live in groups known as herds, and their high intelligence and sensitivity allow for the development of some of the most powerful, heart-warming familial bonds in the animal world. Trapped together in their miserable conditions, Rhea, Mia and Sita would have developed just that- a sisterhood strengthened only further by their shared experiences of pain.
In November 2015, Wildlife SOS managed to get together the paperwork required to secure Mia and Sita's freedom, but Rhea's rescue was delayed due to the last missing bit of permission. We had to take one of our most painful decisions, to leave behind their sister, to provide Mia and Sita the immediate veterinary care they needed. It broke our hearts to leave Rhea behind, but we always knew we'd come back for her, and fight with all our strength to get her freed too.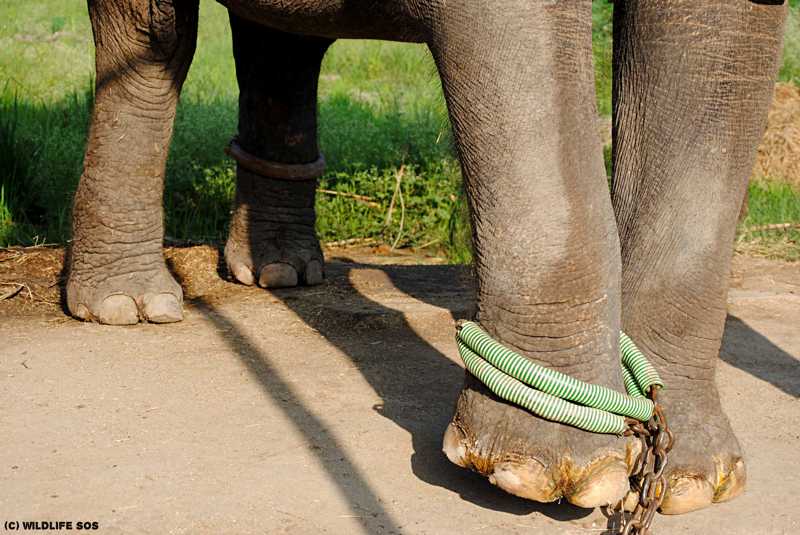 Her time in the circus has left Rhea riddled with ailments. Her feet are in atrocious conditions, with deep painful cracks running through her swollen soles. Her nails are cracked and her cuticles overgrown, testament to the neglect she has been subjected to all these years.She walks awkwardly, with a slight limp, and we are suspicious of more serious wounds or problems that can only be diagnosed once she is in our care at the Elephant Conservation and Care Centre, Mathura. Her gaunt frame is heart wrenching to behold, starved of any substantial or appropriate nutrition for her entire life. Her advanced age is also a cause for concern, and we are keen to get her to ECCC as soon as possible, to have our veterinarians, trained in specialised geriatric care for elderly elephants, to care for her.
Most importantly, Rhea needs the companionship of other elephants, particularly her 'sisters' to help her begin on the long road to recovering from the acute mental stress she has been under all these years, undoubtedly increased over the months she must have been alone feeling abandoned by her 'family'. She needs to experience the love and care of her herd again, along with the devoted attention of the Wildlife SOS staff, all geared up to save her.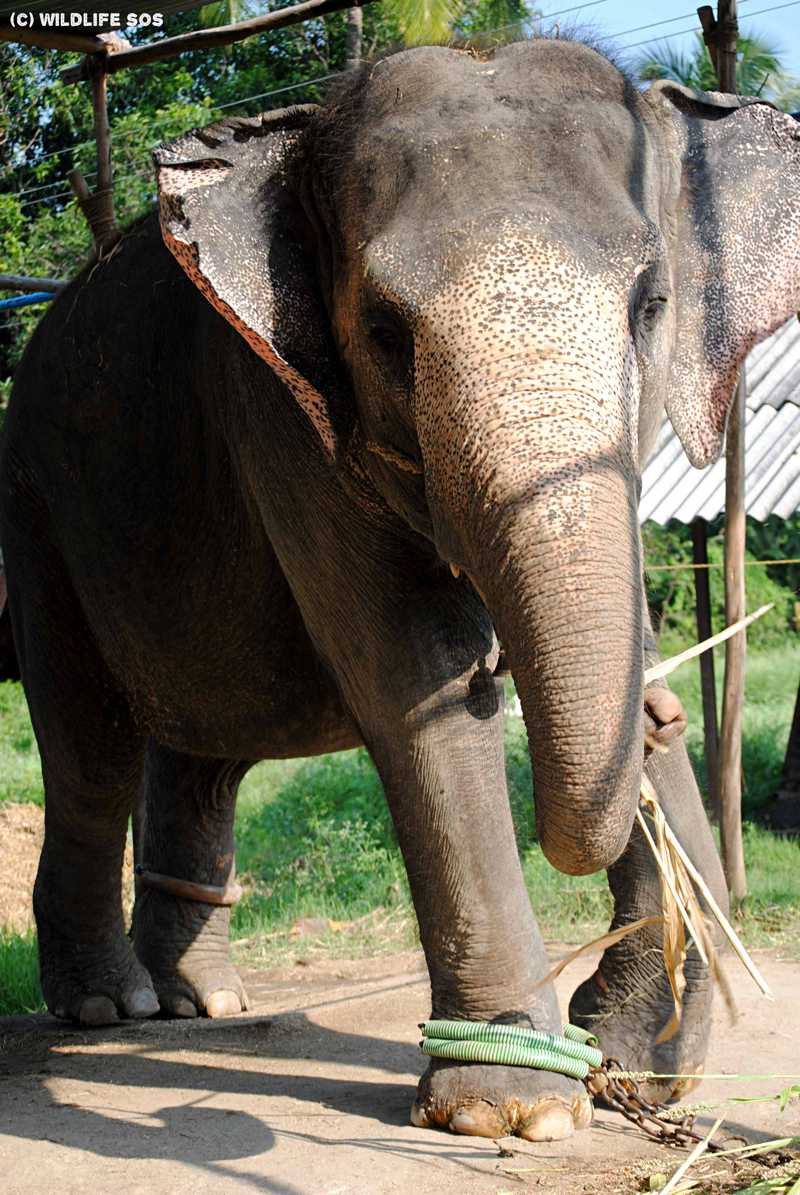 True to the promise we made this amazing elephant nearly five months ago, we're back in Tamil Nadu to rescue Rhea and reunite her with her companions, and she's now just one long road trip away from being reunited with the sisters she probably thought she would never see her again. Help us bring her home, and provide her with the new life she so desperately needs and deserves. Donate to Rhea's rescue here.