Observed on the second Wednesday of May, Root Canal Appreciation Day was created in 2005 to raise awareness and dispel misconceptions that people might have about root canals. It is also a day when we get to appreciate how dentists all over the world help to protect our teeth.

Dental hygiene is an important aspect of our lives. But most may not know that dental health is significant in the lives of animals as well. Poor oral health can result in malnutrition, behavioural changes, and a reduced lifespan in animals. All this can impact their ability to survive in the wild.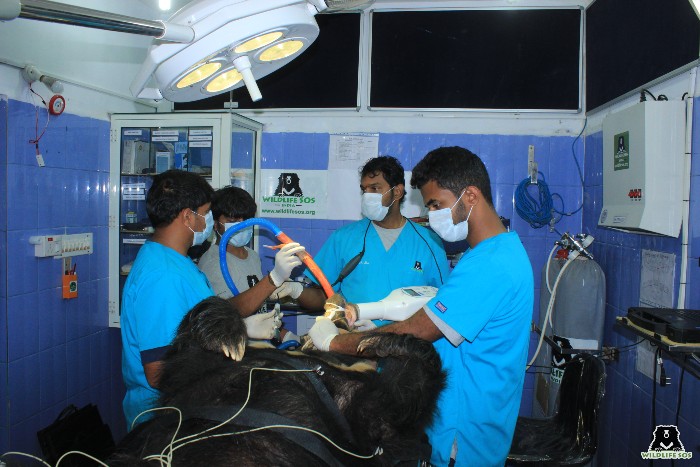 Wildlife SOS's veterinary team has pioneered root canal treatments (RCT), tooth extractions, and other endodontic (study and treatment of tooth-related diseases) procedures on rehabilitated sloth bears in India. The Wildlife SOS bear rescue centres are equipped with state-of-the-art equipment, such as an operation theatre, a digital dental X-ray machine, a dental suite, and thermal imaging cameras to carry out these specialised veterinary treatments.

A root canal is a dental procedure performed to save a damaged or infected tooth. It involves the removal of the pulp, i.e. the soft centre of the tooth, followed by the cleaning and sealing of the tooth to prevent further infection. The pulp is highly sensitive as it is made up of blood vessels, nerves, and connective tissue that help the tooth grow. It gets damaged due to deep decay in the tooth, injury, repeated dental procedures on the same tooth, or age-related wear and tear. A root canal treatment helps save the tooth and prevents the need for extraction.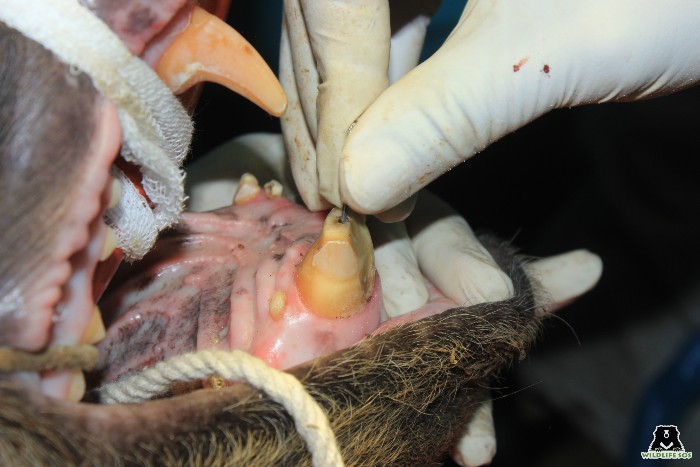 For many of the sloth bears under our care, the damage is a direct result of having their teeth, especially canines, smashed at a young age by their Kalandar owners to prevent the bears from attacking them. The exposed roots and rotting teeth led to severe dental infections, mouth ulcerations, and halitosis (foul breath), thus compromising the health and well-being of the bears. Painful dental problems also result in severe behavioural and dietary changes in the bears.

Thus, root canals and extractions are necessary procedures that have to be followed to ensure the health of the animal. Our veterinary team has successfully conducted various endodontic procedures, from root canals to extractions, on bears living with abscesses, infections, and broken teeth. Furthermore, our team is also frequently called upon to treat other wildlife. One such case was that of a tiger in Bellary zoo that was suffering from dental health issues.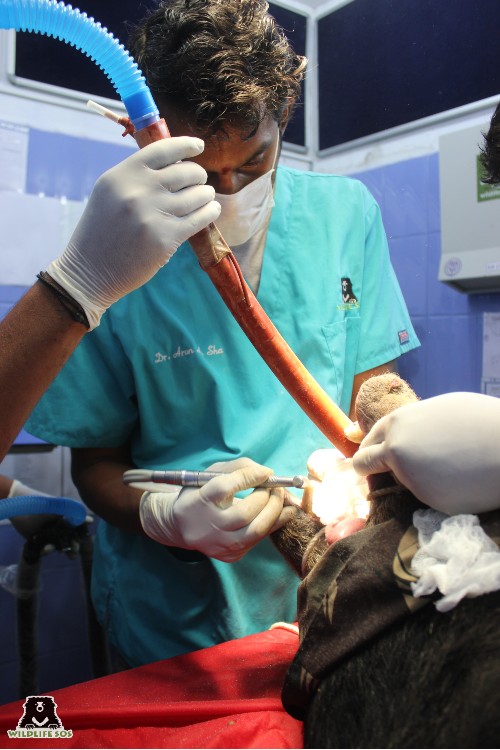 Our expert team of veterinarians was trained by some of the best vets from International Animal Rescue, UK, nearly two decades ago at the Agra Bear Rescue Facility. The training was done under the tutelage of Dr. Liza Millella, an extremely skilled specialist in veterinary dentistry who unfortunately passed away last year. We, at Wildlife SOS, take this opportunity to remember her and her great contributions that have helped us provide professional dental care for our sloth bears.

To secure the overall health of the bears in our care is a resource-intensive task. Consider becoming a monthly donor to make a lasting impact on the lives of these magnificent animals.