Zesty in spirit and compassionate at heart, our Staff of the Month for October is Agra Bear Rescue Facility's Senior Wildlife Biologist and Director of Conservation Projects, Mr Baiju Raj! Hailing from the Southern tropical town of palm-lined beaches, tranquil backwaters and hills laced in a cascade of lush green vegetation, Kerala, Baiju Raj has been with the Wildlife SOS team for almost a decade.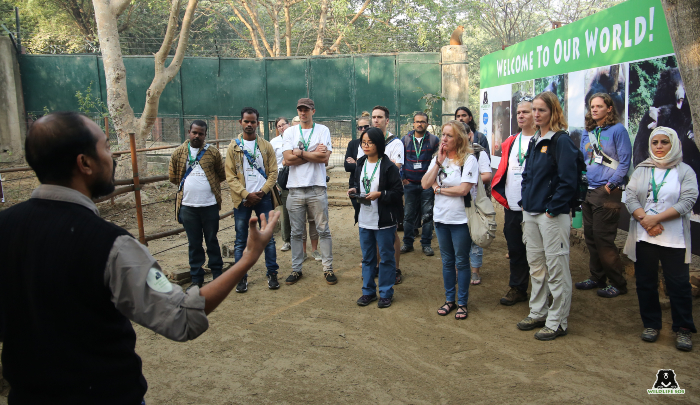 Baiju Raj is a professional herpetologist who is considered to be one of India's finest snake handlers. He is also recognized as a skilled field biologist and naturalist qualified to identify any venomous and nonvenomous herptiles native to the Indian Subcontinent. As a part of the Wildlife SOS family, he has been involved in various revolutionary projects including conducting aerial censuses of wildlife, employing GPS telemetry techniques and is trained to conduct a number of other field study investigation efforts using various tools, instrumentation and data collection programs in addition to his expert training in captive animal management.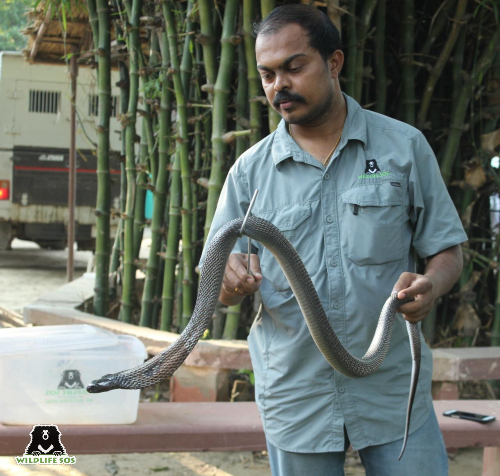 In a candid conversation with him, we learn more about his journey into the world of animal conservation and what led him to embark on his unwavering path to protect India's wildlife.
How did you first come across Wildlife SOS?
When I was a young student in Kerala, pursuing my Master's in Marine Geology from Mangalore University, Wildlife SOS reached out to me regarding a crocodile rescue. I got in touch with Kartick and got to know more about the mission. Intrigued, I travelled more than 400 km to assist the Wildlife SOS team in freeing and rehabilitating the crocodile. That was my first encounter with the organisation and I was inspired by their work from the start.
After completing my masters, I was certain that the next step for me was to join Wildlife SOS.
What got you interested in animal welfare?
From a very young age, I was surrounded by wild animals. My family assisted the Forest Department in rescuing and rehabilitating animals in distress. My entire childhood was spent around leopard cubs, jungle kittens, monitor lizards, snakes and innumerable other species. I would often cavort around with them and they became a huge part of my life. Growing up in close proximity to wildlife, I developed a nurturing bond with these animals and always had a soft corner for them. As I grew up, I realised that this was my calling. Thus, I dedicated my entire life to protecting and conserving wildlife.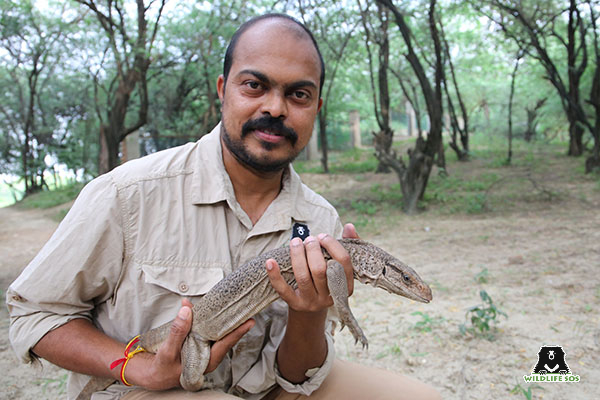 What is your favourite part about Wildlife SOS?
Very few conservation organisations understand that there is a distinction between conservation and welfare. While the two are interlinked with the common goal of preventing harm to animals, conservation devotes special attention to select species that are crucial in preserving biodiversity. In contrast, animal welfare focuses on the quality of life of animals as individual beings, rather than species, safeguarding the health and prosperity of all sentient animals rather than a select few. Wildlife SOS's philosophy prioritizes welfare, which eventually leads to conservation. My favourite part about the organisation is that we never say no to any animals. We go above and beyond to address any concerns related to wildlife, even if they might not be in our direct line of work.
What would you say is the biggest challenge you face in your job?
While there are a lot of setbacks in my field and in wildlife conservation in a larger context, I would say the biggest challenge I face is human hostility. In many such rescue operations, I have had to risk our safety to securely extract the animal.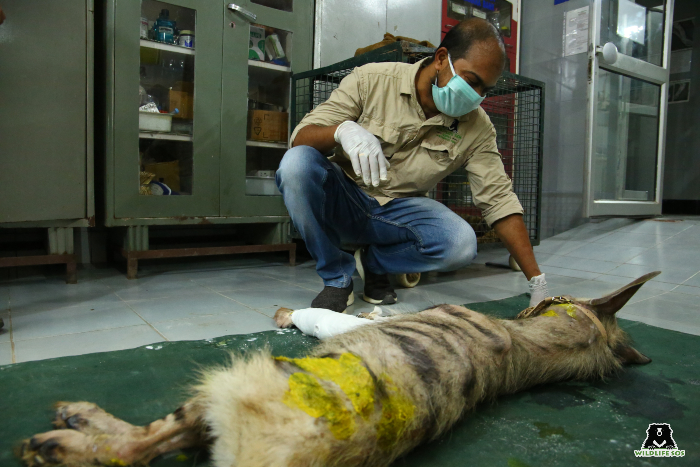 Once in Jharkhand,we were on a rescue operation to help a Sloth Bear that was a victim of human-animal conflict. However, the local residents refused to let us remove the bear from the location and wanted to incur harm upon it. They were under the impression that Sloth Bears were dangerous to mankind.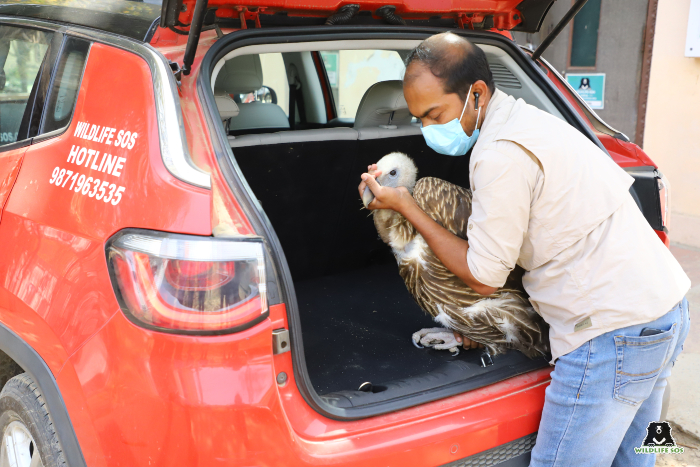 Similarly, when our team was rescuing Mohan, a begging elephant in Pratapganj, Bihar, a violent mob of over 300 people pointed guns at us, refusing to let us take Mohan away. Mohan was considered to be sacred in the region, often used in strenuous activities such as marriage processions and religious ceremonies. The rural community was oblivious that an Elephant belonged in the wild.
In many cases, it is a lack of awareness regarding wildlife that generates anger among local residents. People cannot grasp that animals who are so revered in Indian culture shouldn't be subjugated to such a harsh life. While it is very difficult to change human perspective, we seize the time to sensitize local crowds and help them coexist with animals. We have to very carefully mitigate tricky situations with patience and fortitude to extricate animals to safety.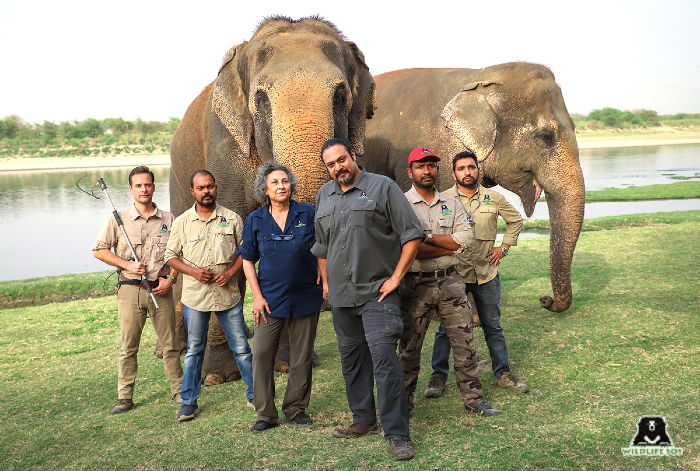 Watch our Nat Geo Wild series "Jungle Animal Rescue" to learn more about our conservation efforts: https://natgeo.wildlifesos.org/
You are involved in an array of projects at Wildlife SOS. What would you say is closest to your heart?
Rescuing and rehabilitating animals is a cause that is dearest to me, be it snakes, crocodiles, leopards or any species. I have grown up around wildlife, helping those in distress. I like caring for them. I have never refused a rescue operation because I feel that if I miss out on taking care of them or ignore an extraction at the proper time, the animal can suffer and that is something I cannot tolerate.
Across the globe, India is famous for its diverse wildlife and rich biodiversity. The protection of our flora and fauna is crucial for ecological stability. Defenders of wildlife like Mr. Baiju Raj work tirelessly to restore our planet's ecological balance for our future generations to see and enjoy.