Brought in to our Manekdoh Leopard Rescue Centre in Junnar, Maharashtra in February this year, the endearing male leopard Neel is being hand-raised by our team of caregivers and veterinarians. One of the many victims of the human-leopard confrontation situation in Maharashtra, Neel's mother abandoned him in the agricultural fields of Mhalsa Kore village in Nashik where the villagers found him and contacted the forest department. Upon failing to reunite the cub with his mother, the forest department placed the cub under the permanent care of Wildlife SOS by way of an order from the Principal Chief Conservation of Forests (Wildlife) of Maharashtra.
Given that leopard cubs depend on their mothers for their survival for the first two years of their life, Neel's healthcare, nutritional requirements and psychological well-being were major concerns for our team and were taken care of with utmost urgency. Back in February when we discovered Neel, he was around two to three months old weighing a little over one kilogram. Found in a traumatized state, Neel was physically weak and malnourished. He was quick to adapt to the new surroundings and the team at MLRC remained on their toes all the time keeping vigil ensuring his well-being.  He was given nutritional enhancements along with liquidized diet fed to him.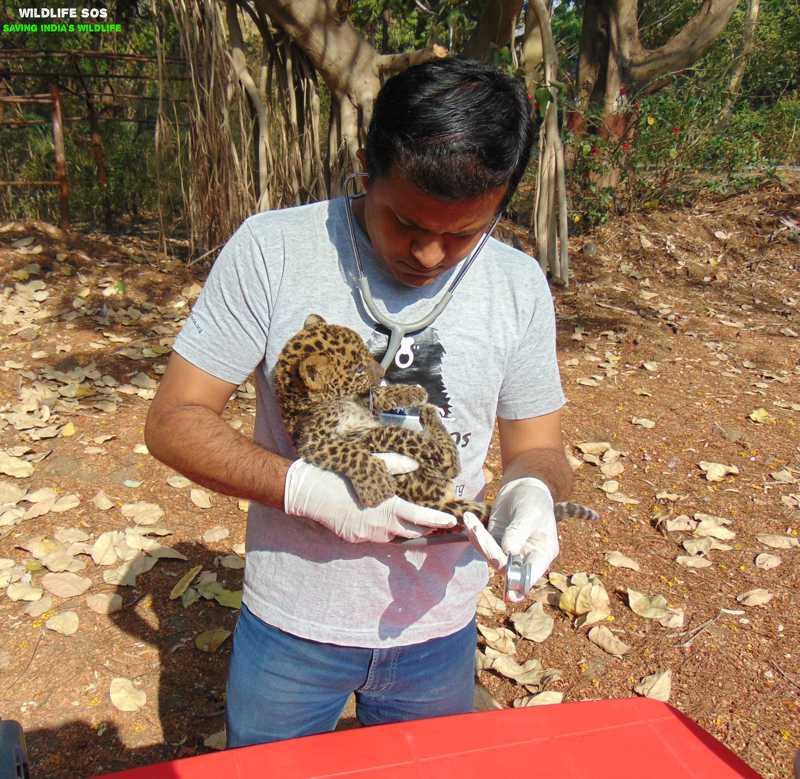 The efforts started to pay off with Neel gaining strength, becoming healthier and more active with time. Today, after approximately six months of intensive care and love, Neel has grown up to be a very energetic cub, with improved weight. Recently, he has been moved to solid food and eats over one kilogram of chicken every day. His entire day is spent playing around, inquisitively scouting his enclosure and waiting eagerly for food. The sight of the keepers arriving with his food puts him in a frenzy of excitement. This is a great chance to engage in playful bouts of wrestling or a tug of war with his keepers, thereby showing his inherent wild and fierce spirit.
His health which was a major concern at the time of his arrival, for several reasons, has also improved immensely and the vets have declared him to be a hale and hearty cub. With his shiny, beautiful and tick-free coat, Neel is simply a treat to watch – climbing trees, looking like a little adventurer on a journey to discover his world!
All our wildlife rescue and rehabilitation centres support unique enrichments which ensure physical and mental stimulation for the wild animals in our care, thereby keeping them fit and healthy. Neel too, loves his enrichments, playing endlessly with his ball and tyre swing, climbing trees and exploring the surroundings. While it is extremely sad that he was separated from his mother and thus, from thriving naturally in the wild, we are glad that he ended up in safe hands instead of being killed or irreversibly hurt, a fate met with by many wild animals and cubs caught in human-animal conflict.
Every time we watch this once timid and miserable cub now transformed into a confident young leopard, it also reminds us of the threat that the wildlife across India faces owing to increasing human population, urbanisation, deforestation and shrinking natural habitats.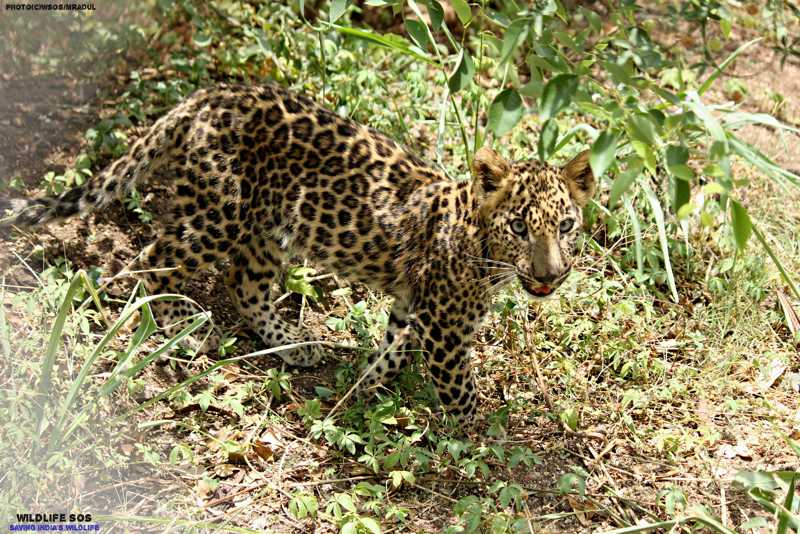 Maharashtra over the years has been facing increasing incidents of leopard-human conflict, forcing the mothers to leave their cubs behind. Wildlife SOS team reaches out to the local communities through workshops, talks, sensitisation ad awareness drives, educating people about leopards and their behaviour leading to better understanding and tolerance and reducing incidence of conflict situations, have been steadily sensitising people and enabling an environment for the threatened wildlife to flourish.
In the coming days, our team is planning on introducing more structural enrichments in Neel's enclosure to keep him engaged in different ways. To maintain his good health with supplemented diet will also be a major concern for the vets. With your support we will be able to continue providing Neel with the love and care he needs to grow into a healthy and dynamic leopard. Donate today to support his care at Wildlife SOS.