On July 13, 2019, the Wildlife SOS team in the Manikdoh Leopard Rescue Center received an urgent call from the Divisional Forest Officer of Sangamner, Mr. Gaikar, who told them about an injured leopard spotted in the area.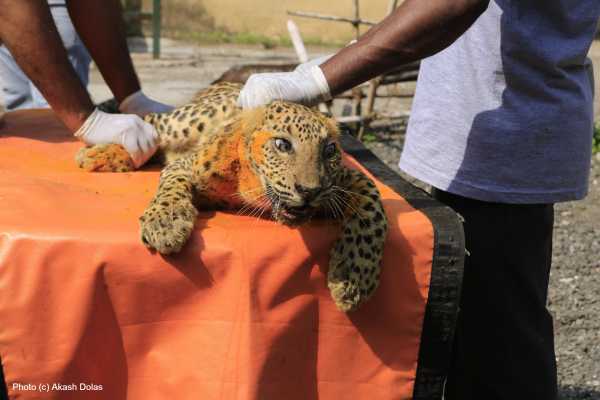 The one-year old, male leopard was found collapsed on the side of the road, wounded and struggling to move. Four Wildlife SOS team members along with a team of Forest officials arrived at the location to carry out a preliminary examination and on-site treatment. After a careful examination by our senior veterinarian, Dr. Ajay Deshmukh it was confirmed that the young feline's forelimbs were paralyzed and it had also sustained severe wounds on the neck. The cause of such injuries is suspected to have been another leopard. The feline was then transferred to the Manikdoh Leopard Rescue Center for medical treatment.
Over a month since the rescue, the leopard is under intensive physiotherapy which includes massages, stretching exercises, assisted walks, and holistic medication. Physiotherapy helps in reducing the pain while improving movement, and restoring normal muscle control and functional ability. The healing process has been steady and the doctors are positive that even with the neck injury and paralyzed forelimbs, the young leopard will be able to walk properly once again.
Earlier this year, in another heart-breaking incident, a female leopard was found completely paralyzed due to a negligent road accident and was released back into the wild after a miraculous recovery. This was made possible by our highly experienced doctors and animal keepers at the center who worked hard and did not give up on her precious life. We anticipate the same for the injured leopard of Sangamner.
Wildlife SOS often rescues leopards from conflicting situations in Maharashtra. We express our gratitude to the Forest Department for placing their faith in us every time. It is the collective effort of both the teams that have helped mitigate human-leopard conflict in the region and helping wild animals in distress.