Last week, residents of Pinahat village located in the outskirts of Agra city bore witness to a rather distressing sight. Their rather peaceful morning took a drastic turn when they heard the piercing sound of helpless cries echoing from the crop fields. On further investigation, they were shocked to find two hyenas trapped inside a nearly 25 feet deep dry well. The incident was soon reported to the forest department who in turn contacted Wildlife SOS on their 24-hour helpline number for Agra region (+91-9917109666).
Pinahat is located in the Chambal forest range which is home to unique wildlife species such as striped hyenas, mugger crocodiles, gharial as well as several turtle species.
A four member rescue team comprising of trained rescuers from the Agra Bear Rescue Facility along with two forest officials were promptly dispatched to Pinahat and a rescue strategy was set in motion almost immediately. As they couldn't lower two trap cages into the narrow well simultaneously, the team had to lower them down individually. Meanwhile, the forest officers had to cordon off the area to ensure the safety of the curious villagers who had gathered around the well. It took almost three hours for the team to safely extricate the two distressed animals following which both hyenas, identified as adult males were immediately brought in to the center for medical assessment and treatment.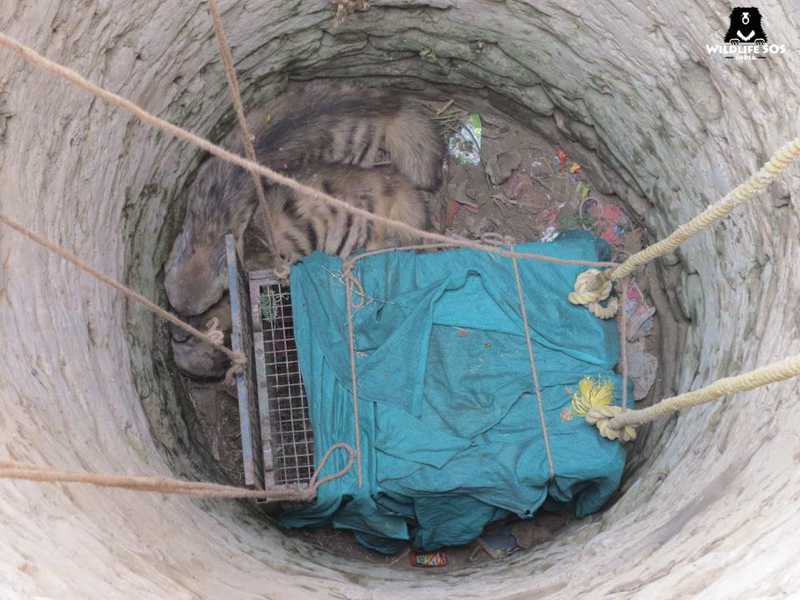 A meticulous examination carried out Dr. Ilayaraja, Deputy Director Veterinary Services at Wildlife SOS revealed that one hyena has sustained injuries in the mandible (jaw bone) that has led to swelling in the lower jaw, possibly during the fall. The other was treated for minor cuts and bruises and was placed under observation. After a few days of care and treatment, the veterinarians observed that swelling in the jaw had subsided and both hyenas were deemed fit for release.
Striped hyena (Hyaena hyaena) is species of Hyena that is found in the Indian subcontinent and listed as Near Threatened in the IUCN Red list. It is also protected under Schedule III of the Wildlife Protection Act, 1972.
Hyenas are for the most part solitary hunters and though territoriality is not a prominent feature in their behavior, it does exist to some extent. Therefore, a decision was made to release them in different locations. They are a scavenging species that feed mainly on rodents, birds and animal carcasses, which in turn helps keep our ecosystem clean.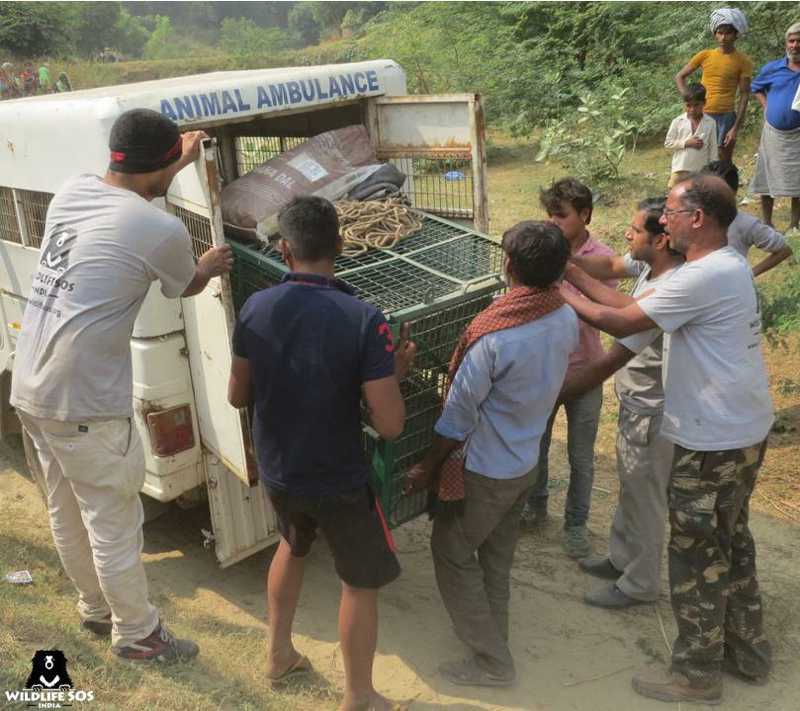 Incidents of animals falling into wells and suffering from fatal injuries and even death have been increasing in the recent years and the main reason behind this appears to be the lack of proper covers and fencing around wells.  Earlier this year, Wildlife SOS rescued a severely injured hyena from a well in Fatehpur Sikhri but the animal succumbed to its injuries.
In our efforts to address this growing problem, we launched an on-going petition to invite public participation to drawing the attention of the authorities to the issue of open and abandoned wells that pose a threat to human lives as well as that of hundreds of animals, every year in India. You can make a difference by signing Wildlife SOS' petition asking concerned authorities to fence areas around open wells or cover them so that the lives of many innocent animals and people can be saved here; http://bit.ly/2rbr7Kl