In the last decade, the state of Uttarakhand has seen a dramatic increase in man-animal conflicts, predominantly problems relating to the leopard population residing in the vast hilly forests. However, due to rapid urbanisation resulting in degradation of forests and a decline in natural prey base, these majestic wild cats are being forced out of their protected natural habitats. Being a highly adaptable species, they have learnt to live and breed in close proximity to villages and towns and prey on domestic animals such as dogs, goats and livestock from neighbouring villages, which are easily available.
Conflicts between humans and animals have negative impacts for both sides. People suffer crop damage, depletion of livestock, and destruction of property and sometimes even lose their lives in such encounters. On the other hand, this also result in destruction of habitat, the collapse of wildlife populations and intensifies negative human attitudes towards wildlife, which can also lead to violent and brutal consequences for wildlife species that are caught in man-animal encounters.
In an attempt to overcome this growing challenge, a team of 18 people including Forest officials and local villagers from Uttarakhand visited Maharashtra to study how the State Forest Dept. in collaboration with Wildlife SOS have managed to take successful steps towards tackling and minimising man-leopard conflict situations in a sustainable way.  The group comprised of Assistant Conservator of Forest (Pauri), H.S. Maindola, Range Forest Officer (Almora), Mr. Jwala Prasad along with forest guards and representatives of local villages.
The program commenced with a visit to the Sanjay Gandhi National Park in Borivali, Mumbai, an urban forest reserve which is home to a significant population of leopards, followed by a tour of the Wildlife SOS Manikdoh Leopard Rescue Centre in Junnar, Pune. Here they were given a brief presentation on how our senior veterinarian Dr. Ajay Deshmukh and his team carried out leopard management and treatment procedures at the centre. They also demonstrated techniques of trapping and releasing leopards in distress.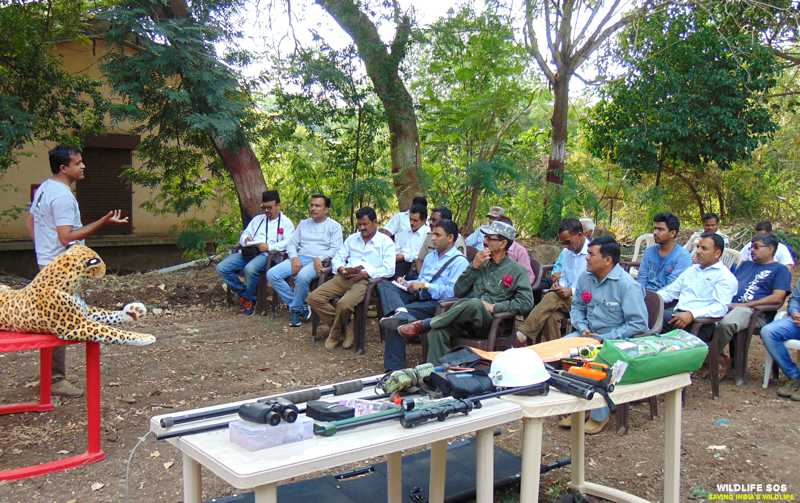 The following day, the Forest Dept. officials from Uttarakhand & Junnar along with the MLRC staff headed out to conduct leopard awareness and training programs in the neighbouring villages of Shiroli and Yedgaon. This provided a platform for visiting officers and villagers to interact with the local communities and to discuss alternative methods of mitigating conflict. They were eager to understand more about this majestic animal and to share their views on the matter of tackling such encounters in the future. The occupants expressed the need for the government to raise compensation payment of domestic animals and livestock, making street lights available in each village, constructing sheds for the livestock and providing toilet facilities for the villagers residing in the vicinity of forests and natural reserves. As a part of this on-going project, Wildlife SOS has trained 75 people from adjoining villages to report cases leopard sightings and handle conflict situations, while awaiting the MLRC rescue team to arrive at the location.
The program proved to be quite fruitful in terms of developing a deeper understanding and overcoming this highly sensitized problem that is affecting the lives of both humans and animals in leopard prone regions. The Uttarakhand Forest Dept. was impressed by our conservation awareness and training efforts and expressed a keen interest in adopting a similar module for tackling incidents of man-leopard conflict in their own state.