A young leopard was spotted in Jabalpur village near the Yamuna Biodiversity Park and created panic among villagers who feared for their safety. The forest department was alerted to the presence of the big cat and the authorities informed Wildlife SOS of the same. A five member team was promptly dispatched to assist the Forest Department in capturing the leopard.
The Forest Department had set up a trap cage to capture the leopard and a veterinarian was called from the Delhi zoo to tranquilize the leopard. The sedated animal was transported to the National Zoological Park for medical examination in the Wildlife SOS rescue vehicle.
The Indian Leopard (Panthera pardus fusca) is a widely distributed subspecies in the Indian subcontinent. The species has been listed as Vulnerable in the IUCN Red List because of decline in population due to habitat loss and encroachment, poaching and casualties in man animal conflicts. The Leopard is estimated to be around two and half or three years. After undergoing a thorough medical examination, the animal was found to be in good health and it was released the following day, in the Shivalik foothill forests in Saharanpur by the Wildlife SOS team in collaboration with the Forest Dept. officials.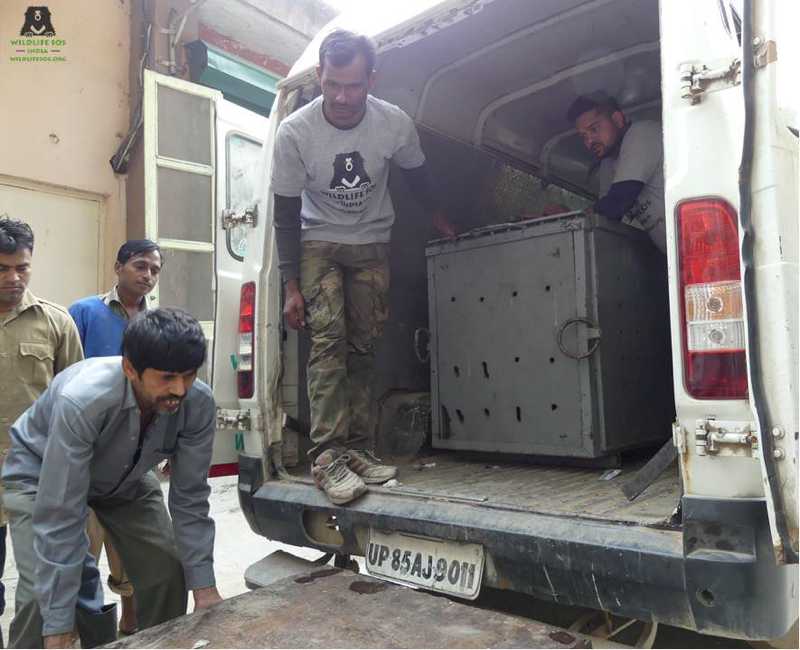 Widespread deforestation near urban spaces is believed to have decimated populations of smaller wild animals that serve as prey for large predators like leopards. The depletion of the leopard's natural prey base and habitat is forcing them to seek prey in the form of livestock and dogs, closer to human settlements. This often leads to human-leopard conflicts which have violent and brutal consequences for both humans and wildlife.
It is imperative to address the public on issues of conflict mitigation and awareness in order to sensitize people to the plight of wildlife in urban areas, while encouraging them to be more tolerant of wild leopards.
Wildlife SOS runs the Manekdoh Leopard Rescue Centre in Junnar, near Pune, in association with the Maharashtra Forest Department where more than 30 rescued leopards are taken care of. The centre provides temporary or life-time care, for leopards injured by villagers or trapped in conflict situations. Our primary goal is to contribute to the conservation of the imperiled Indian leopard population on one of the most heavily human populated and dominated landscapes in the world.