Every year August 12 is heralded as World Elephant Day wherein the world comes together to raise awareness about the declining population of elephants. For esteemed Indian actress, Jennifer Winget, this was the perfect opportunity to contribute to the fight for India's elephants by spending three days volunteering with Wildlife SOS. What ensued was a radically transformative experience for the actress who spent her time helping care for the elephants and learning about the formidable challenges faced by these gentle giants.
Jennifer Winget began her volunteering experience by observing a walk with resident elephants at the Elephant Conservation and Care Centre. As she explored the vast lush landscape of ECCC, she was accompanied by the Wildlife SOS team who helped Jennifer familiarise herself with the elephants. Jennifer learned about the personalities of our various elephants like Maya, Phoolkali Emma, and Suraj all of whom were rescued from harrowing situations of abuse. However, the highlight of her walk was forming a special connection with Suzy, one of the oldest elephants under our care. She learned about the specialised geriatric care given to Suzy. Awestruck by Suzy's small stature yet wise eyes, Jennifer lovingly called her "Granny!"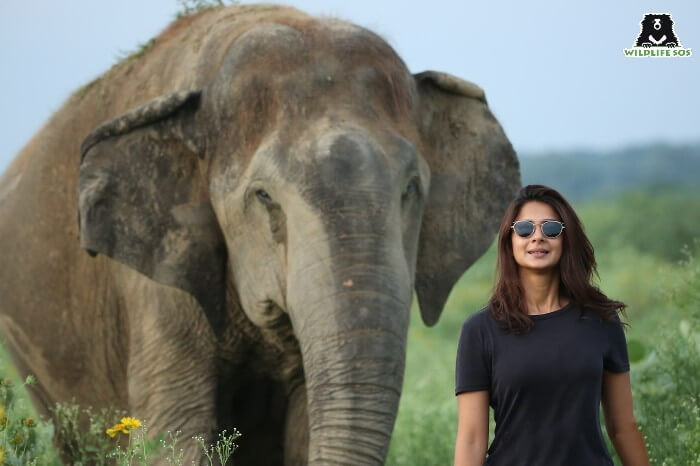 On her second day, once familiar with our resident elephants, Jennifer learnt about the torture endured by these giants captured for tourism, entertainment or begging. On hearing about the inhumane process of "phajaan," and getting a first-hand look at common tools of torture such as a spiked chain, Jennifer was more driven than ever to ensure she was an active participant in caring for these elephants with compassion and love.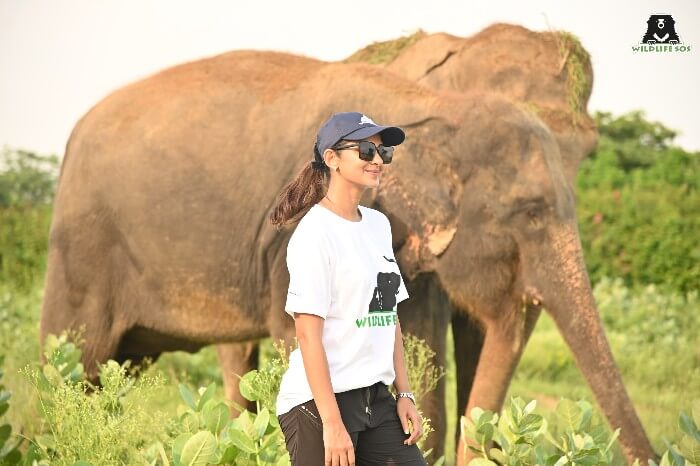 The first task thrown at Jennifer was helping the WSOS team do meal preparations for every elephant. This seemingly straightforward task is in reality a formidable challenge. Each elephant consumes around 100 kilograms of fresh fruits and fodder that have to be washed, neatly chopped and allocated throughout the day. Yet, Jennifer tackled the task head-on, willing to get down and dirty to ensure the elephants receive the nutrition they require. She gave a little extra attention to the watermelons being chopped for Suzy who lacks molars and requires soft food!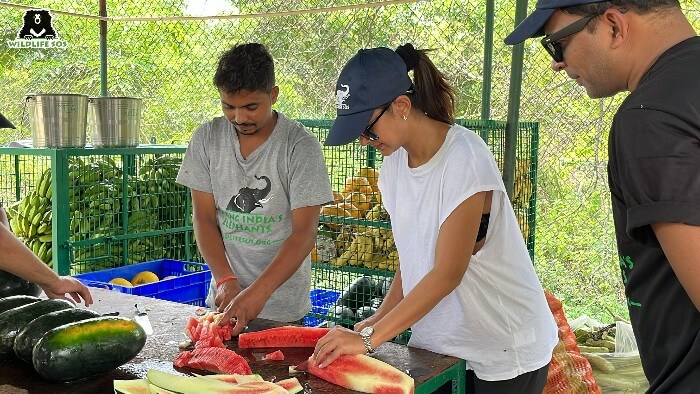 With meal preparation done, Jennifer helped the care team prepare enrichments for every elephant. This is an integral step as enrichments help our elephants remain cognitively and physically stimulated throughout the day. The first enrichment prepared by Jennifer was bamboo stuffed with dates and jaggery. To push the elephants to use their natural foraging abilities, Jennifer hid the bamboo in mud beds and hunga few in different parts of their enclosures. She also aided the care team in putting fresh fodder in the cylinder enrichments that surround their enclosures. This enrichment forces elephants to bend and stretch as they pull out the fodder.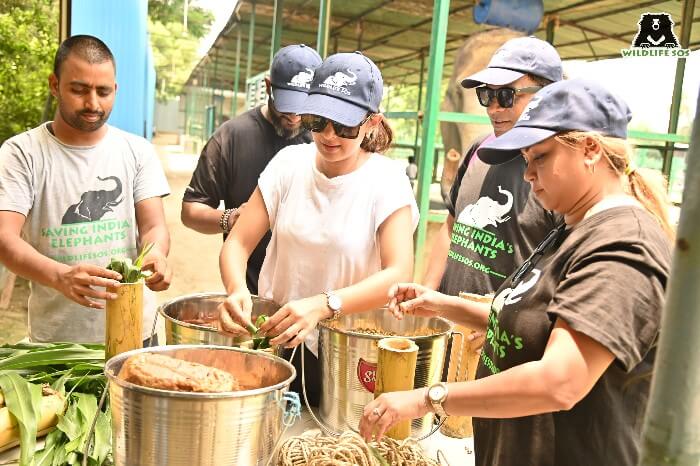 As some of the elephants got busy finding their snacks, Jennifer got the opportunity of observing Laxmi's target training session. Based on the principle of positive conditioning, this training is a novel approach that helps medical assessments occur smoothly as an elephant is rewarded every time it performs an action such as lifting its leg for cleaning. This created a neat segue for Jennifer to venture to the Wildlife SOS Treatment Unit which allows us to provide a high degree of veterinary care to our resident pachyderms. Here, Jennifer watched as our newly rescued elephant Ginger received laser therapy for her deteriorating joints. Following the laser therapy, Jennifer was given a tour of the facility including India's first Jumbo hydrotherapy pool, the elephant ambulance, and an inbuilt path lab to test and diagnose elephants. Previously unaware of the amount of equipment, labour and infrastructure required to care for elephants, Jennifer lauded the Wildlife SOS team for taking on such a noble endeavour.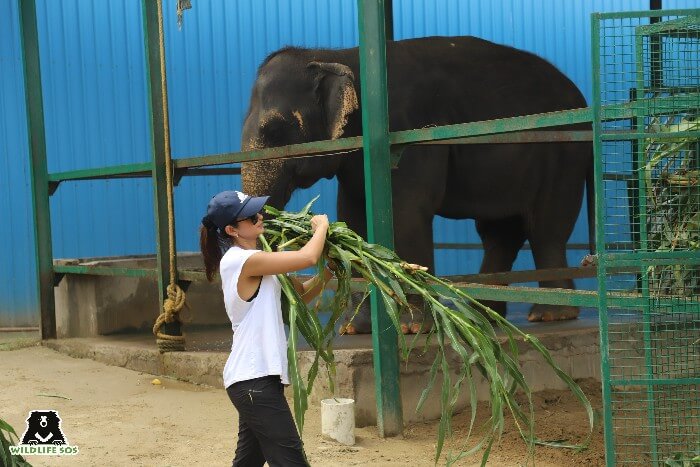 The volunteering experience left a deep impact on Jennifer, who had always been an animal lover, often working towards the betterment of stray dogs in the country. According to Jennifer, "When it comes to animals; any animal, I am all in! There's no questioning it. I have been following the extensive and dedicated work of the Wildlife SOS team for a long time and have always longed to have closer access not just to the animals they save and work for, but to the team and everything that goes on here. Elephants are magnificent and yet the gentlest of creatures and to be in such close company is awe-inspiring, to say the least. We have all heard renditions of the torture and pain they have suffered and the damage and destruction we sometimes carelessly hold them accountable for, but seeing and understanding this from their point of view is eye-opening for me. I owe it to a place of influence I am blessed with, to shine a light on the subject and do all I can to help the cause."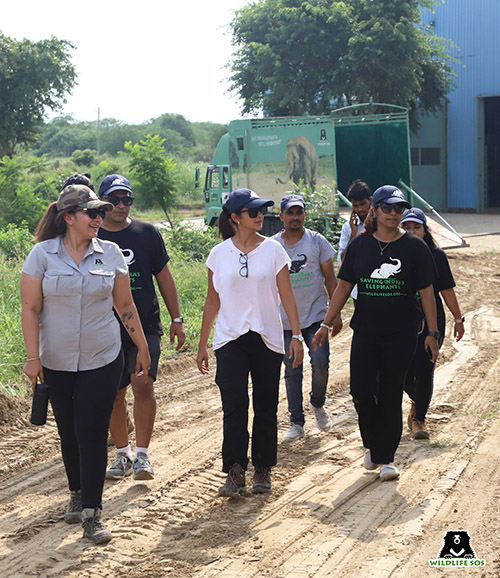 Determined to spread the message, Jennifer took to her social media account to share her volunteering experience, encouraging her fans to speak up and join in the cause.
The visit was not only special to Jennifer but also to the Wildlife SOS team who was inspired by Jennifer's grit and determination to use her platform to spread the message about the declining population of Asian elephants. We are ecstatic to welcome Jennifer Winget to the Wildlife SOS family and thank her for her unwavering support.
This World Elephant Day you can also join hands with Wildlife SOS and Jennifer Winget by supporting the care of our rescued elephants. Click HERE to find out more.