In its multiple years of service to wildlife and nature, Wildlife SOS has completed numerous rescues, and has even rehabilitated many animals. But one crucial aspect of our work also entails the well-being of animals. Wildlife SOS takes care of this particular aspect through the innumerable veterinary treatment procedures that it has conducted over the years.
Performing crucial treatments is as important as conducting wildlife rescues, and to save an animal's life needs timely intervention. Any injury or wound can become life-threatening if there's a slight delay in relaying information. While our team of veterinarians are constantly monitoring the health of our resident elephants, leopards and Sloth bears across the various centres, sometimes they do have to leave their home turf to attend to other animals.
What is Off-Site Treatment?
Often Wildlife SOS veterinarians have to administer treatment to animals left injured by a vehicular accident, a poacher's snare, or from situations of human-wildlife conflict. In such cases, if the veterinarian has to travel to another state, or bring the animal from its natural environment to a treatment facility or wildlife hospital, it is termed as off-site treatment. This is contrary to on-site treatment, where an animal is treated in its natural habitat or environment.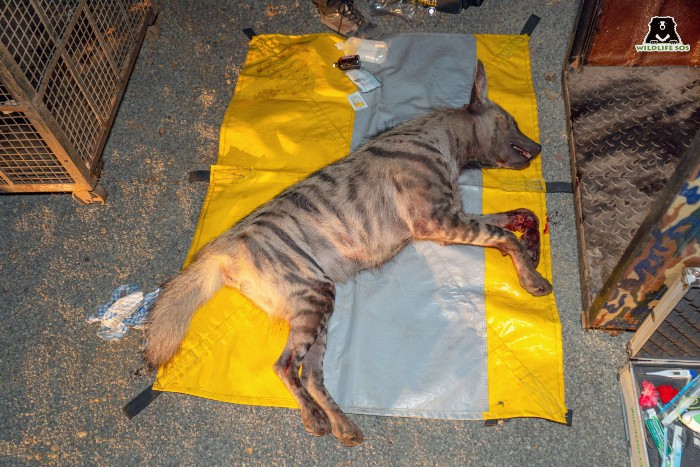 Off-site treatment can be divided into two categories. One of them requires the veterinary officers to treat animals at other treatment facilities, where they might even be required to travel to other states. The second type of off-site treatment involves moving the animals away from their natural environment or habitat, when they are brought to Wildlife SOS' various rescue centres for treatment. In the past, Wildlife SOS has provided off-site treatment to elephants when our team from Mathura in Uttar Pradesh travelled to Udaipur, Rajasthan in 2020 to treat a geriatric female elephant named Sonkali. She was a begging elephant who spent her entire life walking around the streets of Udaipur and at the age of 65, the years of ill-treatment and terrible living conditions caught up to her and left her fighting for her life.
The team carried with them a portable X-Ray machine, portable laser therapy equipment along with a range of pain medication for her relief. Sonkali's infected wounds were cleaned properly and the wounds on her footpads were washed before covering them with dressings. The veterinarians administered glucose and pain medication to her as well, which allowed her to gain strength.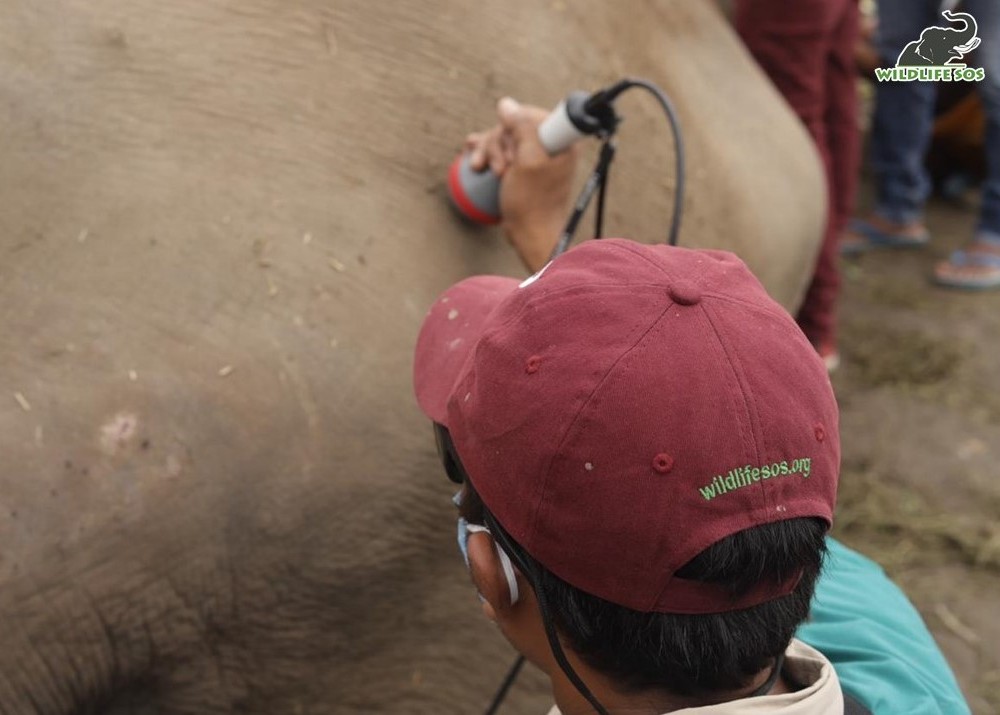 Again in March last year, our team from Mathura attended to an elephant named Lakshmi in Bhilwara, Rajasthan. The elephant had suffered a fracture in the coccygeal vertebrae near the tail base after a truck collision.
Our Bangalore and Agra team are often called to other states' zoological parks and facilities to treat animals caught in conflict scenarios or afflicted with an injury. The veterinary team at the Bannerghatta Bear Rescue Centre (BBRC) has often travelled to Tamil Nadu to treat wild elephants. The Wildlife SOS veterinarians once attended to a sub-adult male elephant near the Karnataka-Tamil Nadu border who got injured while raiding crops. Equipped with X-ray machines and tranquilisation gear, our team performed the treatment after temporarily immobilising the elephant.
For almost 14 years, the BBRC veterinary team, led by Dr. Arun A. Sha, Director of Research and Veterinary Operations-Wildlife SOS, has assisted the Tamil Nadu Forest Department in handling such delicate situations involving elephant treatments.
Similarly, the veterinary team at the Agra Bear Rescue Facility (ABRF) was called into action to assist the Delhi Zoo in treating a 5-year-old white Bengal tiger in the middle of the pandemic lockdown in June 2020. Medical examination revealed that swelling in the lower gum close to the lower left canine was causing the tigress immense pain and discomfort. Following the emergency, a digital radiography machine and a dental X-ray machine were brought to the zoo from Agra, and the diagnosis was conducted by the ABRF and Delhi Zoo veterinarians.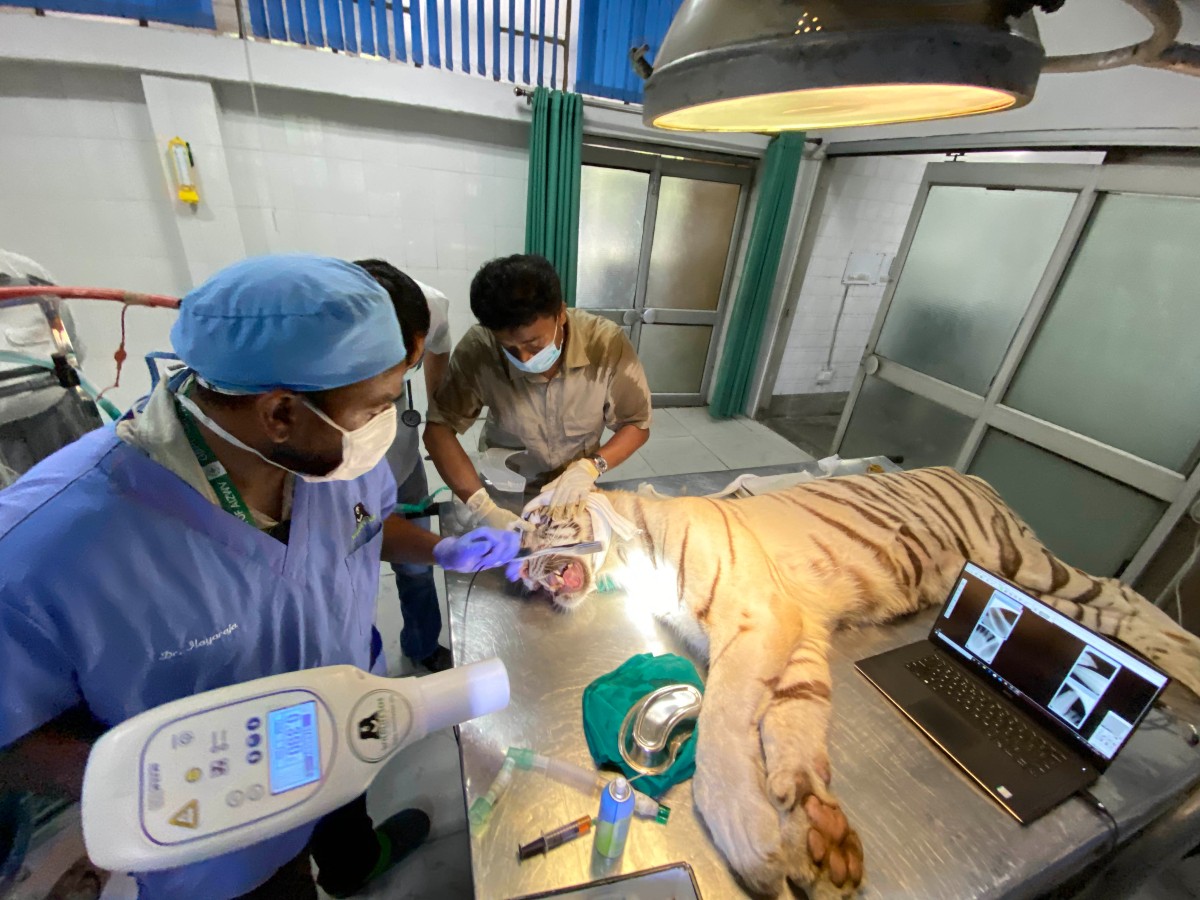 Canines are extremely important to big cats such as tigers, and any infection or problem may lead to a change in their feeding pattern and behaviour. Hence, this treatment was crucial to help ease her pain.
Off-Site Treatment at WSOS Centres
When treating a large mammal such as an elephant, transferring the animal to a treatment facility is an immense challenge. But in case of smaller mammals such as leopards, tigers, hyenas, jackals or even Sloth bears, they can be brought to the nearest facility and diagnosed there. The Wildlife SOS Manikdoh Leopard Rescue Centre (MLRC) in Maharashtra has been host to several off-site treatments of distressed animals found in areas distant from the centre.
In November 2021, a young Striped hyena had fallen prey to a two-wheeler accident in Maharashtra's Otur. Wildlife SOS had rescued the injured animal and after performing a medical examination, it was revealed that the hyena had sustained complete hindquarter paralysis. The animal had to be brought to MLRC, i.e 'off' the site of its natural environment for treatment, and was placed under intensive care. From not being able to bear its own weight, to now treading the path to recovery, our team of dedicated veterinarians put every ounce of effort to put the animal back on its legs.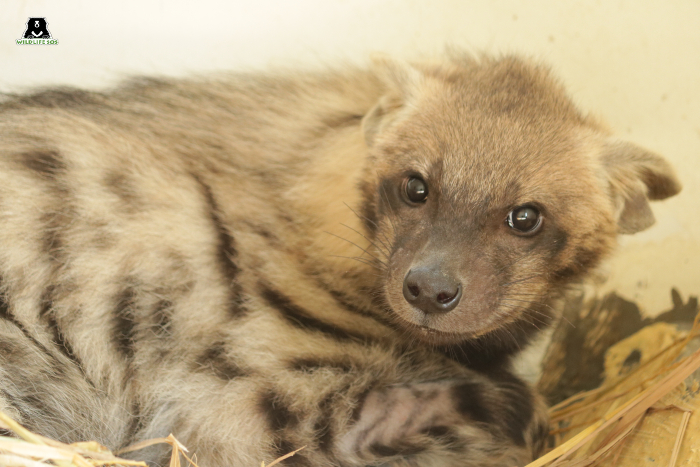 Last month, Wildlife SOS rescued a Striped hyena from a road accident which fell victim to a speeding vehicle on the Pune-Nashik highway in Manchar Forest Range. Wildlife SOS veterinary officer Dr. Nikhil Bangar initially carried out an on-site emergency treatment with anti-inflammatory medication. The hyena was later brought to MLRC and placed under intensive care. A detailed diagnosis revealed that the canid had suffered a mandibular symphysis fracture (fracture in the jaw) following which our team performed a surgery on its lower jaw.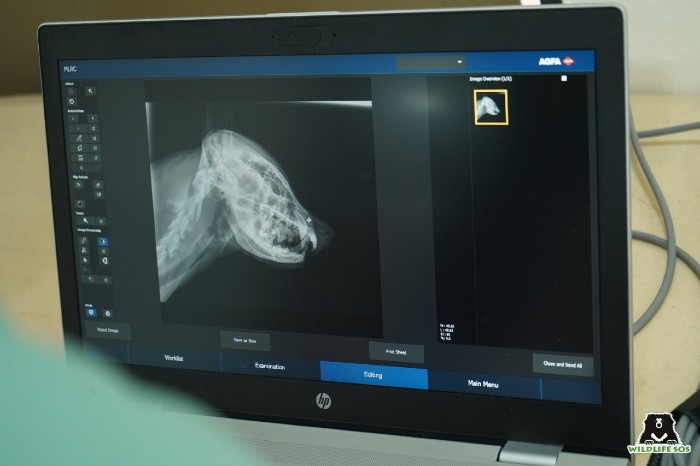 In another miraculous incident, Wildlife SOS was able to heal a young male leopard found injured in Sangamner village of Maharashtra back in 2019. The leopard which was brought to MLRC and placed under long recuperative treatment that involved daily leg massages, physiotherapy, assisted walks and nerve stimulating injections. Months of intensive treatment by the veterinarians at MLRC ultimately bore fruitful results, and due to the leopard's remarkable progress, the feline was eventually released back into the wild.
Off-site treatments are carried out at Wildlife SOS' Agra Bear Rescue Facility (ABRF) as well. Our veterinary team has treated injured jackals, monkeys, nilgai, snakes and various birds. The team once rescued a Nilgai from a serious accident in Baipur, Agra. The animal had completely damaged one of its eyes and was brought to ABRF for further treatment. The senior veterinarians removed the damaged eyeball to prevent the infection from spreading, and the surgery was successfully completed in two hours.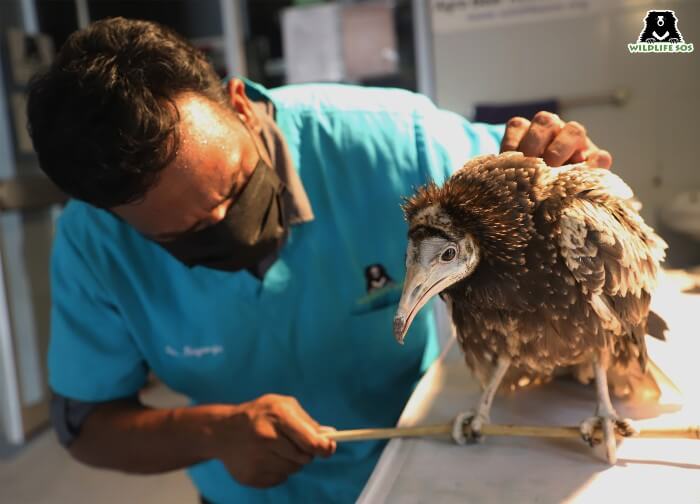 In December 2019, Wildlife SOS rescued an injured Golden jackal from a 20-foot-deep well in Achnera village. The animal was brought to ABRF to tend to its injuries and later released back into the wild. Again in August 2021, we rescued a juvenile Egyptian Vulture which was unable to take flight due to severe dehydration and heatstroke. Upon being brought to the Agra rescue facility, the bird was given oral rehydration solution and glucose to regain its strength.
Off-Site Treatment at VVBRF
In March 2021, Wildlife SOS' Bhopal team dealt with a critically injured wild Bengal tiger which was admitted for off-site treatment at the Wildlife Hospital situated inside Van Vihar National Park (VVNP). The male tiger had sustained grave wounds and lacerations all over his body. Further investigation revealed that the tiger sustained grievous injuries on its head from a sharp object in an incident of a retaliatory attack by local communities as he strayed close to human habitations.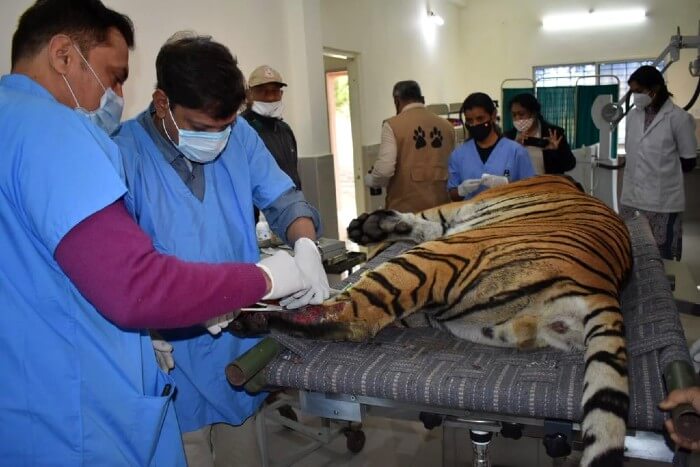 The feline suffered fractures on the skull and left hind limb. Detailed medical examinations, followed by regular medical treatment by the Wildlife SOS veterinarians at the Van Vihar Bear Rescue Facility (VVBRF), along with the Van Vihar National Park (VVNP) veterinary team, led to the tiger's gradual recovery. He was given joint strengthening supplements as well as antibiotics to protect him from infections. The tiger's fractures and wounds eventually healed under constant care.
In another incident, a Sloth bear was rescued and brought into VVBRF in the month of January this year. The bear had a broken tooth and had deep gash on its hip caused by a snare trap. The Wildlife SOS veterinary team first administered on-site topical medication to the wound before bringing the bear to the rescue facility for further treatment.
Snare traps are a nightmare for wild animals and can cause life-threatening injuries, such as losing a paw or a limb, which renders them incapable of hunting. Wildlife SOS often assists VVNP in conducting off-site treatment of wild tigers, Sloth bears and other animals due to the infrastructure available at hand. The rescue facility and the enclosures create the perfect environment and conditions for the treated animals to recuperate, before they are declared fit for release.
The rescue and treatment of injured animals is a significant task, and we need all the resources at our disposal to save the lives of every suffering animal. You can extend a helping hand by becoming a monthly donor for Wildlife SOS, and support our life-saving work.