Sloth bears in India face multiple threats. While a large number of bears have been rescued from being 'dancing' bears, many often become victims of poaching. Jaw traps are laid out by poachers across the wild terrain to capture bears. The sharp teeth of these traps brutally clamp the paws of sloth bears, making them unable to move. This was the unfortunate condition that Vasi was found in.
Vasi's paw was stuck in a vicious jaw trap in Karnataka, and he was suffering from immense pain. The state forest department immediately reached out to Wildlife SOS to conduct an urgent rescue. As soon as Vasi arrived at the Bannerghatta Bear Rescue Centre (BBRC), the medical team found that he had acquired a grave infection on his paw. To prevent the infection from spreading further, unfortunately Vasi's paw had to be amputated.
While the unfortunate incident led to the loss of his paw, VasI has retained his cheerful and playful nature. By overcoming his trauma, Vashikaran — fondly called Vasi — has displayed inspiring will and strength.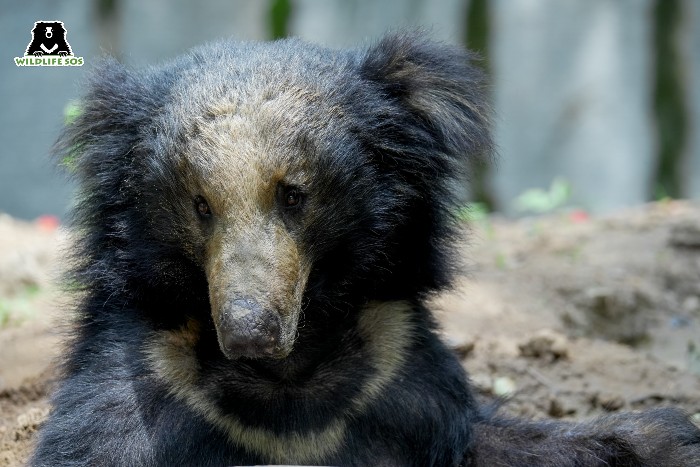 Eat, Sleep and Play Makes Vasi's Day!
As a routine, Vasi indulges in nutritious porridge along with extra boiled eggs and vegetables every day. While porridge forms his meal, Vasi eagerly awaits juicy fruits as treats! He gobbles up seasonal fruits such as watermelons, muskmelons, and coconuts. Coconut happens to be his favourite, and he is often seen playing with them as he tosses them around.
Sloth bears in the wild are known to be most active during dawn and dusk, which is why Vasi chooses to laze around during the day. After spending hours digging up holes in search of insects to snack on, Vasi leans against the various mounds of mud he creates in the process to catch a nap. He also has a habit of resting next to the water hole in his enclosure during the day.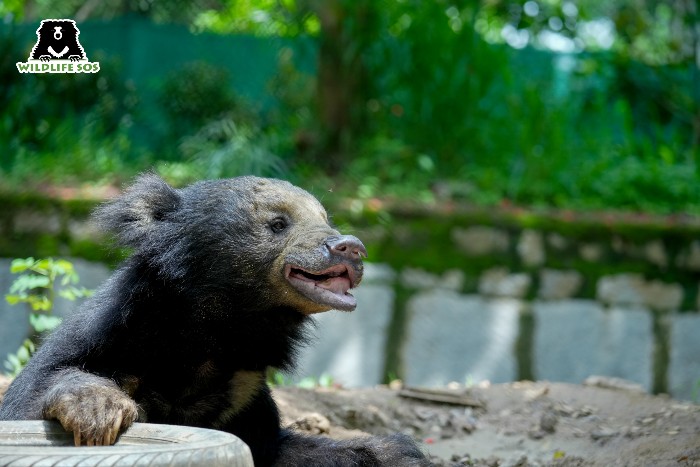 Though he is a lively bear, Vasi tends to become shy around other active bears at the centre. However, this doesn't stop him from interacting with them! Among all of the bears in his enclosure, Vasi has formed a strong bond with Kavi, who is now his closest companion. He spends ample time with Kavi, and the two play with their enrichments together.
Vasi is an intelligent bear and is well aware of his surroundings. Every team member at the centre knows that Vasi loves attention! He is a fun-loving bear and lights up the centre with all his antics, especially while engaging with his enrichments.
The hanging tyre enrichment and Vasi's hammock have been installed at lower levels to prevent any discomfort he may have due to his missing paw. Such enablers have boosted Vasi's confidence while he plays with his enclosure mates.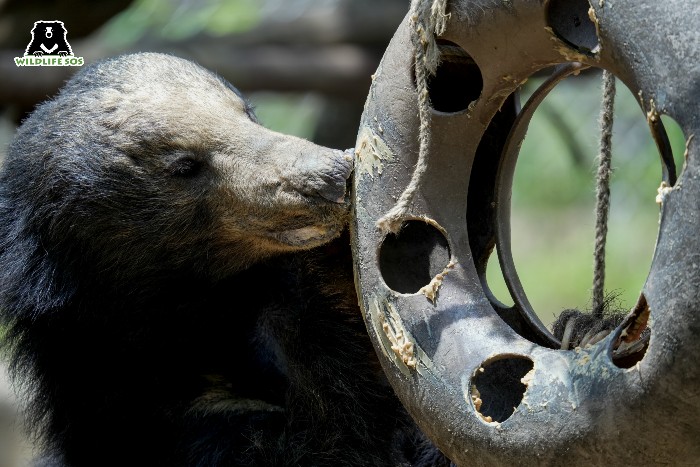 Vasi's Veterinary Care
Prioritising the health of bears is paramount to their care. This is where caregivers play a huge role in keeping a close eye on bears like Vasi, and informing the veterinarians about any unusual behaviour.
A few months back, our vets observed that Vasi had a lot of skin infections and hair fall. Oral supplements were therefore prescribed to him. Regular checkups, along with assistance from the caregivers, substantially improved Vasi's condition, and currently there is no sign of any skin infection or hair fall. To ensure that no such infection occurs again, Vasi is provided daily supplements under supervision.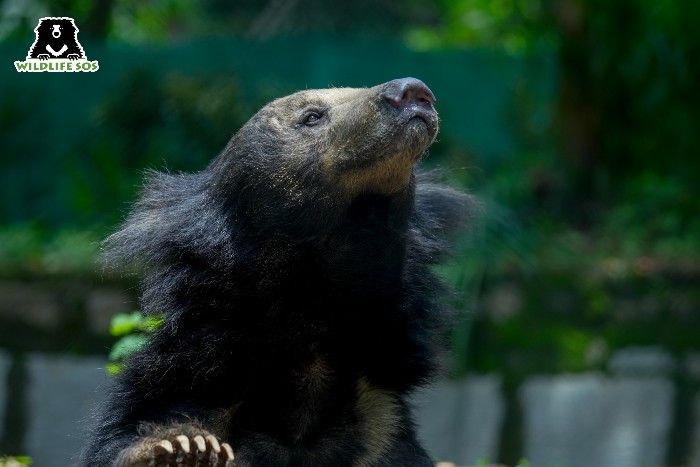 Vasi has shown true grit while overcoming the anguish caused by the jaw trap. Despite being bashful, he has secured a wonderful friendship with Kavi. Witnessing these milestones has been heartwarming for us at Wildlife SOS. You can support our dedicated efforts to ensure his well-being by becoming a sponsor for Vasi.