Separated from her mother at a tender age to be forced into harsh servitude for the next two decades — such was the life of Zara, till a glimmer of hope finally shone on her path. Zara is one of the youngest elephants at the Elephant Hospital Campus, and her calm, curious and resilient nature fill us with wonder. While her life has seen a series of ups and downs, she stands tall in the Field of Dreams today.
Let's take a walk with Zara!
As a begging elephant, Zara endured years of abuse and neglect. Under the lashes of a bull-hook, she was forced to walk over scorching asphalt and concrete surfaces, and this adversely affected her limbs. When she was not on the streets, Zara would be restricted to a small area where she could not move or walk freely, and this worsened the state of her emaciated limbs.
The physical strain resulted in a serious osteoarthritis condition that has hampered young Zara's gait. Wildlife SOS heard about Zara and her deteriorating condition during the nationwide lockdown in the peak of the COVID-19 pandemic. Strong efforts were made to rescue the elephant on an urgent basis.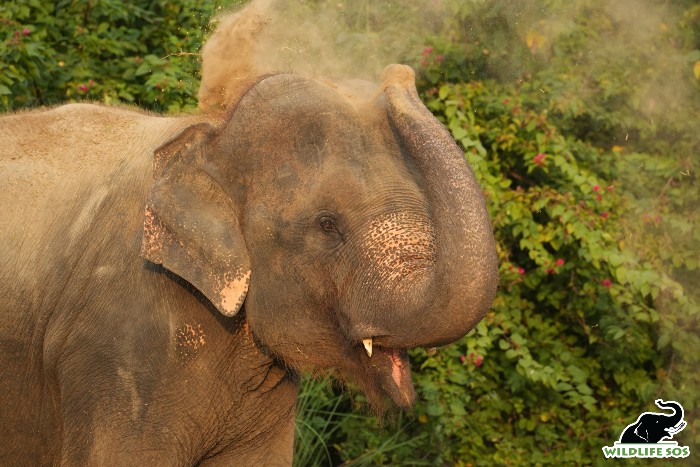 As soon as the restrictions were lifted, Zara's journey towards a life of care and desired treatment was set in motion. Severe neglect of her physical health resulted in serious consequences for Zara. When she arrived at the Wildlife SOS Elephant Hospital Campus (EHC), our veterinarians thoroughly examined Zara's physical health.
Zara was detected with ankylosed elbow joints. The medical staff attributes this to a fracture from a serious fall she may have had as a calf. Her right elbow joint had been permanently damaged as a result of not receiving any medical attention or adequate rest.
Zara was welcomed at the EHC with attention and humane care that she had never experienced earlier. Treatments for her injured joints and sores were brought into effect on priority. Her nutritious diet has ever since been planned meticulously by the veterinarians at the centre with the help of her caregivers.
Zara's spirits had been under a long lockdown. But this lockdown lifted for her upon her arrival at the EHC. While she was initially a little uneasy, she eventually took to her new and expansive surroundings. She gradually formed a strong bond of trust and understanding with her caregivers. Her curious nature was soon to overtake her initial apprehensions. The team recalls that while she was highly inquisitive about the medical equipment at the centre, she remained composed and actively cooperated during each examination right after her rescue.
Zara continues to react positively to her caregivers and the veterinarians during her routine checkups. Some time ago, she underwent treatment to cure an abscess on her right front limb. Regular Epsom salt foot baths combined with an anti-inflammatory spray provided immense relief to her and also helped harden the abscess. Using her trunk, the intelligent pachyderm was quick to decipher the strong scent of the spray while she received therapy!
Elephants are naturally social creatures and are attuned to living with a herd. For Zara, companionship came in the form of Arya, another rescued elephant at our centre. Arya is an older elephant and joins Zara for long early morning walks.
Elephants are also known for their superior cognitive abilities that include a profound sense of empathy. Zara is aware of Arya's lack of vision. During treatments, Zara stretches out her trunk to gently caress Arya. While the two are taking their walks, Zara trumpets loudly and hurries to Arya's side to caution her of any obstacle.
Zara loves eating and gorges on sweet watermelons, green hay, sugarcanes, pumpkins, and beets with delight. Asian elephants in the wild have a variety of vegetative options to satisfy their appetite in a holistic way. Zara's unparalleled joy during mealtime reveals how she was denied essential food in captivity, surviving on dry grass because that was all her former owner could afford.
During the summers when the temperatures soar, elephants need plenty of shade and ample amount of moisture. To provide comfort to Zara, her enclosure consists of elevated mud beds so that she can rest more easily and stand up without any difficulty.
Zara loves dust baths and has often been spotted throwing dust across her back with her trunk to keep the heat off. Sometimes, she stands in her field, and enjoys a cool shower. As part of our summer management programme, we have installed sprinklers across her enclosure to offer respite from the scorching sun. Elephants have only a few sweat glands, therefore these become Zara's favourite ways to remain cool!
Zara has come a long way along her road to recovery. She maintains a calm disposition, and her strength and serenity is an inspiration to us all! If you wish to help us sustain this majestic young pachyderm's well-being and her life of dignity, consider becoming a sponsor!