From a very young age, Mohammad Yasin would find an excuse to visit the Dachigam National Park for various reasons – from witnessing the beautiful snow-capped mountains of the Kashmir valley to spotting the wildlife endemic to this region. His artistic side always convinced his family that he would make a career in the creative field but his passion towards protecting wildlife led him to the doors of Wildlife SOS' Dachigam Bear Rescue Centre in Jammu and Kashmir.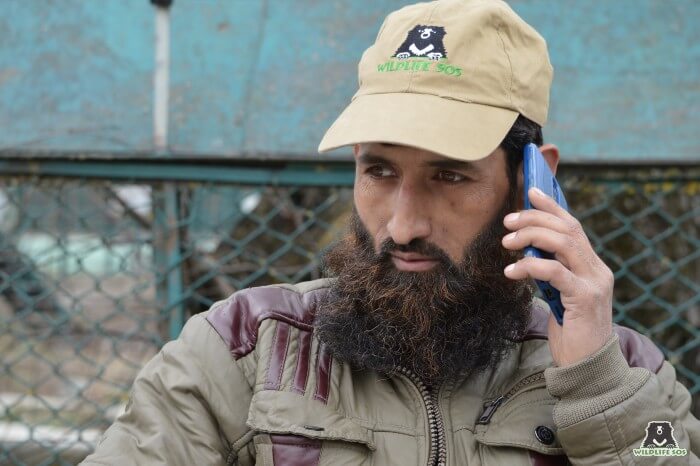 We had a candid conversation with Mohammad Yasin where he talks about his love for bears, art, hiking and adventure! 
How long have you been working with Wildlife SOS?
I have been working at the Wildlife SOS Dachigam Bear Rescue Centre since 2011 and it has been such an enriching experience. My interaction with the Asiatic Black Bears has helped me to understand many things about their behaviour and the importance of conserving this magnificent bear species. I feel very lucky to be aligned with an organisation that works dedicatedly towards saving India's wildlife.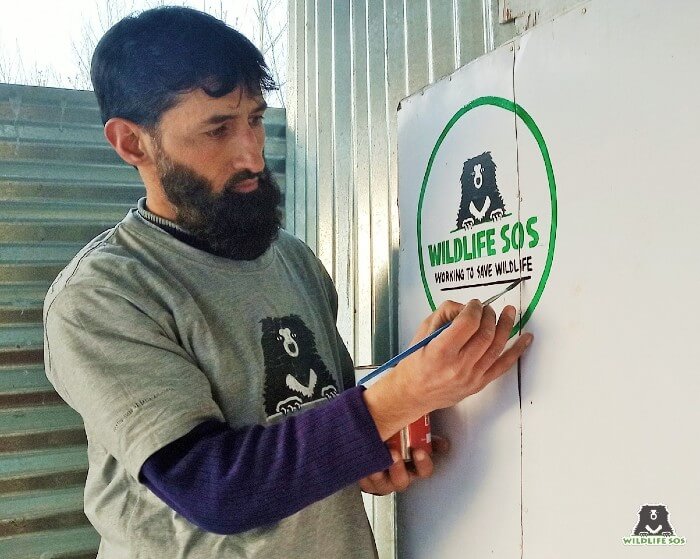 How did you learn about the conservation efforts of Wildlife SOS?
I am a native of Dachigam village and have witnessed first hand, the rising incidents of man-animal conflict around this area. Local communities are often hostile towards any animal that is spotted around the area, one can see their blood boil at the slightest hoax of an animal sighting. I would regularly visit the Dachigam National Park and even visited the Bear Rescue Centre here, which only strengthened my love for the bears. I was fascinated when I learnt that they are looking for a person who would care for the bears as well as participate in awareness programmes. So , I wasted no time and took this marvellous opportunity to contribute in a significant way!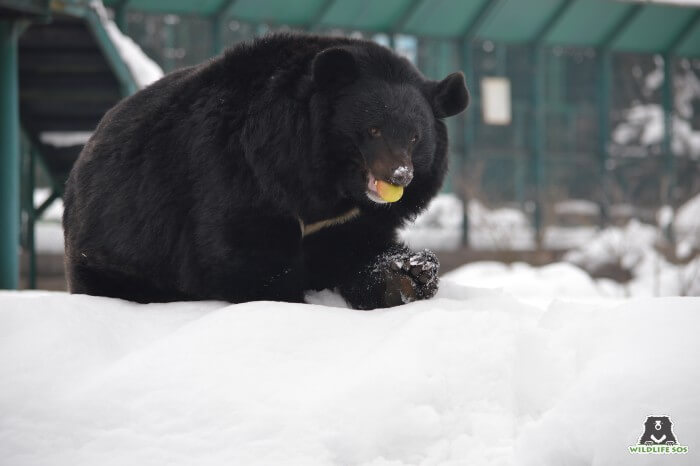 Have you always worked with bears? Are there any other species that you are keen to work with?
I have been working with the black bears, predominantly and I thoroughly enjoy my job! I assist the State Wildlife Department and our team with rescue and treatment of injured leopards, deers, etc. I am a keen birdwatcher which is why I also take care of injured birds – often rendered seriously wounded by kite-flying or fostering young orphaned birds as well.  Recently, I have been helping our team with the rescue and release of snakes and I am now eager to learn more about reptiles.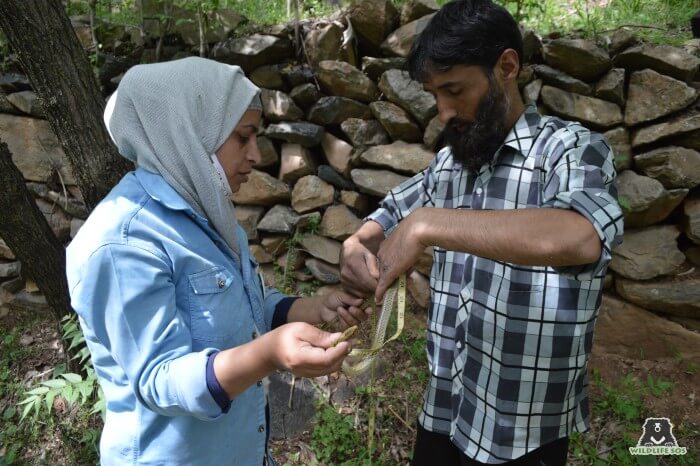 What is your daily routine as a bear caregiver?
The winter season calls for slight alteration to the routine, thus, my day begins with checking on the bears after their overnight rest. Since it is snowing heavily here, proper winter management is in place for the comfort of our bears which includes cleaning the bedding and changing the dry grass or hay every day. The bear care staff proceeds for the morning porridge preparation as the bears play around the snow in absolute delight but the moment they see me carrying their bowl of porridge – they drop everything that they are doing and run straight towards me. While they have their porridge, I scan their fields and clean them, clearing any stones or hard ice which may hurt them. As the bears spend their time playing around in their fields, I take that time to give educational tours to the visitors and assist our team in managing the visitors as well.
In the afternoon, I prepare their fruit platter which presently includes apples, pears and watermelons. Once we start preparing the evening bowl of porridge, I feel very low as I have to say goodbye to the bears for the day. They can be seen playing around the snow and looking so carefree!
I feel honoured to be providing quality care and upkeep of the bears as a bear caregiver. I hope I continue to do this for my whole life!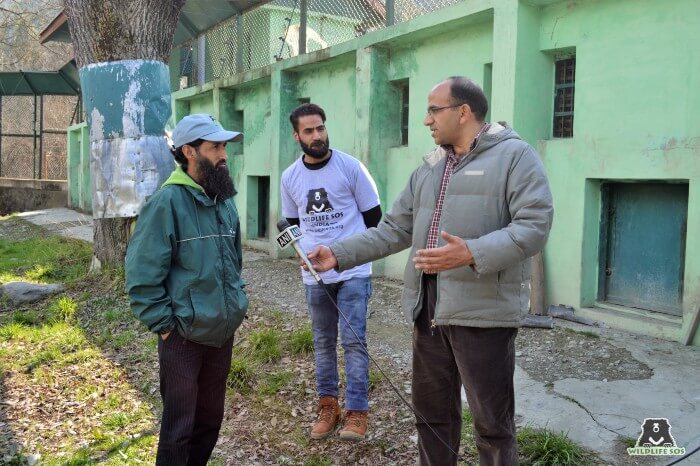 Who is your favourite bear and why?
This is such a difficult question to answer! I love and care about all of them but I am extremely fond of Sahib, an Asiatic Black Bear residing at Dachigam Bear Rescue Centre. He is a handsome bear who is also the perfect combination of energy and laziness – he really loves to sleep! When it snows, it is impossible to keep him in his den as he will just be sleeping in the middle of the field, covered in snow.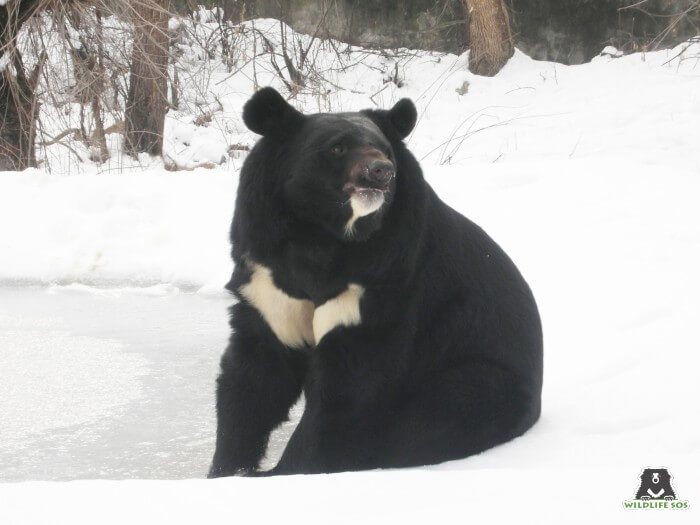 We hear you are quite the artist, Mr. Yasin, is that true?
You all are very kind to say that, thank you. I do enjoy art and making enrichments for our bears, it plays an important role in encouraging natural behaviour in them. I love making art out of waste so I ensure that everything can be turned into an interesting artefact. It also helps in recycling and reducing waste.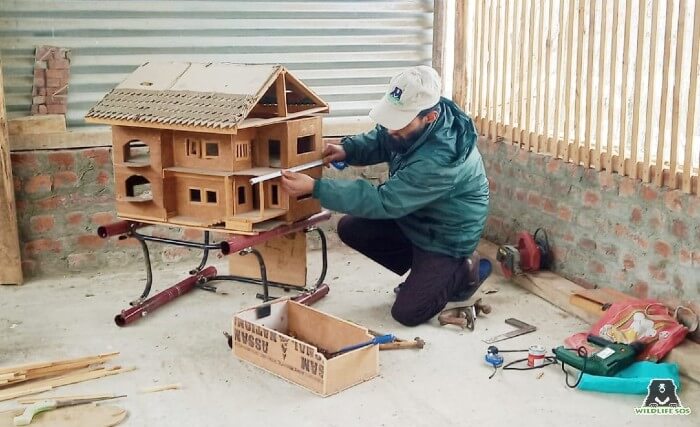 Is there a message you'd like to give to our readers?
I would like to thank everyone for their support to Wildlife SOS and I wish to let them know that their support allows us to provide care and treatment for these rescued bears. If anybody ever finds themselves in Kashmir, please do visit the Pahalgam and Dachigam Bear Rescue Centres!
Thank you.