The bear of the month for January 2022 is our beloved Abhay! Wildlife SOS rescued Abhay in 2009, from the 400-year old "Dancing Bear" tradition that was prevalent in India. As part of his indoctrination as a dancing bear, his owners forcibly pierced a red hot iron poker through his delicate muzzle. Then, they strung a metal ring through the fresh wound. The gaping wound was never allowed to heal. Abhay's Kalandar master would tug on the ring to make him 'dance' and perform tricks for an audience. After Wildlife SOS rescued Abhay, we worked hard to make him feel safe and comfortable at the Agra Bear Rescue Facility. He has now been with us for more than a decade!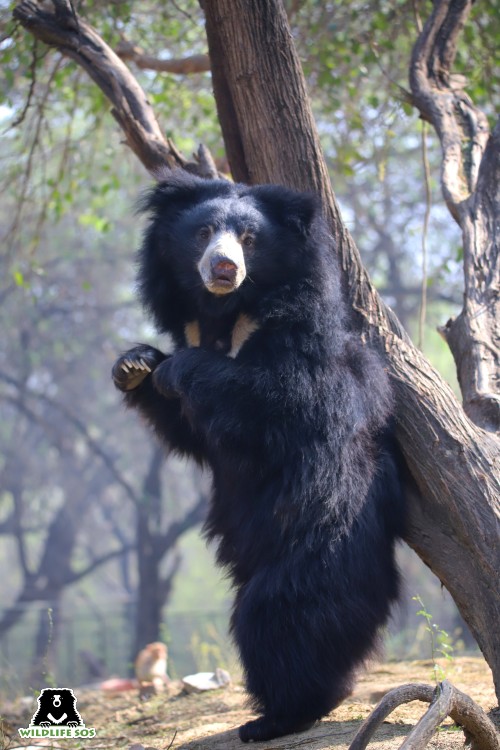 Upon his rescue, the signs of physical abuse were quite evident on Abhay. He was missing a few teeth and had a distinctly mutilated muzzle. Moreover, the trauma and fear of being beaten during training had taken a toll on him psychologically as well.
Abhay would demonstrate many stereotypic behaviours commonly seen in animals who have lived in stressful conditions. These behaviors included head-bobbing, swaying, pacing etc. Abhay had been forced to live in a confined space with minimal freedom for all his life. Hence he was quite anxious and scared upon reaching our center.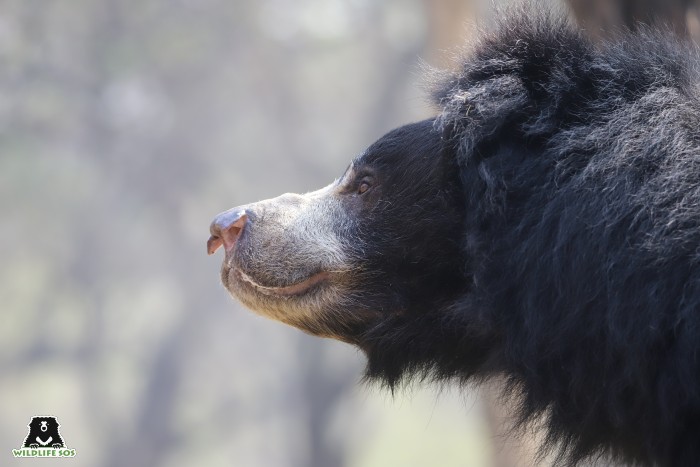 The team at Agra Bear Rescue Facility worked hard to earn Abhay's trust. With the help of positive conditioning training and humane care, Abhay was able to overcome his fear and learn how to be a bear again. Now, his former scared and malnourished self has transformed into a confident and stocky bear!
Abhay is closest to Sarasu, a female bear who shares his enclosure with him. The two spend a lot of time playing together. However, the calm Sarasu is unable to keep up with Abhay's relentless excitement all the time. Hence, Abhay has found ways to entertain himself when Sarasu chooses sleep over playtime.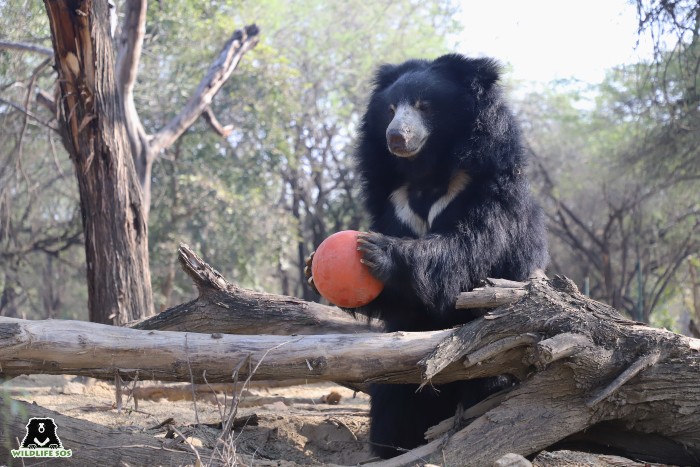 Whether it be playing on the wooden platform that his caregivers built for him or breaking small branches from trees to transform it into his new plaything, Abhay always manages to keep himself busy. With numerous trees all around the lush green centre, Abhay takes complete advantage of his instinctive abilities and spends his day scaling the tall branches to play with suspended enrichments.
The joy Abhay gets from scurrying atop a tree at supersonic speed is unparalleled. In fact, he finds it to be the most exciting activity in the world that no enrichment could rival. One can often see him perched atop a tree. He spends time surveying the other bears and staff at the Agra Bear Rescue Facility.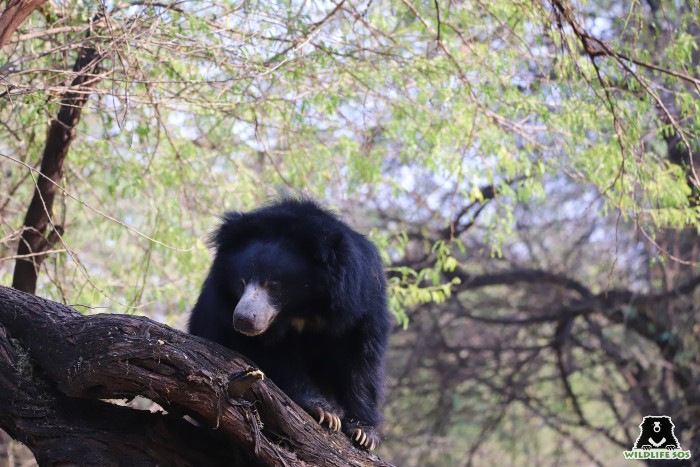 Ever the playful bear, Abhay has also demonstrated himself to be a foodie. He is not a picky eater at all and loves eating all types of fruits and veggies. Abhay seems to have taken a particular liking to pomegranates this winter! However, that doesn't mean he neglects any of his other meals. He is also quick to slurp up his porridge whenever his caregiver brings it to him.
We are grateful to be able to provide Abhay with the opportunity to live happily and climb trees freely!