A reigning joke at the Wildlife SOS Bannerghatta Bear Rescue Centre is that curiosity and an utter disregard for boundaries resulted in our dearest Cupid's birth. Her mother, Kavi gave birth to the young cub at the start of 2015 after a probable tryst with a wild bear residing in the Bannerghatta National Park. Cupid's birth was an utter surprise for the bear care staff, as Kavi kept the cub hidden until she emerged to forage – by which time Cupid was already two months old!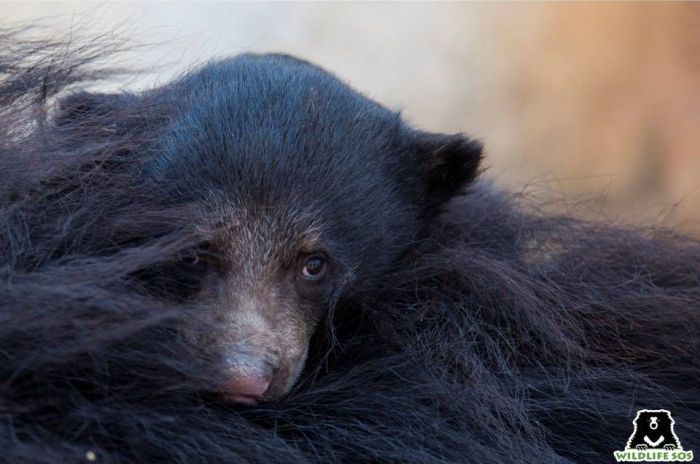 In the past five years that we've known the vivacious bear, we've journeyed through many of her phases together. Her outgoing nature and possessiveness towards her friends are often the reasons for many of the scrapes the young bear gets into. Her strong personality leads her into jams when she gets up to mischief with other bears around her.
She shares an enclosure with her closest companions – Suvarna, Shari and Swapna. She's extremely possessive about the corral she shares with her friends – and is quick to rebuff any outsider who tries to enter. On the other hand, she's also quite mischievous and often digs her way into the neighbouring enclosures to greet their inhabitants! The enclosure is one of the most active areas in BBRC – with sounds of frenzied activity emanating from it all the time. The four best friends have a large field entirely to themselves where they get up to all sorts of mischief. Some of their shenanigans leave their keepers in tears of mirth.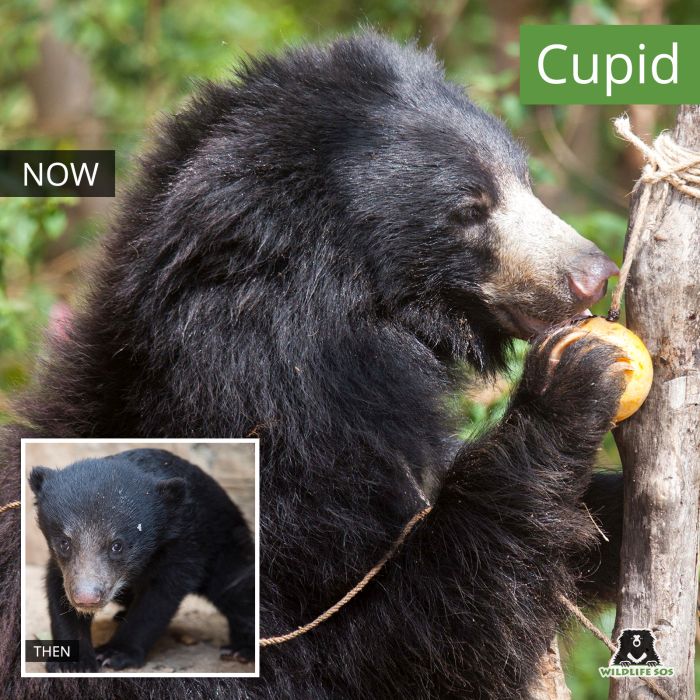 With boundless energy, Cupid is never spotted still for even a minute; one minute perched atop a tree and another rushing after Suvarna in play. We may get exhausted watching her but she rarely stops! The group of four friends also believes in teamwork – Cupid works with her friends to figure out the many innovative enrichments together. The bear care staff has installed a see-saw in their enclosure, and being the highly intelligent bears they are, the four were extremely quick in figuring out how to play with the enrichment; none more so than Cupid who, as usual, was the first to enjoy the see-saw to the hilt. Go team!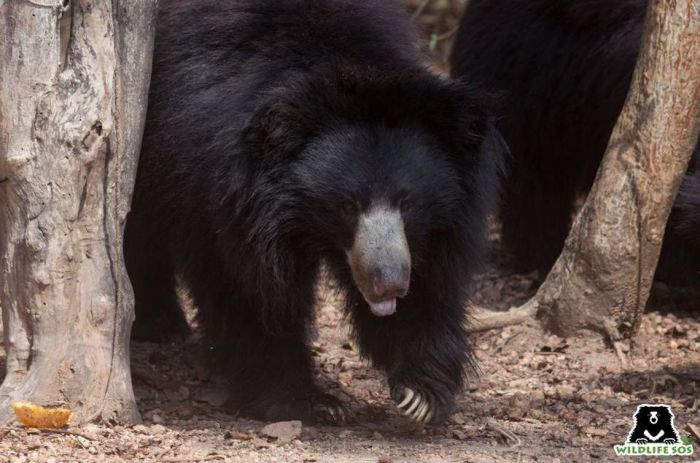 Her boisterous nature means she's the de-facto leader of her small clique and enjoys bossing the others around. She has a protective streak too, often standing guard for Shari and Suvarna with Swapna. It's quite endearing to see her interaction with her best friends – as sloth bears are normally solitary creatures in the wild, Cupid's gregarious nature and close bonds with her friends is a novel characteristic.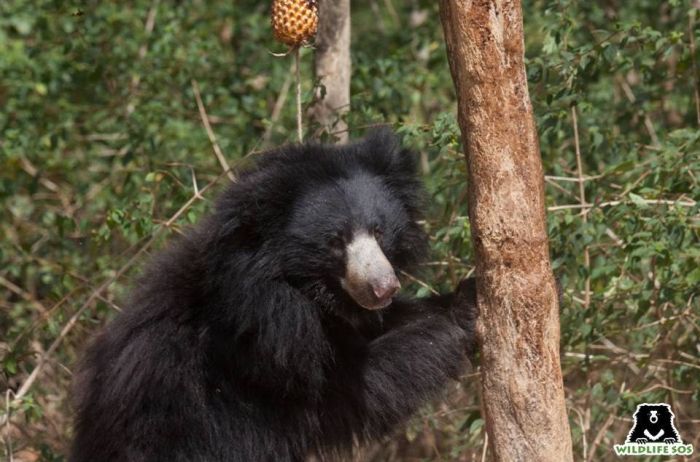 Cupid's favourite meal is banana, and she expects her caregiver to remember that. In case he turns up with her porridge without the banana, she refuses to touch the porridge until he adds in her favourite fruit. She's also extremely fond of honey – her caregiver makes sure to pour generous dollops of the sweet relish into her porridge. He also pastes generous helpings of honey on the bamboo structures erected in her enclosure for Cupid to enjoy. The love affair between sloth bears and honey has been well-documented over the years. In the wild, they scale trees in an attempt to bring down honey combs, giving them the name of 'honey bears'.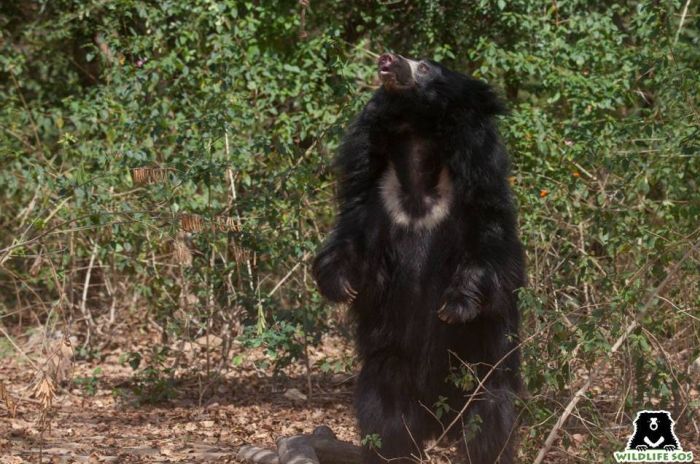 We've known and loved Cupid for five years and every moment we spend with her, we fall more in love! But then, we knew the effect she'd have on all when we decided to name her Cupid!
How do we keep track of Cupid and her friends at BBRC? Watch this video to find out!