Youngest of the sloth bear sleuth and every keeper's favourite, The Bear of the Month for August is Ron! His bubbly aura and vivacious personality warmed the hearts of staff and visitors alike. Ron was rescued in 2019 by Wildlife SOS's anti-poaching unit 'Forest Watch' in a heroic operation. Ron along with four other sloth bears were being smuggled through the Indo-Nepal border. Today, Ron's life is a stark contrast to what it might have been if he hadn't been rescued on time.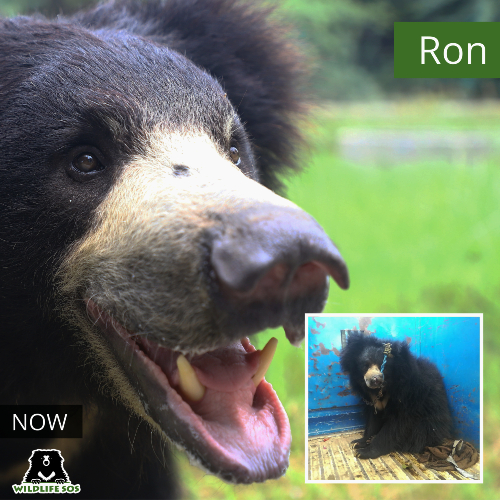 Ron began a new life at the Agra Bear Rescue Facility, one that he could lead on his own terms. His journey with us, however, has been full of ups and downs. When he first arrived in Agra, it took Ron some time to unlearn the trauma he encountered while in the clutches of the poachers and initiate trust in his caregivers. Since he was born, the unfortunate bear had only seen a life of confinement and harsh torture. To help alleviate his qualms, our team came together to make him feel comfortable in his new home. Upon arrival to Agra, Ron and his companions were placed in quarantine. During this period of isolation, our veterinarians conducted a detailed medical examination of the young bear to check his health. Gradually, Ron was introduced to the large free-ranging enclosures and began adapting to his new life, welcoming the safekeeping and protection he was receiving.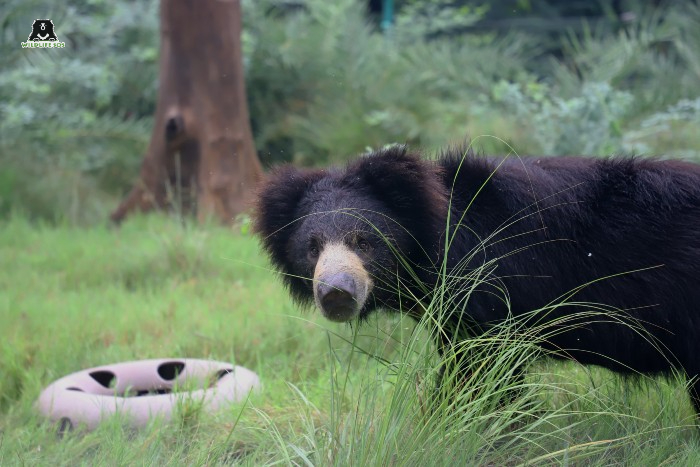 The spirited mischief-maker became a member of our very own Weasley clan at the Agra Bear Rescue Facility and was thoroughly enjoying his time with us. He took to his new life almost instantly and spent his days playing and mock-wrestling his siblings, Charlie and Ginny. Unfortunately, Ginny and Charlie recently passed away due to liver cancer, leaving Ron without his closest companions. For a while, Ron was constantly seeking them out but soon realised that Charlie and Ginny weren't coming back. This devastating loss was extremely hard on Ron and their caregiver.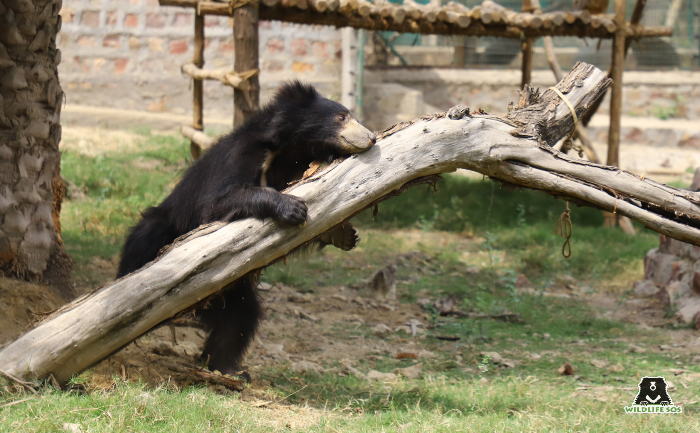 To help revive him back to his old, cheery self his caregiver began positive conditioning training with Ron. This technique involves the use of positive reinforcements such as treats to encourage the desired response, like giving out his paw for treatment. For example, he would strategically dangle coconuts on his structural enrichments to encourage Ron to mount them upside down and swing to retrieve them. Although Ron can still sense the absence of his siblings, our staff is witnessing Ron steadily healing. He is returning back to his old antics, climbing trees, playing with enrichment balls. and digging holes in the mud. After running around all day, Ron can be found enjoying an afternoon siesta in one of the pits he so enthusiastically dug.
Whenever Ron embarks on his long strolls, he roams around the boundary to call upon Kabilan and Kanmani who reside in the enclosure adjacent to his. Ron loves to entice the duo to join him in his games, spitting on them and making sudden movements to startle them.
He relishes a nourishing diet of porridge, boiled eggs and seasonal fruits which have helped him to gain a healthy amount of weight. The various physical pursuits he enjoys around the free-ranging facility, coupled with his buoyant interactions with the bears in the neighbouring enclosures and his caregivers keep him mentally stimulated and gives him a sense of companionship, helping him in a better recuperation.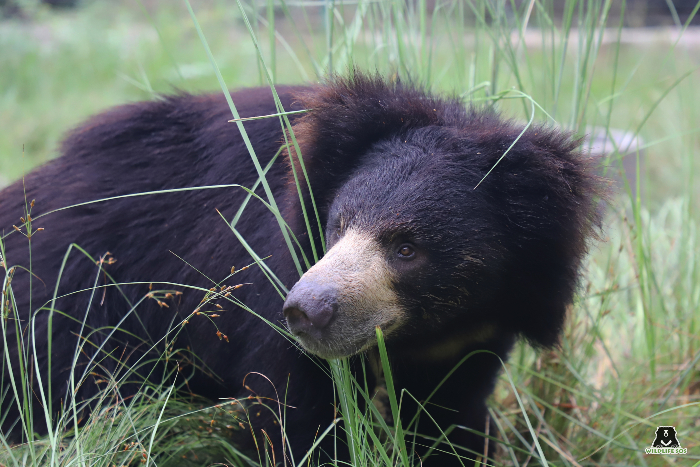 Ron's youthful charm and heartfelt optimism towards life inspire us all.