Two years ago we started offering text updates in the United States, and we've loved the ability to instantly connect with our supporters when something really timely is taking place. The texting program was set up just before Raju's rescue. Because it was so new, fewer than 100 people received a text notification that Raju was safe and on his way home. When we battled for his freedom and won it in court six months later, however, we could share the good news with nearly 10,000 people via text updates! It was amazing to be able to instantly share the breaking news with so many people who loved Raju.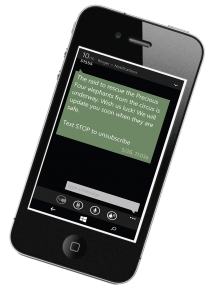 Since then we've sent out many text messages about many elephants we've freed. Each time feels just as good as Raju's. Though the text service is only currently available in the United States, we look forward to the day we can share such events with our global community of supporters. We hope to have millions of people rejoicing together when the alert goes out that an elephant is freed!
In the meantime, if you live in the United States and want be one of the first to celebrate an elephant being rescued, please text the word WILD to 51555 and we will set you up!
Thanks again and always for the support!