Imagine living your life surrounded by the blaring horns of vehicles. Arya was forced to spend most of her life in similar horrifying conditions, as she trudged through narrow lanes and crowded streets, dotted with broken pieces of glass and pebbles – nowhere near the natural, soft surfaces which elephants are meant to walk on.
Being completely blind in both eyes, Arya had to rely on her trunk to navigate her way through this unnatural environment. It was a nightmarish experience for Arya to live her life as a begging elephant. Learning of her condition, Wildlife SOS decided to intervene. Overcoming all odds, our team rushed to Arya's aid in the middle of the Covid 19 pandemic in 2020 and brought her to the Treatment Unit of the Elephant Conservation and Care Centre (ECCC) in Mathura.
Most elephants living in harsh, captive conditions suffer from gashes and wounds on their tails. Tail injuries require constant medical attention. When Arya arrived at the Treatment Unit of ECCC, she received continuous treatment for abscesses at the base of her tail. Since she was forced to walk in blazing hot summers, bone-chilling winters and torrential downpours, the rope tied around her tail would cut through her flesh, and she developed infected wounds at the base of her tail. This happened because of a heavy saddle that was tied to her tail with the rope. With regular cleaning and dressing by our team, her tail wounds eventually healed well.
Another significant moment in the initial months of Arya's arrival at the centre was removing her bell. The bell removal ceremony is a milestone that symbolises shedding an elephant's past and beginning a new era of freedom and dignity.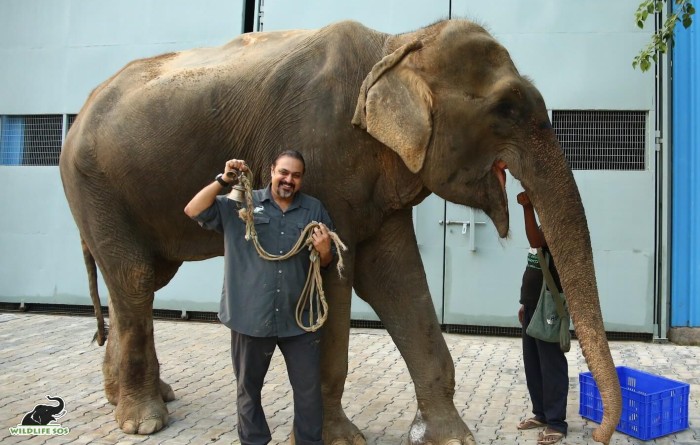 This curious yet gentle elephant has spent two years under the care of Wildlife SOS. During this time, Arya has developed quite a routine for herself where she goes for a walk twice a day. Owing to her visual impairment, her caregiver always accompanies her. But he is not the only companion Arya has. Her closest friend Zara, with whom she shares her enclosure and has developed an unbreakable bond over these two years, walks along with her as her guide.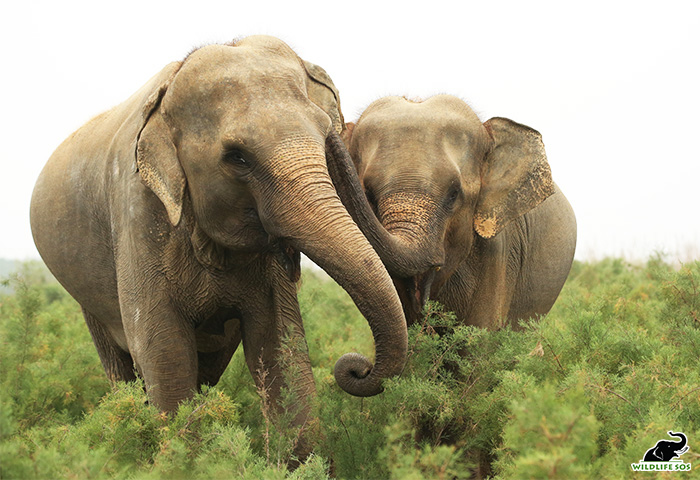 Arya loves her bath time and can be seen lifting her trunk in sheer delight. Calm Arya unleashes her playful, energetic side as she heads toward the Yamuna and forages for fresh grass on the way. A steady supply of papayas, watermelons and bananas by her caregiver, keeps her busy during the walks.
Once inside her enclosure, Arya can be seen engaged with the structural and food-based enrichments which the elephant care staff meticulously arrange for her. These include cage-feeders, hammocks and hanging rollers along with box and pipe feeders, and she gets to enjoy food items such as green fodder, roasted grams, peanuts, dates, bananas, papaya and cucumber. We usually avoid hanging enrichments for our 50-year-old Arya to avoid any stress on her feet.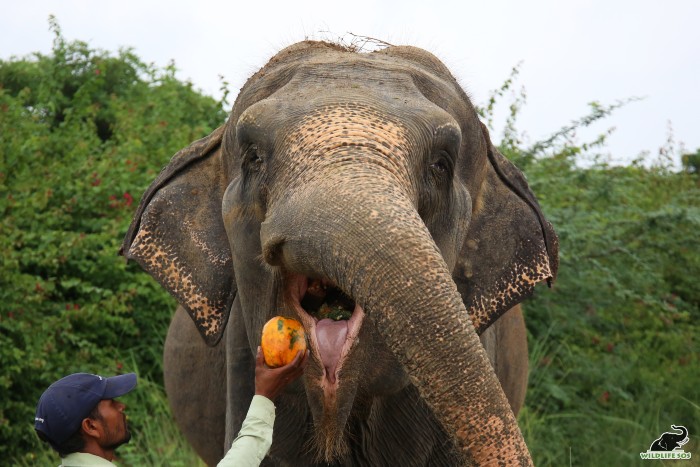 Our veterinary team conducts a routine checkup for Arya. Recently, she was being treated for a small abscess that had surfaced around her lip. This treatment has almost come to an end, as the abscess is healing well. She remains alert since she is vision-impaired, but the steady supply of fresh watermelons helps her remain calm. The abscess was treated with the help of a dry dressing of a mixture of calendula powder and zinc oxide. The veterinary team is orally administering multivitamins and liver tonic as well.
Arya's courage and perseverance inspire us, and we honour her as our Elephant of the Month. If you wish to see this beautiful pachyderm continue her journey in peace, you can become a monthly donor for Arya and support her upkeep.