In a four hour long, joint anti-poaching operation that involved several enforcement agencies, five live sloth bears were seized from poachers who were moving these animals from an area near the Indo-Nepal border to the Deogarh district of Jharkhand, based on intelligence provided by Wildlife SOS. The Wildlife SOS anti-poaching unit called 'Forestwatch' received intelligence that the poachers were hiding in a remote forested area in the Deogarh District of Jharkhand. The seizure, carried out by officers of the Forest Department and Police Force, was conducted by RFO Deogarh S.D. Singh, under the guidance of DFO Deogarh Shri Premjit Anand and the support of PCCF (Wildlife) and Chief Wildlife Warden Shri P.K. Verma.
The five sloth bears were brought by wildlife traffickers from the Indo-Nepal border areas into Deogarh, and the offenders were planning to sell these animals to other middlemen. The bears are currently under temporary care and treatment at Bhagwan Birsa Zoological Park in Ranchi.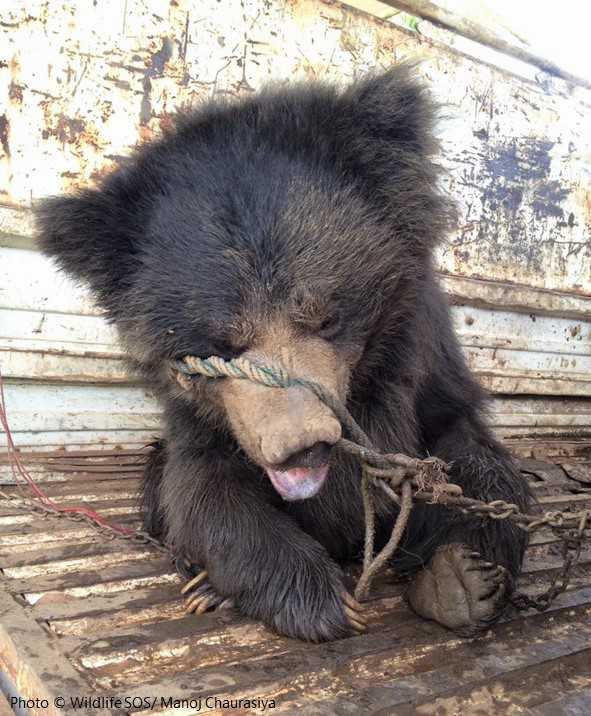 Baiju Raj M.V, Director Conservation Projects, Wildlife SOS shared that the bears were severely traumatized and require extensive medical treatment, and possibly surgical intervention.
A team was sent to confirm the intelligence provided by Wildlife SOS and then immediately Forest Dept dispatched a team of 25 forest officers, accompanied by local police force. It was a challenging operation as the entire seizure was conducted in broad daylight and a huge mob had gathered. The anti-poaching operation was a result of extensive planning for several days. The authorities have arrested one offender and are closely investigating the matter to capture the other escaped felons. This is a serious and non bailable offence under Wildlife Protection Act, 1972.
Kartick Satyanarayan, Co-founder & CEO of Wildlife SOS, said, "As soon as intelligence on wildlife crime is intercepted, we immediately pass the information to the concerned authorities and extend all possible assistance. Sloth bears are a vulnerable species and poaching of this species must be prevented at all cost. These bears have been poached from the wild and such activities negatively impacts the wild population of the species."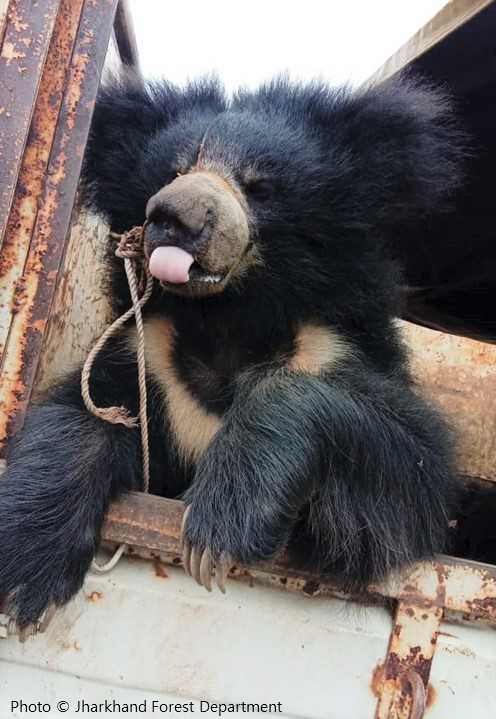 Bears are poached for their body parts such as gallbladder, penis, bones, bile for preparation of traditional medicine and aphrodisiacs in South Asia and Southeast Asia. Bear paw soup is also a delicacy in these regions.
The Sloth bear (melursus ursinus), is one of the four unique species of Ursids that occur in the Indian subcontinent. Their population in the wild is severely threatened due to habitat loss, poaching, and retaliatory killing resulting in human bear conflict. The animal is listed as 'vulnerable' in the IUCN Red List and listed under Appendix I of the Convention on International Trade in Endangered Species of Wild Flora and Fauna (CITES).
We are grateful to the PCCF and Chief Wildlife Warden of Jharkhand and the Forest Department for their support and for taking swift action to combat wildlife crime in the state. The 'Forestwatch' Anti-poaching unit of Wildlife SOS is supported by Hauser Bears, One Voice and HSI Australia.