With rising awareness on the importance of saving animals, the Rapid Response Units of Wildlife SOS in Delhi NCR, Vadodara, Agra and Jammu and Kashmir have received multiple calls for rescues during the first half of this year. From extracting reptiles stuck in small spaces, to giving the injured birds a chance to fly again — our dedicated team worked relentlessly to help save these animals.
The Winter That Came!
The new year kicked off with several rescues that were diligently carried out by our teams across the country. The Rapid Response Units of Wildlife SOS rescued 106 mammals such as jackals, hyenas and many more from Delhi, Agra and Vadodara during the bitterly cold winter season.
January alone saw the rescue of a total of 200 birds such as peafowls, black kites, injured pigeons, barn owls and crows from across Agra, Delhi NCR, Vadodara as well as Jammu and Kashmir. Our Rapid Response Units from all four locations successfully rescued a total of 670 animals in the month of January itself!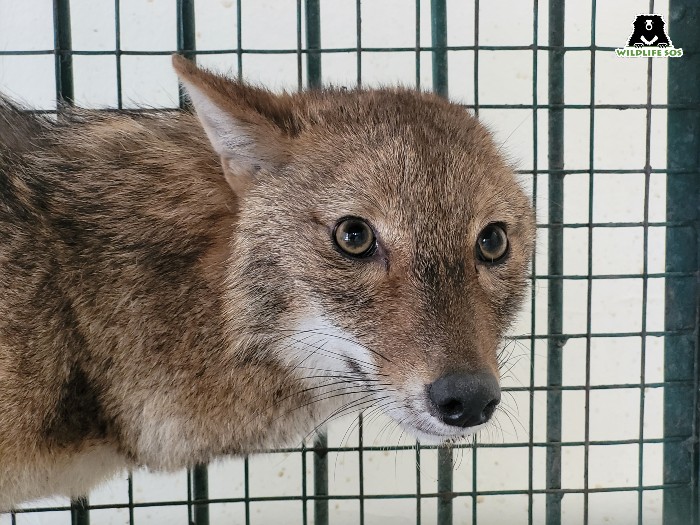 Snake Alerts!
Timely calls by concerned citizens led to rescues of diverse species of snakes that were entangled in challenging situations. While the first response to snake encounters earlier was fear that provoked attacks, gradual awareness through sessions conducted by Wildlife SOS have guided people on how to deal with snakes in their proximity.
Rat snakes, cobras, sand boas, Indian wolf snakes, royal snakes, Russell vipers, krait snakes, pythons and kukri snakes were some of the major snakes out of nearly 930 reptiles that we rescued in the first half of this year!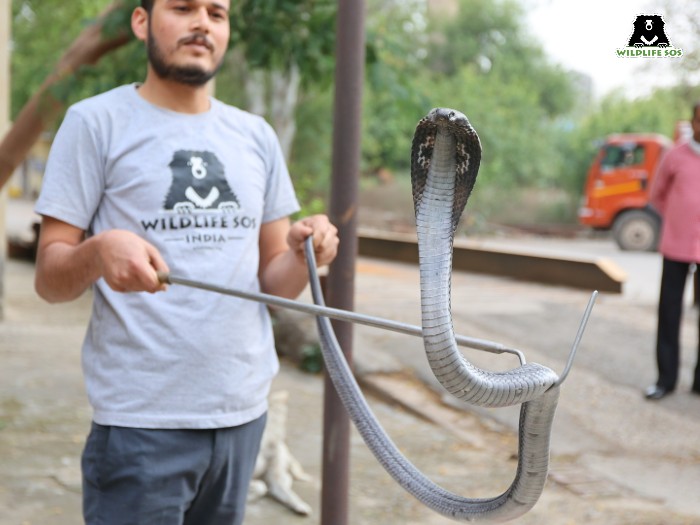 Our team in Agra also witnessed a day dedicated to the cautious rescues of one of India's 'Big Four' venomous snakes. On a single day, 3 Indian spectacled cobras were spotted, of which 2 were within different schools and one was inside the juvenile justice board. Urgent calls made by alert staff members had our team of experts rush to the locations to address each situation and rescue these animals.
Flying towards Freedom!
This year, people across the country experienced extremely high temperatures over the summer months. Animals, too, faced the brunt of the heat, given the excessive number of calls received on our 24X7 helplines.
The months of April and May recorded the highest number of bird rescues done so far this year by our team from Delhi NCR, Agra, and Vadodara. With approximately 461 birds rescued in these two months alone, it wasn't long before our team found out why the number of bird and animal rescues were going up.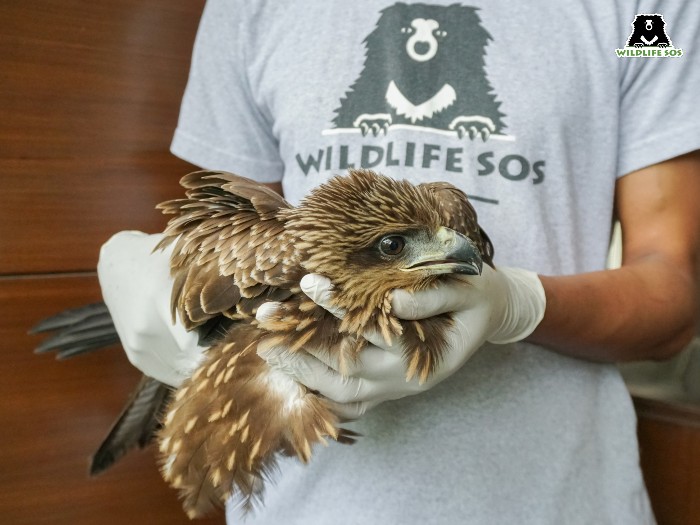 The biggest cause for bird rescue calls this summer was severe dehydration. Birds flying under the scorching sun often collapse due to the heat, which leads to injuries as well as a loss of energy to take flight again. During these harsh months, we strongly recommend everyone to leave out clean water in earthen vessels for birds. One can also create DIY birdhouses and bird feeders for the beautiful and elegant avifauna found in your neighbourhood.
In the span of the first six months, our rescue teams have attended to approximately 1,123 bird rescues that included black kites, parakeets, peafowls, barbets, flamebacks, crows, pigeons, shikras, mynas, and tailor birds.
Illegal Wildlife trade!
Two gruelling rescue operations by Wildlife SOS-GSPCA (Gujarat Society for Prevention of Cruelty to Animals) managed to save 6 Indian star tortoises along with 23 aquatic species from illegal trade. In Vadodara, Gujarat, the forest department received knowledge about a shopkeeper illegally selling these tortoises. Our team devised a strategic way to catch the owner red-handed, and this led to the arrest of the shopkeeper. The 6 rescued star tortoises were taken to a safe location for medical examination.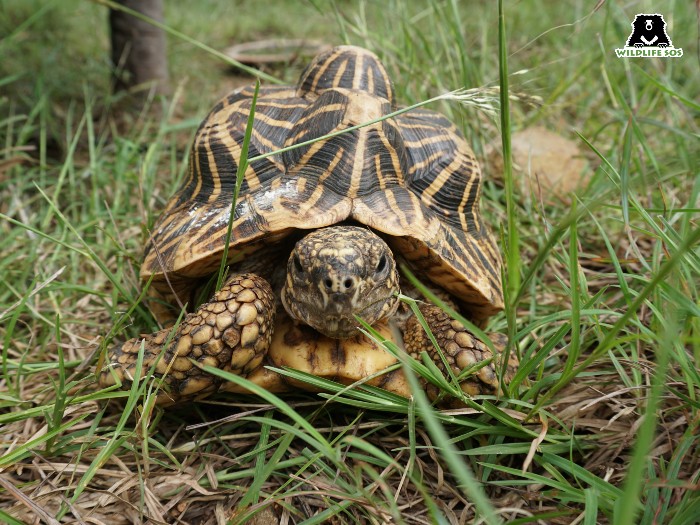 Similarly, another raid was conducted that led to our team finding 23 species of aquatic animals including coral, jellyfish, starfish, octopus, sea horse, mini shark and a few other animals in preserved chemicals. Along with these were 2 star tortoises in illegal possession. The investigations in these cases are currently ongoing.
Along with this, Wildlife SOS in collaboration with the Uttar Pradesh Forest Department carried out the rescue and release of 298 Indian softshell turtles and Indian flapshell turtles found in Mainpuri district. After our team conducted careful medical examination of these turtles, they were deemed fit to be released back into their natural habitats. The team in Agra also saved 66 other reptiles, including snakes and monitor lizards.
Accidents Caused by Open Wells!
Our team came to the rescue of almost 20 animals that had accidentally fallen into open wells this year, of which 5 of these instances occurred in Maharashtra itself. Majority of our open well rescues happened in Agra, Uttar Pradesh where animals like jackals and snakes were rescued from difficult situations. In an unusual scenario, a golden jackal and a cobra were found trapped together in the same open well in Maharashtra. The rescue operation conducted was a long and challenging one, however, equipped with essential rescue gear, our team managed to safely rescue and release both the animals.
Open wells are now an additional threat to wildlife owing to the rising human settlements that are encroaching forest habitats of animals. These uncovered wells are indiscernible to animals that carry out their routine activities, and several become victims of these gaping holes in ground. Wildlife SOS has rescued a number of leopards, civet cats, and many such animals that have been found struggling for survival in the depths of these wells.
To address this matter, our team has launched a petition for the covering of open wells on an urgent basis in the state of Maharashtra to prevent injuries or untimely deaths of animals. Along with this, Wildlife SOS has also launched the Open Wells Conservation Project wherein 40 risk-prone, uncovered wells have been identified for Phase I. This project has been undertaken keeping in mind that the reliance of local people on these wells are not compromised, and that they are no longer dangerous to animals and the animals can be rescued. We have successfully covered 14 open wells as of June 2023.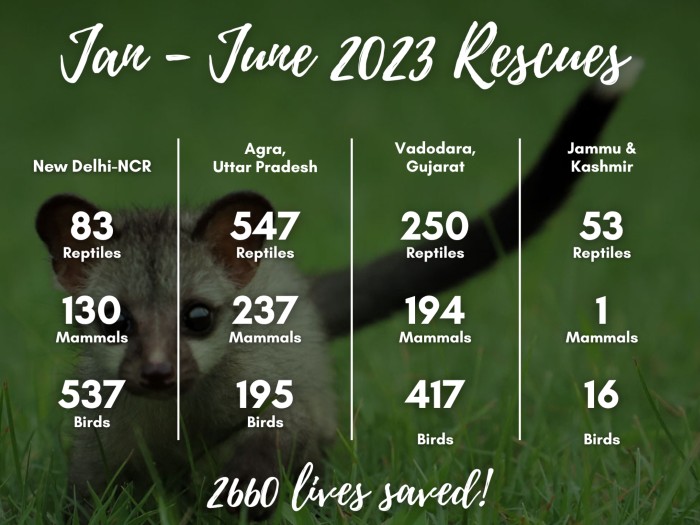 Our Rapid Response Unit is always available and willing to help in every way they can. In case you find an animal in distress, please reach out to the nearest wildlife organisation or the forest officials. Our units are established in the following regions and you can contact them on our 24X7 helpline numbers:
Delhi NCR – +91 9871963535
Agra – +91 9917109666
Vadodara – +91 9825011117
Jammu and Kashmir – +91 7006692300, +91 9419778280
You can also make a donation and help us in our dedicated efforts to rescue animals in need of assistance!