In 2021, a video made rounds on the internet, showing the frail condition of a particular elephant that was infamously dubbed as "India's skinniest elephant". The crippled elephant aged around 25 to 30 years old has been allegedly used for street begging and subjected to starvation, abuse and neglect by her owners. On learning of her plight, immediate action was taken by the Madhya Pradesh Forest Department to seize the elephant.
"Lakshmi" had spent most of her life begging on the streets — be it under the harsh summer sun or frigid winter nights, this was her relentless routine every single day. Her owner would put the heavy howdah (a seat with a railing and canopy, erected on the back of an elephant) on her back, which caused her spine to become crooked and deformed. Her diet, which was minimal and lacked the nutrition to sustain an animal as large as an elephant, led her limbs to become bony and weak.
On December 28, 2021, a Wildlife SOS veterinarian arrived at Lakshmi's location at Bada Malhera, Madhya Pradesh, to conduct her initial health examination. On-site analysis revealed multiple bullhook wounds on the visible part of her ears (pinna), abscesses on her hips and a septic wound on her spine. Moreover, she was barely able to walk a few steps, swinging from side to side as her limbs struggled to hold her weight. For a thorough check-up, our veterinary officer climbed atop a tractor parked nearby to examine the wounds on her spine to provide Lakshmi with the necessary and immediate treatments.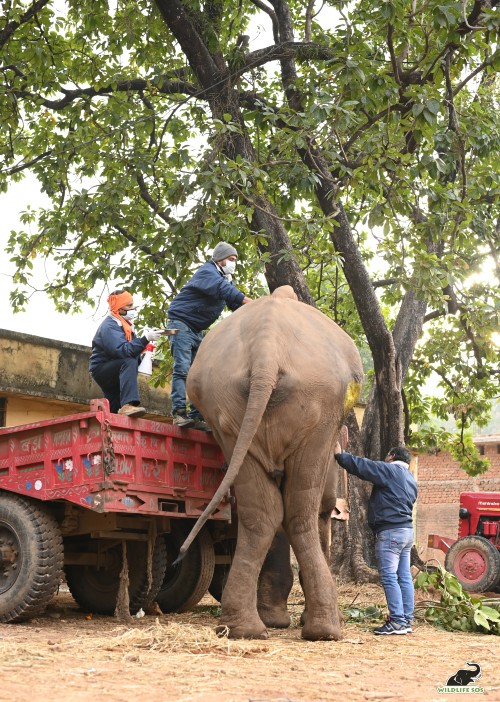 Throughout the time that the team was present there, Lakshmi sniffed the elephant ambulance intently, perhaps due to the smell of other rescued elephants that had earlier been inside the same ambulance. After on-site treatments were complete, Lakshmi was ready to make the journey to the Treatment Unit at the Elephant Conservation and Care Centre situated in Mathura, Uttar Pradesh. The elephant care team drove through dense fog at night to cover the 400 kilometre route.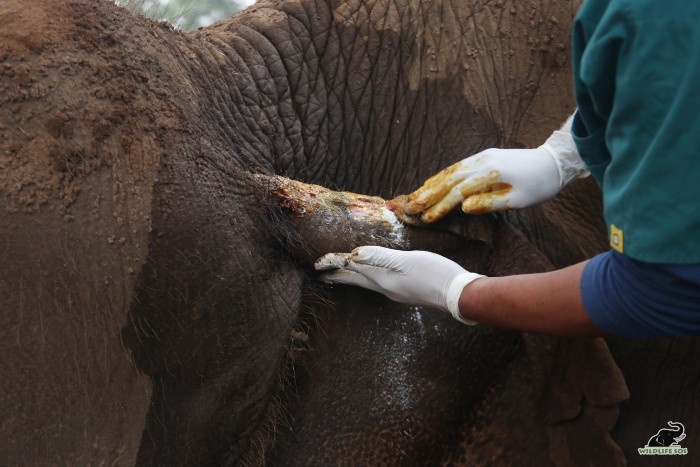 Miraculously, Lakshmi happened to take her first steps into a new life at the dawn of the new year!
The first and foremost step that the elephant care team took when Lakshmi arrived was Lakshmi's detailed health assessment. With the use of the portable x-ray machine, jumbo weighing scale, thermal imaging and an up-close veterinary examination, we were able to diagnose severe malnutrition, ankylosis of the limb joints and osteoarthritis, all of which were causing her immense agony.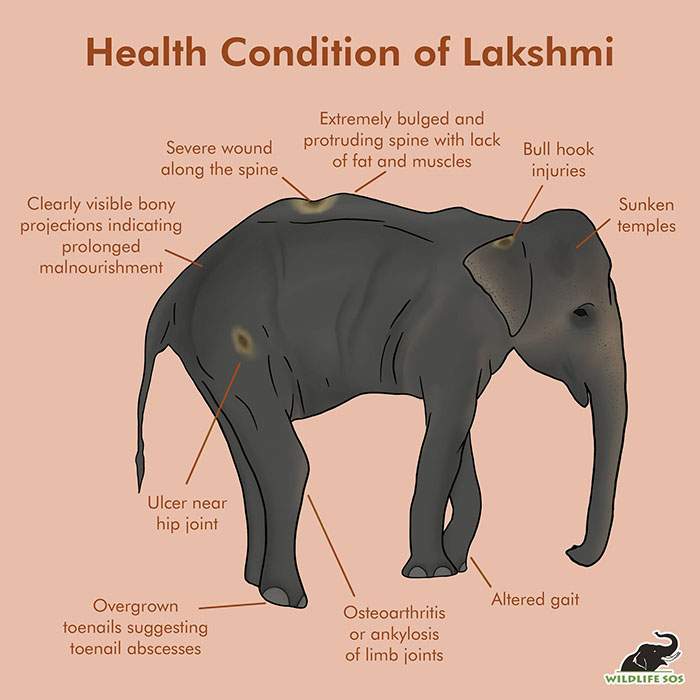 A detailed diet plan was also charted out for Lakshmi to be able to gain some body weight. Lakshmi's limbs were irreparably damaged, and the team was aware that she would not be able to hold the ideal weight of her body. To address this, the first step was to ensure that she ate a fixed amount of highly nutritious and hydrating food, so that her body could gain energy to repair itself. She feasted on porridge made with millets, pulses, black salt and a tiny pinch of clarified butter, along with several fibrous fruits and vegetables.
While she was recuperating, her caregiver and the veterinary team kept a close eye on her to make sure that she did not face any issues in the cold winter season. During winters, many of the older elephants at the centre like Nina, who suffer from arthritis, face an aggravation in their conditions. As Lakshmi was under intensive care since she arrived, it was imperative that she came out of this season without any difficulties.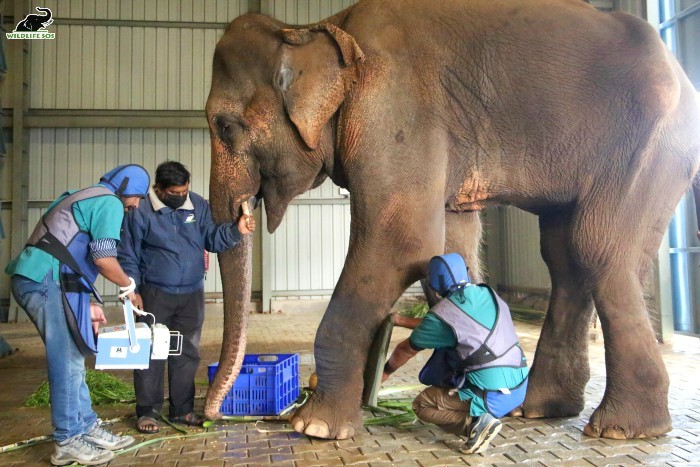 Thanks to the winter management measures by the Wildlife SOS team, provision of tarpaulin sheets to cover her enclosure, halogen lamps to keep her warm, warm oil massages for her aching limbs and a digestive mixture using Indian spices and jaggery were all available for Lakshmi to help boost her immunity. Lakshmi was able to brave the winters and come out stronger than she was before. She also started walking more steadily, though the length of her walks was kept short to decrease the pressure on her limbs. She also received regular state-of-art laser therapy, which is an instrumental method of healing damaged tissues and nerve disorders.
She also began a basic target training activity that helps her stay calm during her treatments. By using positive reinforcement, this training makes Lakshmi cooperative when she has to present her limbs to the veterinarian so that he can handle quick treatments. During treatments, Lakshmi's caregiver gives her a steady supply of treats like dates and nuts to keep her comfortable and at ease.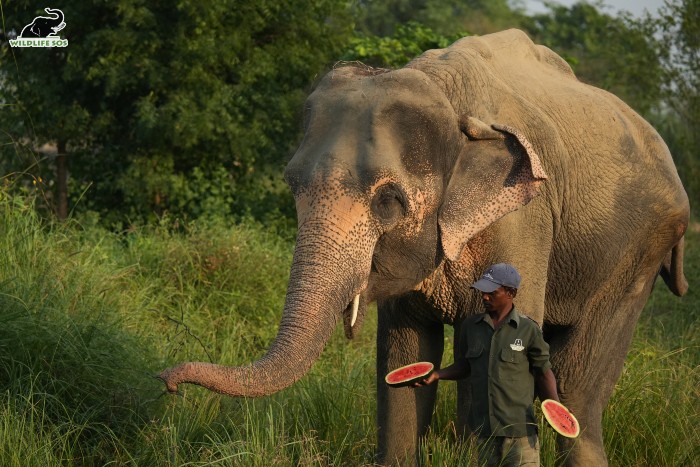 Currently, Lakshmi is undergoing regular veterinary care for the footpad and toenail abscesses on her forelimbs and hindlimbs, as well as for a wound on her left hip region. Each day, she is given medicated footbaths and wound-cleaning treatments. Slowly, but surely, she is making progress and we hope that she can soon go on long walks without the wounds from her past clinging on to her.
If you would like to lend a helping hand to Lakshmi, and support her healing, you can sponsor her daily care and upkeep here.