The past one month has been a whirlwind of a journey at the Wildlife SOS Elephant Hospital as we settled Emma into her new home and watched Jai make remarkable progress under our care. The year 2020 was indeed a challenging one, with the pandemic hitting hard and abruptly halting life as we know it. Despite these hurdles, the Wildlife SOS team remained vigilant and successfully rescued four ailing pachyderms from situations of neglect and abuse, giving them a chance to heal and recuperate at the Wildlife SOS Elephant Hospital.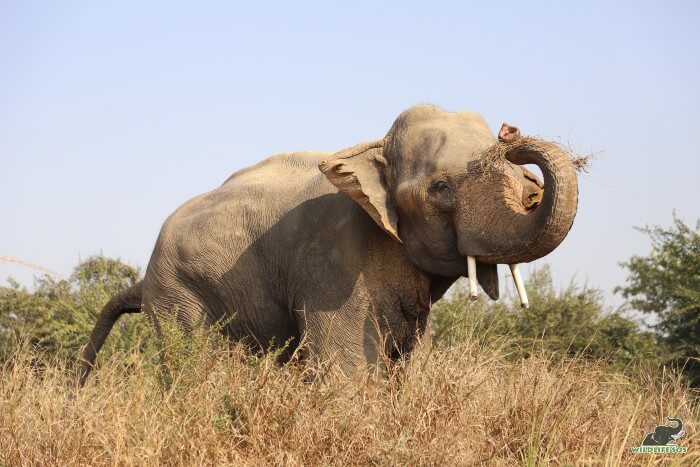 Of one such story is that of Jai, whose bruised limbs spoke volumes of the neglect he suffered. The illegal use of spiked chains on his limbs caused severely infected wounds which were not given proper medical attention. To add to his misery, he was lauded with these painful chains and made to walk over 1000 km on varying terrains and through unfavourable weather. Jai knew no rest or respite until he took his first steps to freedom with Wildlife SOS and one month down the line, we witness him steadily regain his physical and mental strength.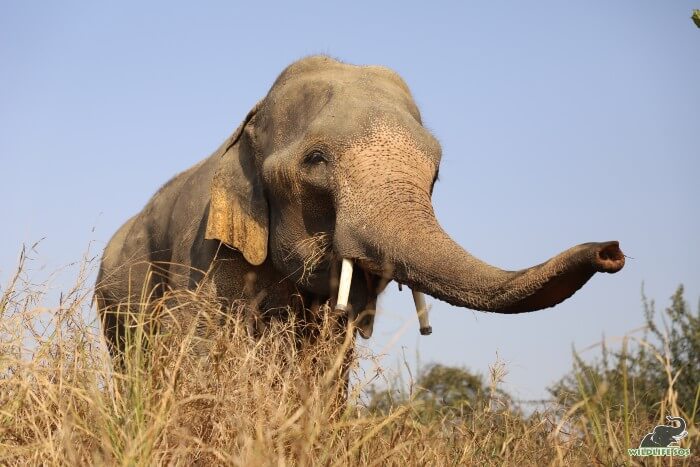 Jai can be seen picking out fallen pieces of carrots and sugarcane that are hidden in his mud bed by his caregiver. Mud beds are of particular importance as they provide him the support that he requires in lying down and getting up with ease. Since Jai suffers from an aggravated condition of osteoarthritis that affects his hindlimbs, the mud beds help distribute the weight allowing him to stand easily after resting. His dexterous trunk carefully disintegrating the mud bed, to find hidden vegetables in it. Jai enjoys basking under the warm winter sun for most part of the day, taking relaxing dust baths and walking around his spacious enclosure.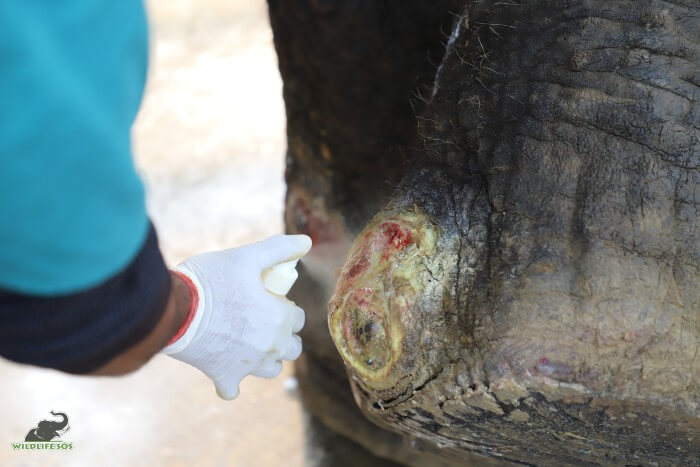 He is undergoing intensive foot care treatment due to the chronic wounds caused by the spiked chains around his ankles that are gradually healing with proper care. He receives regular medicated foot baths of Epsom salt and turmeric which serves as an antiseptic and expedites healing for his injured foot pads. Additionally, his wounds are regularly cleaned and covered with a paste of antiseptic ointment and keratinising agent, and he receives ice fermentation to control inflammation. Jai suffers from a chronic abscess on his elbow, aggravated furthermore as he sleeps on his right side. He is also presently under treatment for the same as it is regularly cleaned and dressed with antiseptic.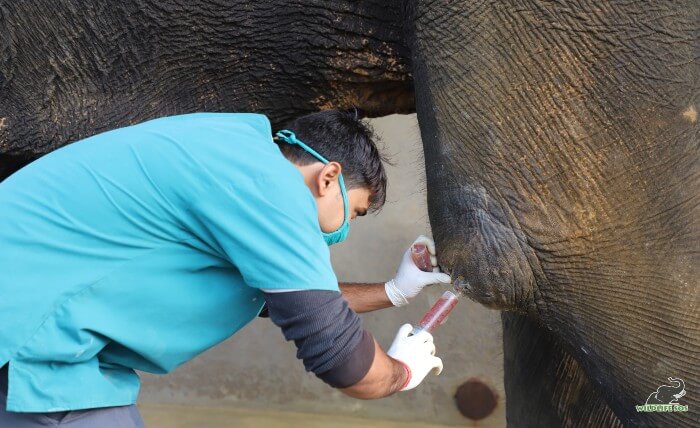 A towering bull like Jai, unfortunately, suffers from poor body composition due to years of neglect which is why our team has charted out a healthy diet for him. He is also administered oral medication strategically hidden in cucumber or papayas. The oral medication primarily controls inflammation, manages his pain and discomfort and boosts his immunity, while keeping a close vigil for infections.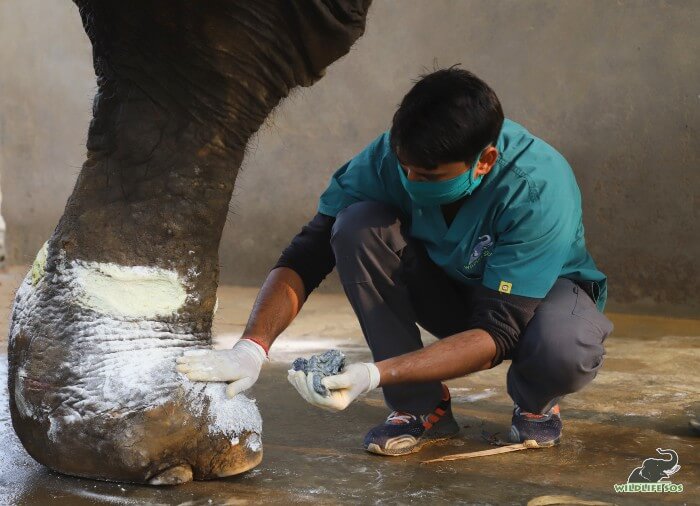 Initially, Jai's skin appeared dull, rough and flaky, thus displaying signs of malnourishment, dehydration as well as dermatitis. As he receives anti-parasitic baths, relaxing warm water showers and a nutritious diet, our veterinary team and elephant care staff observed a healthy improvement in his skin. Jai's winter diet includes carrot, cabbage, cauliflower, sugarcane and watermelon – of which, Jai enjoys sugarcane and watermelon the most!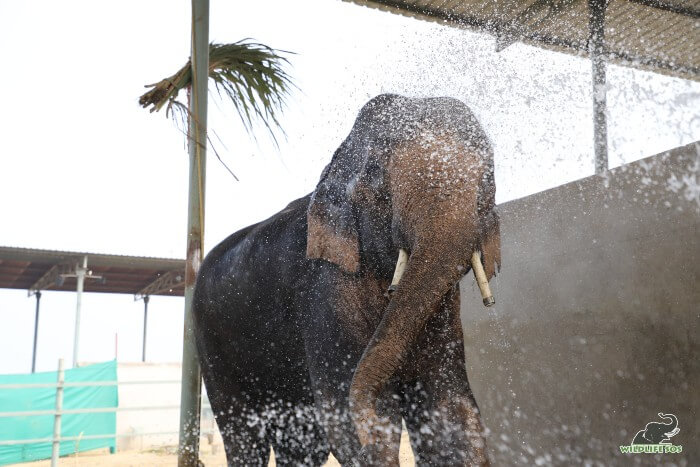 Rendered exhausted by his oppressive past, Jai can often be spotted napping on his mud bed during the day and sleeping soundlessly through the night. His enclosure is covered with thick tarpaulin curtains and halogen lamps that keep him warm at night!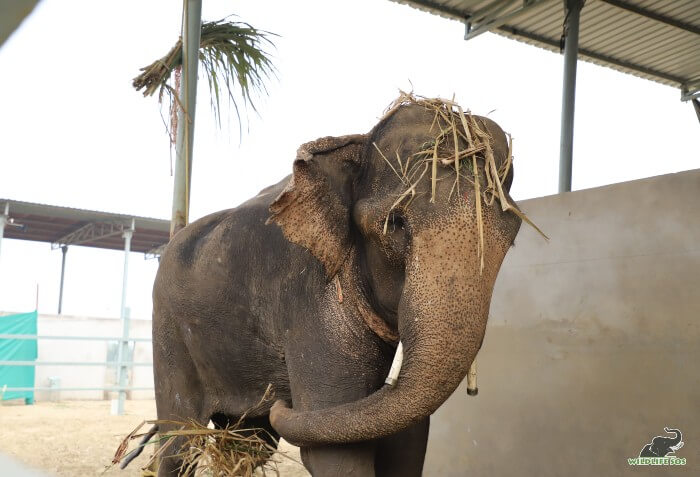 Jai still has a long way to go in his healing journey as our veterinary team and elephant care staff work very hard to stabilise his condition. You, too, can play an instrumental role in supporting this brave pachyderm emerge unfettered from his torturous past by considering becoming a sponsor!