Every year tens of thousands of pilgrims embark on a holy pilgrimage to the Amaranth caves, nestled amidst the Himalayas in the northern state of Jammu & Kashmir. This year, devotees were in for a big surprise as a rare Himalayan brown bear cub was spotted in the campsite in Panchtarni at an altitude of 11,500 feet. The young bear had picked up the habit of raiding garbage cans at the campsite used by devotees on the Amarnath pilgrimage and was spotted frequenting the area on several occasions. The inexperienced bear unfortunately got its head stuck inside a dustbin and had to be rescued.
As Brown bear cubs are dependent on their mothers for the first 3-4 years of their lives, several attempts were made by the Wildlife Protection Department to look for the mother in the area. However, when she failed to turn up, the bear was transferred to a transit facility in Pahalgam. The bear was identified as a male of approx. nine months and was treated for minor wounds that were sustained during his attempts to break free from the can. As the cub is quite young and will not be able to survive in the wild on its own, Wildlife Warden (South div.) Intesar Suhail, has placed the bear under the permanent care of Wildlife SOS at our Pahalgam Rescue Center which is managed in collaboration with the Wildlife Protection Department of Jammu & Kashmir.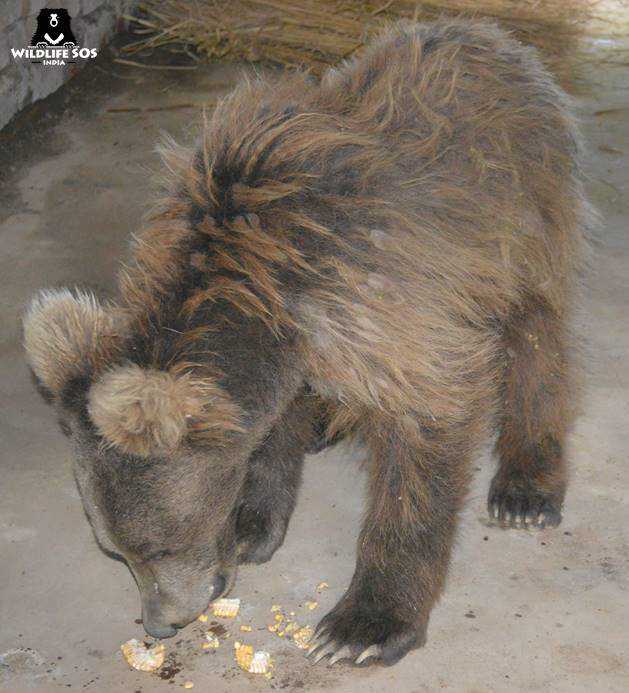 The Himalayan brown bear (Ursus arctos isabellinus) is a subspecies of the brown bear and are found only in high altitudes in north-western and central Himalayas including India, Pakistan, Afghanistan, west China, Tibet and Nepal. This species is listed as 'Critically Endangered' under the IUCN Red Data List and is protected under Schedule I of the Wildlife Protection Act, 1972. Brown bears are almost on the brink of extinction due to rapid habitat loss, man-bear conflict situations, militancy and poaching for its fur, claws and organs.
The Amarnath Yatra is of great religious significance but pilgrims have been leaving a lot of plastic waste and littering the virgin forest area leaving a negative impact on the area's ecology. Regarded as a Heaven on Earth, Jammu & Kashmir boasts one of the world's most beautiful landscapes with meandering rivers, towering snow capped peaks and lush green valleys. Home to a startling array of flora and fauna, these terrains also form a natural habitat for several unique wildlife species including brown bears, snow leopards, musk deer, red deer (Hangul) etc.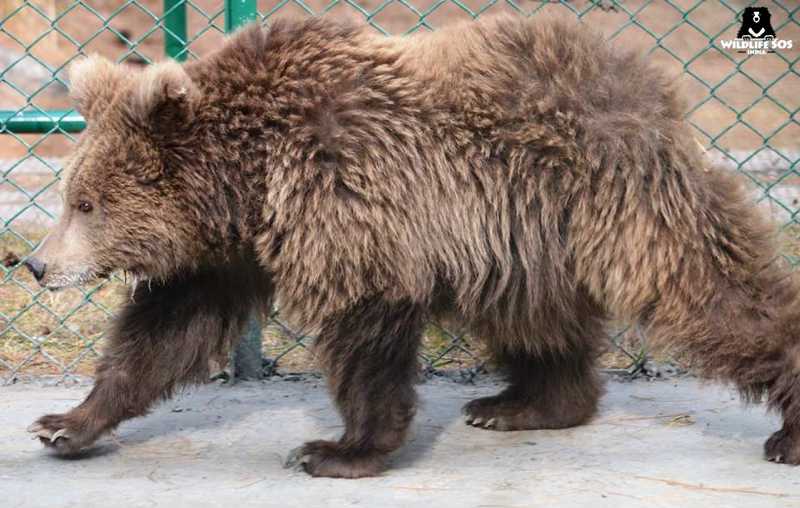 Over the past few decades, only a handful of Himalayan Brown bears have been sighted in these range. They live in higher altitudes and avoid contact with human beings but due to rapid deforestation and decline in natural prey base, they have become conditioned to relying on trash and food waste generated by humans at campsites. We would have preferred to see the cub live a life of freedom in his natural habitat. Unfortunately, since he is dependent on humans for food there is a greater chance of him getting into frequent conflict situations in the future and could eventually become a victim of human bear conflict. The only place they can thrive in India is in an environment close to its origin such as Pahalgam or Dachigam in Kashmir.
The Wildlife SOS Bear Rescue Centers in Pahalgam and Dachigam in J & K currently houses six Asiatic Black Bears. These bears have been hand reared and are being taken care of by Wildlife SOS team members in enclosure space provided by the J & K Wildlife Department. In addition, as part of the Asiatic Black Bear Conservation Project, Wildlife SOS has organized various training workshops for the staff and team of the forest department to help in capacity building and training the officers in the use of specialized tranquilizing equipment. Our team has also been continuously working on wildlife education awareness to change the perspective of the communities living in close proximity to the natural habitats of wild animals.