Like a tradition that binds a family together, Christmas has become an integral part of Wildlife SOS. As December commences, every Wildlife SOS Rescue center reverberates with rumblings of ideas to make Christmas a joyous and memorable occasion for our resident animals. This year our care teams in Maharashtra, Agra, Bangalore, and Mathura left no stone unturned to shower our resident animals with some much-needed holiday cheer!
In Mathura, the smell of popcorn hung in the air as our care team at the Elephant Conservation and Care Center and the Elephant Hospital Campus filled jumbo stockings with fresh popcorn for our beloved pachyderms. Some popcorn was even put in decorated cardboard boxes that our elephants could rip apart as they gobbled the snack down. Preparing Christmas gifts is not only a treat for our animals but also allows our team to bond with one another as they steal a few bites of popcorn for themselves!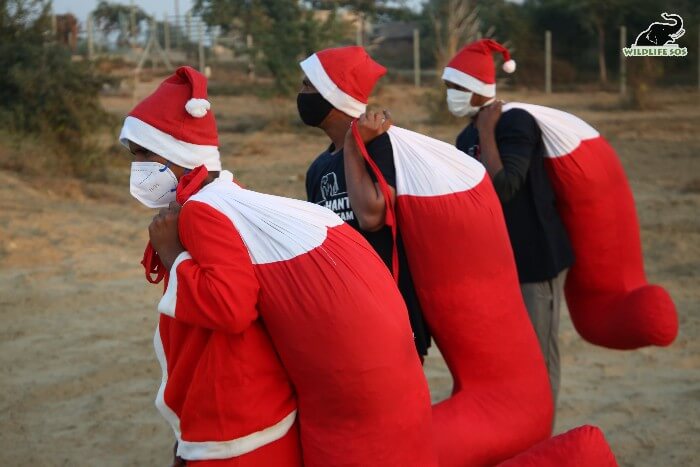 Having brainstormed a myriad of ideas to make this a special day for our elephants, our team created a wreath out of juicy sugar cane and wrapped it in some green fodder. Last but not least our team spent hours carving juicy watermelons in the shape of stars! To add an element of surprise, our Education and Conservation Officer, Mr. Shivam Rai left these gifts in the enclosures while our elephants had gone for their daily evening walk.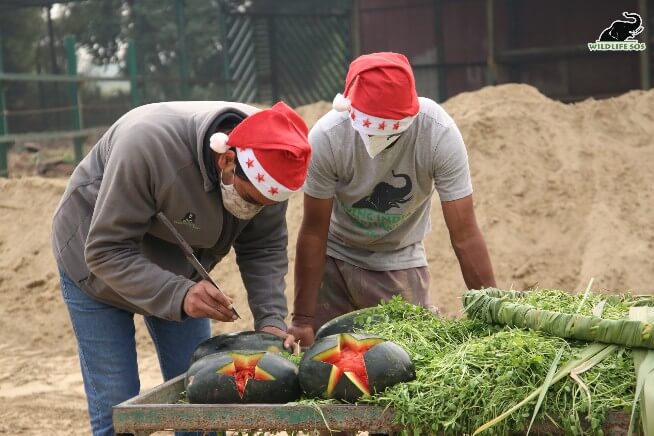 Our team was giddy with excitement as our elephants returned from their walk and leaped towards their Christmas enrichments. Maya, Phoolkali, and Emma's joy was palpable as the trio devoured the popcorn together.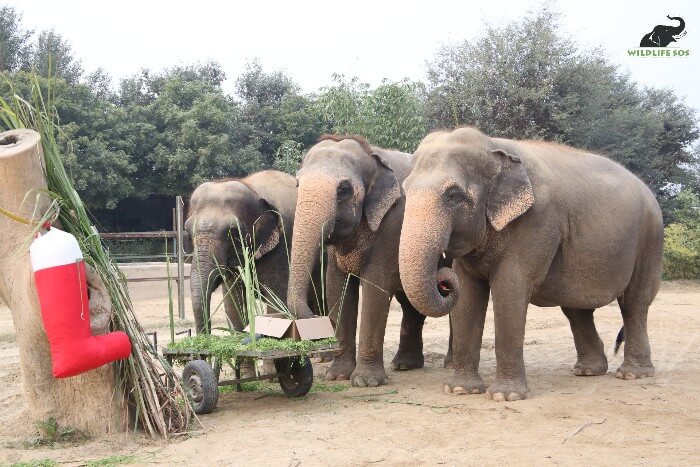 The most exciting moment, however, was surprising the newly rescued elephants – Pari and Ginger. Our hearts were full of joy seeing Ginger and Pari munch on a feast of delicious snacks, unimaginable as the elephants who were once starved, tortured, and held in captivity.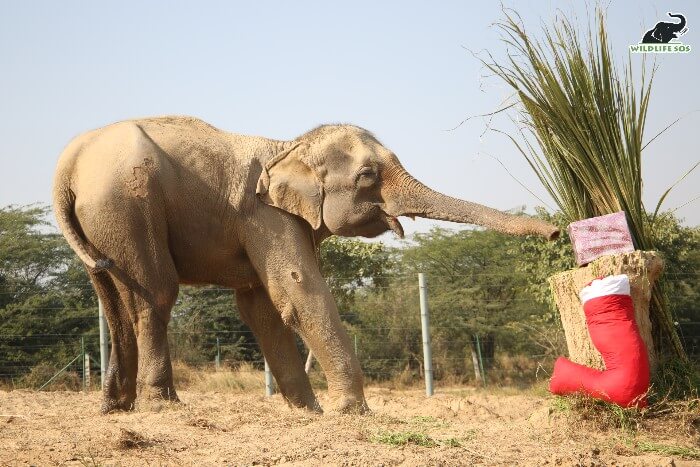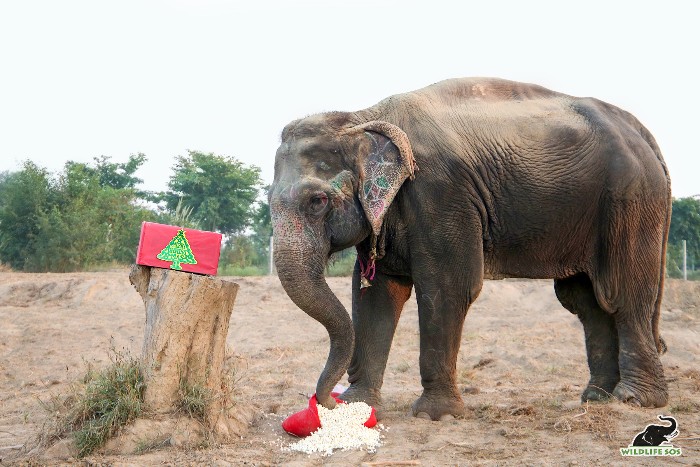 At our Agra Bear Rescue Facility, the care team dressed in red t-shirts and iconic Santa hats as they created a unique version of a snowman – built from jute bags and filled with hay and dates! These snowmen were placed next to meticulously decorated gift boxes containing our sloth bear's favorite treats – popcorn, dates, and of course a drizzle of honey.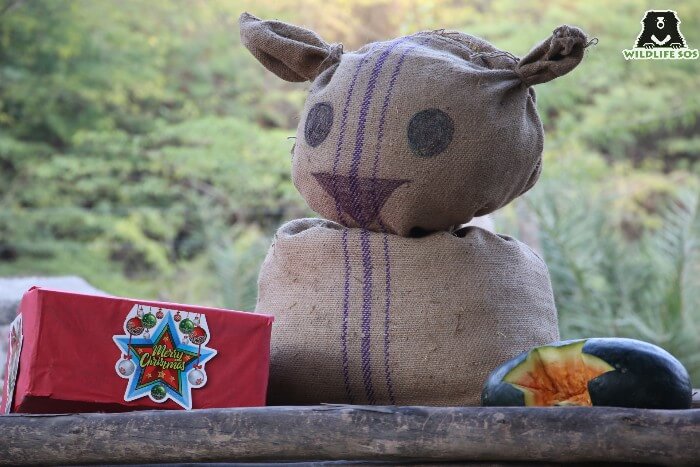 Our most mischievous bear, Ron, enjoyed tearing apart the jute snowman while Elvis sniffed around the gift box before diving in!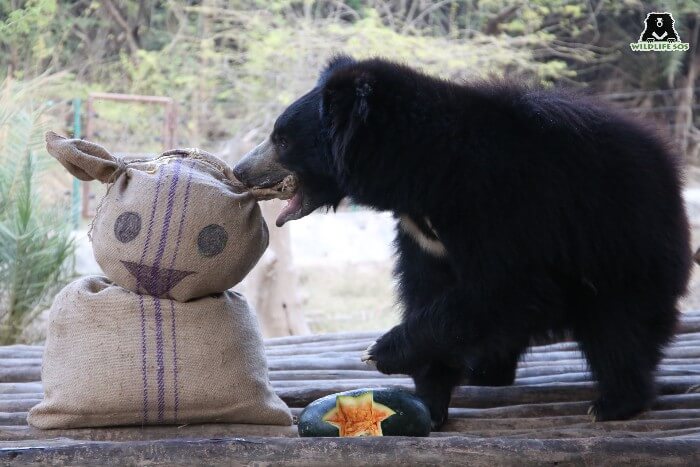 These Christmas enrichments don't only bring joy to our animals but also sneakily act as a form of exercise! They encourage bears and elephants to use their natural abilities and instincts of foraging. At Bannerghatta Bear Rescue Centre, the Christmas enrichments were hung from platforms or high trees, luring the animals to exercise their limbs. Knowing that their resident sloth bears are fond of pomegranates, the BBRC team even created a string of pomegranates that could dangle from branches! Every bear at BBRC was soon standing on its hind limbs, sniffing and licking for their Christmas presents.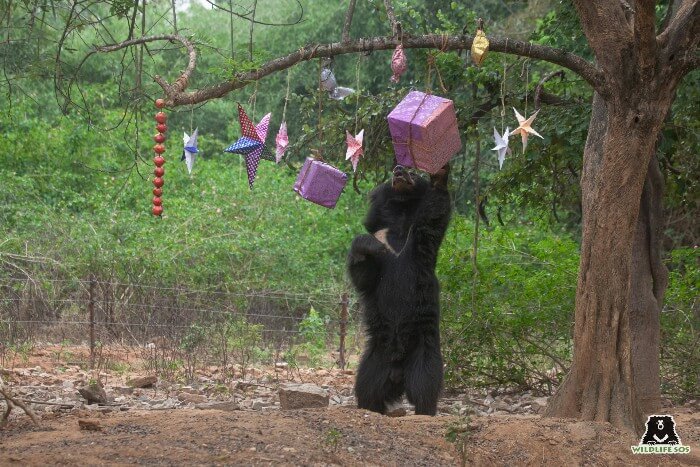 The Wildlife SOS team operating out of the Manikdoh Leopard Rescue Center also joined in on the celebrations as they prepared gift boxes for our resident felines. The boxes were kept in unusual locations like atop a branch or on a structure to allow the leopard to discover the boxes! We saw a different and more inquisitive side of our felines as they sniffed, licked, and eventually tore apart the boxes for hours on end.
For our team, Christmas is not just a time of joy but also a time of reflection. This year, having experienced a life-threatening pandemic, Christmas felt like an even more special occasion for us. While we were thankful for the safety of our near and dear ones, we could not imagine the sorrow being experienced by those who could not say the same. Contemplating the fragility of life and the importance of family, our care team was inspired by our rescued baby Rhesus' Macaques! Having lost their mothers to either electrocution or accidents, the baby monkeys were rescued by Wildlife SOS and given a safe home. These baby monkeys were introduced to one another and instinctively formed a healing connection with each other. Today these packs of monkeys are inseparable, supporting and caressing each other through their grief.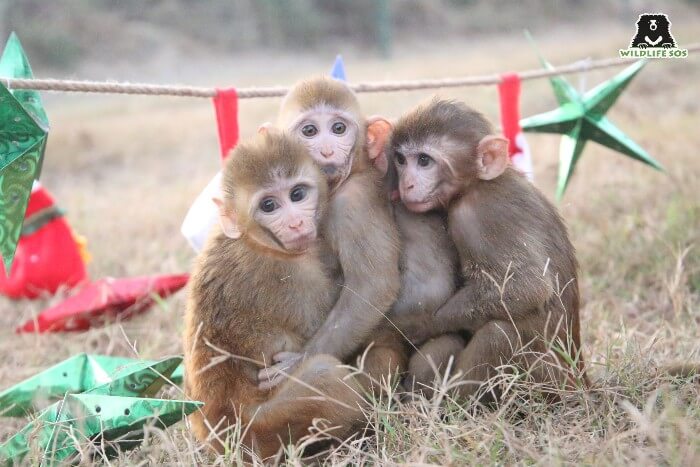 Our team thus decided to give a special Christmas treat to the monkeys. We created mini stockings that were stuffed with a variety of nuts. To go along with the stockings, a delicious fruit platter was prepared with watermelons, bananas, and papayas! The monkeys gobbled up their treats but never left each other's side, reminding us that Christmas is defined by those around you.
We wish our readers and supporters a happy holiday season and thank you for being an integral part of the Wildlife SOS Family!