Wildlife SOS in collaboration with the Wildlife Institute of India (WII), recently organised an exposure visit and training workshop on wildlife and health management for 25 serving veterinary officers from the Department of Animal Husbandry, Madhya Pradesh (MP) at the NGO's Agra Bear Rescue Facility and Elephant Conservation & Care Center (ECCC) in Mathura.
This was part of a 2-week long training workshop on 'Wildlife and Health Management' with an objective to enhance basic skills and knowledge of field veterinary officers. They were made familiar with various wildlife health issues, health monitoring procedures, captive care and managing animals in distress.
The workshop focused on two topics — 'Veterinary Interventions in Managing Rescued Wild Animals and Field Demonstration of Health Examinations and Monitoring Techniques in Bears' and 'Concept of Animal Welfare with Special Reference to Elephant Management and Positive Reinforcement Training for Enhanced Welfare in Captivity'.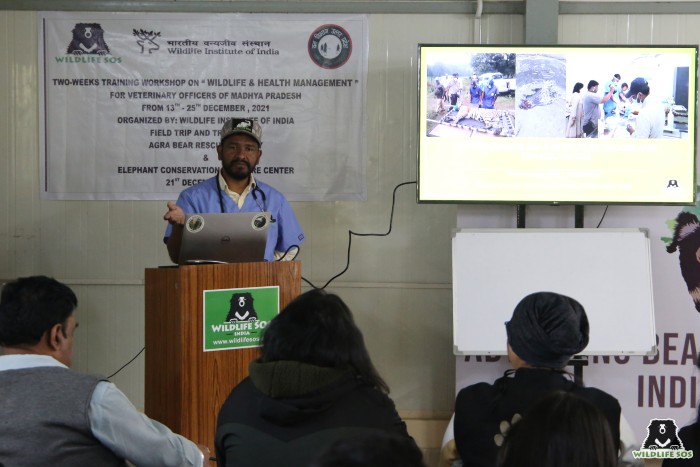 Following a brief orientation session which highlighted the physiological characteristics and behavioural nature of sloth bears, the team was given a tour of the Agra Bear Rescue Facility.  Dr. S Ilayaraja, the Deputy Director for Veterinary Services at Wildlife SOS. then went on to explain the various veterinary challenges regarding health management issues and the different types of cases they receive, common diseases in bears, their prevention and management. Following this, they were given an overview about Wildlife SOS' conservation efforts and animal welfare management by Baiju Raj M.V, our Conservation Projects Director. The officers also attended a practical demonstration of the veterinary doctors conducting a general health check-up of a sloth bear.
The officers also visited the Treatment Unit which was established by Wildlife SOS & the Uttar Pradesh Forest Department in 2018. After a tour of the facility, Dr. Ilayaraja talked about the various challenges regarding elephant care management, treating elephants, with special focus on their foot care and as well as on abscesses. The officers also got a chance to look at the various modern techniques and advanced medical equipment and facilities which help in seamless treatment of the rescued elephants.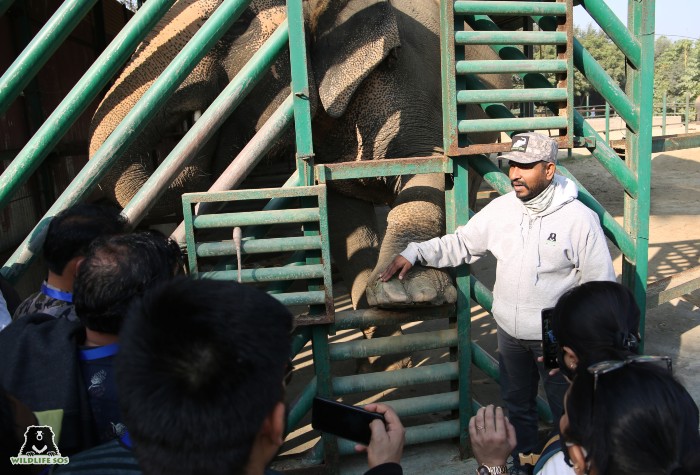 The workshop concluded with a demonstration of scientific and humane elephant management techniques such as target training using positive reinforcements at the Elephant Care & Conservation Centre in Mathura. Target training is used by our veterinarians to perform various procedures such as providing laser therapy and drawing blood samples from the elephants. This makes the treatment safer and easier without putting the elephants through any discomfort.
In addition to this, Dr. Parag Nigam, Scientist -F and Course Coordinator, WII gave his valuable inputs on identifying elephants in the field.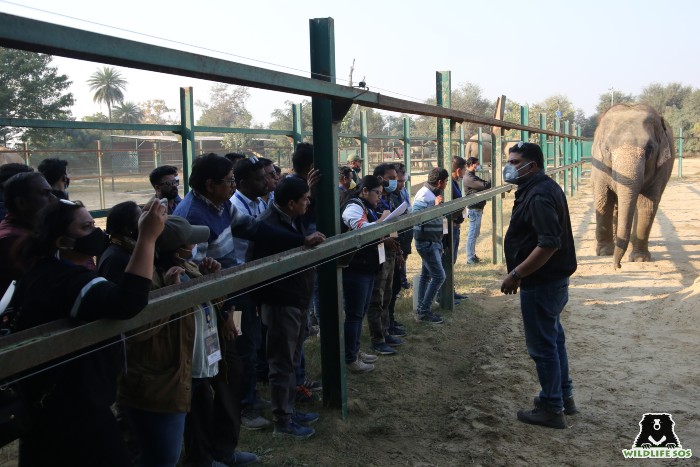 We were happy to provide our support to the Wildlife Institute of India in sharing our knowledge with the veterinary officers from Madhya Pradesh and organise this training workshop. We hope to host similar training programs in the future for veterinarians who can benefit from such knowledge-sharing activities.