On 10 November 2021, we bid farewell to our beloved Karma. Talking about the loss of one of his favorite elephants, Karma's caregiver Surendra said, "During the Covid pandemic, we have all experienced so much loss. Whether it may be a human or animal, the death of a being is hard to cope with. Anytime an animal passes, much like humans, their memory stays, and that memory is all we can honor."
And honor Karma we will.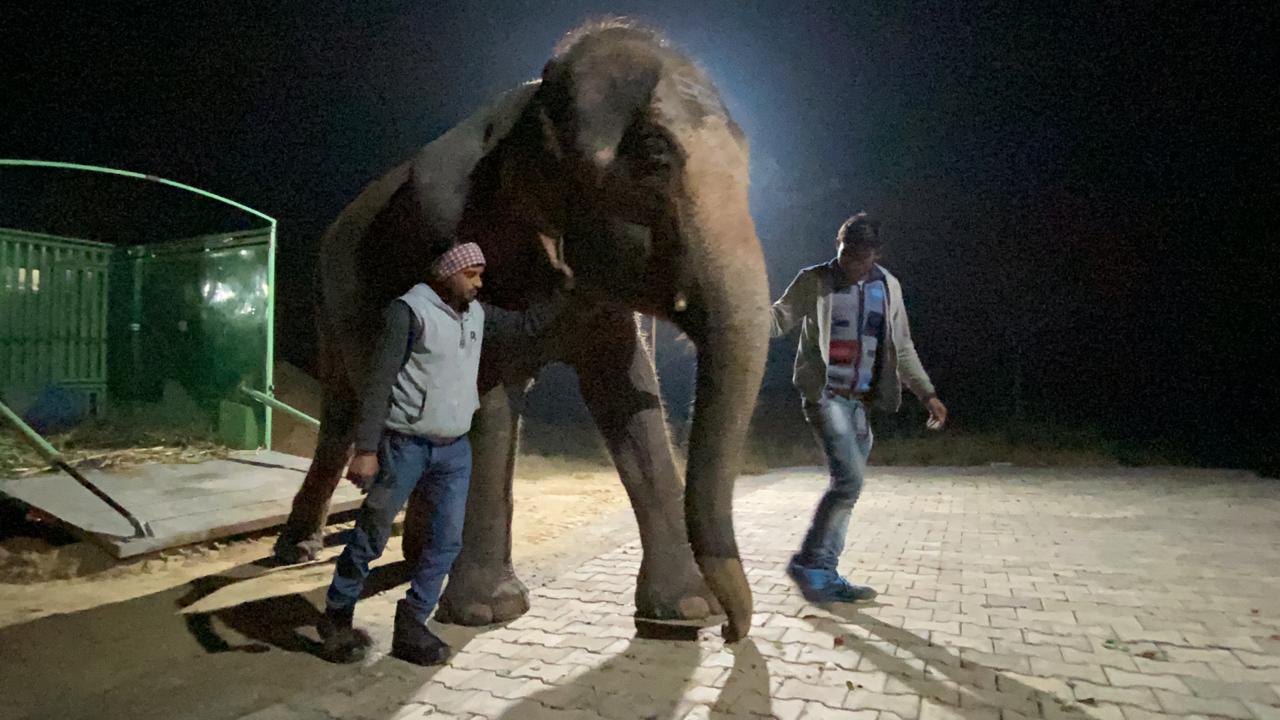 The day Karma arrived at the Elephant Hospital Campus is vividly etched in the memories of everyone at Wildlife SOS. The majestic pachyderm's serene demeanor was inescapable. Unlike other blind elephants who are often agitated with any disruption, Karma stood calmly with her head held high. She confidently stepped into the Wildlife SOS Elephant Hospital as if anticipating her newfound freedom. 
Watch Karma take her first steps of freedom »
Surendra fondly recalls this day. He said, "From the minute I saw Karma, I was in awe of her. She was truly a majestic elephant who exuded an infectious calmness."
The calm demeanor of Karma veiled the years of brutality she had undergone. Yet, her body refused to lie, displaying wounds that could send shivers down even the most stoic observer. Karma stood silently as veterinarians inspected a searingly painful ankush (bullhook) wound behind her left ear that had become infected and filled with pus. Her hind joints had also fused, causing Karma immense pain. Her eyes had lost their purpose, leaving Karma to navigate the world in darkness.
According to Kartick Satyanarayan, Co-founder & CEO of Wildlife SOS Karma's story highlights the condition of all the captive elephants in India who are beaten, chained, starved and kept in terrible conditions in temples, circuses and are used to beg on the streets, for weddings or giving joy rides to tourists.
Abused as a begging elephant in Uttar Pradesh, Karma had spent the majority of her life walking scalding-hot tarmac roads and bearing the jabs of a bullhook. In January of 2020, Karma was rescued by Wildlife SOS. As she arrived into her new haven, the hot tarmac roads turned into soft mud that grazed Karma's ailing feet; The harsh sting of a bullhook was replaced by the gentle touch of Surendra, who lovingly welcomed Karma.
Geeta Seshamani, Co-founder & Secretary of Wildlife SOS, said, "It's hard to imagine the brutal abuse Karma suffered before her rescue. When she arrived at the Elephant Hospital Campus, we were certain that Karma would be able to put her old life behind her and enjoy a peaceful retirement."
To help Karma overcome her traumatic past, she was introduced to two other elephants – Holly and Kalpana. Like kindred spirits, Holly and Karma instinctively gravitated towards each other, forming an inseparable bond. Holly would trumpet and Karma would immediately begin walking towards her, leaving whatever she was doing at the time. Karma started leaning on Holly, quite literally to help her get relief from her aching joints. Holly would stand stiffly, ensuring Karma could rely on her for comfort.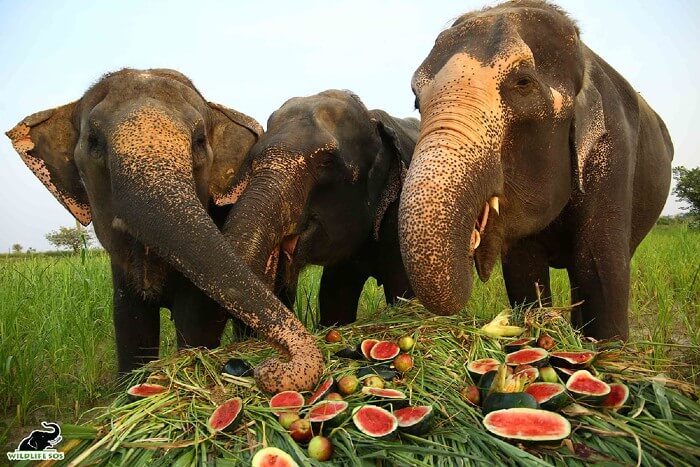 Elephants are said to experience a multitude of emotions – fear, joy, happiness, and compassion. For Karma, love was an emotion she unapologetically experienced and expressed. Despite years of captivity and abuse, Karma's heart remained open and free. She loved fearlessly.
"Karma would reach out for my hand with her trunk when we would go on her daily walks. Even after having faced brutality at human hands, she was one of the most loving elephants I knew," says Surendra. 
Read about the celebration for Karma's first year of freedom »
A year into her rescue, Karma's affectionate and joyous personality fully revealed itself. She spent the year relishing her freedom, refusing to let any moment pass by in dullness. Karma discovered the healing powers of water, and on sunny days she would splash around in the pool in her enclosure, letting the water ease her aching joints. Imitating Holly, Karma even began taking long dust baths, enjoying the cooling effects of the sand. For the first time in her life, Karma enjoyed the rain. She would trumpet at the sight of even a raindrop, letting her loud voice reverberate throughout the Elephant Hospital campus. Only accustomed to the dry grass her captor would feed her, Karma became obsessed with watermelons and would consume 20 kilograms of the food in a day! Our elephant care staff would enjoy quite a laugh as Karma smashed watermelons to the ground, devouring the fruit as soon as it cracked open.
While Karma healed emotionally, her body could not keep up with her healing spirit. Approximately six months ago, Karma's tests revealed issues with her failing kidney as well as significantly low protein levels. Her diffused joints further stiffened, inhibiting Karma from being able to lie down and sleep. Karma started moving slowly, unable to move as freely as she used to.
The Wildlife SOS team spent countless hours trying to ease Karma's suffering. Every day, her foot was covered with magnesium sulfate and turmeric, known for their healing properties. To reduce the inflammation, she was also given a daily dose of antibiotics along with pain medication. Karma's daily oatmeal was mixed with soya bean and gram to provide her with protein. During her last few days, Karma refused to eat, only consuming 10 kgs of fruits a day. Even her favorite watermelon could no longer lure the pachyderm into eating. Weak and exhausted, Karma began experiencing instability. A few days before she passed, Karma collapsed out of exhaustion. Our team would lift Karma up with the help of a crane, without which they feared she would fall again. She was administered 10 liters of IV fluids and covered in a thermal blanket to help her stay warm. The veterinary team remained on-site, giving Karma laser therapy massages for her joints. Afraid of losing his beloved Karma, Surendra was constantly by her side, feeding her chopped watermelon during her lengthy medical treatments.
Despite all efforts, Karma collapsed again, but this time she did not get up. She passed with as much serenity as she had entered the Hospital Campus. Her post mortem report revealed that Karma's vital organs had slowly been deteriorating. Due to complete respiratory failure, Karma passed away.
Sensing her soul sister had left her side, Holly refused to leave her enclosure, letting out trumpets in hopes that Karma would scurry towards her like she usually did. Yet, Karma did not return, leaving Holly and all of us at Wildlife SOS with a heavy and sorrowful heart.
Looking back, we will remember Karma as a serene and loving elephant who taught us all about perseverance and courage. With Karma in our hearts and you by our side, we use her memory to continue fighting for all of India's elephants.