Dental hygiene plays an incredibly important role in the lives of not only humans, but also rescued Sloth bears at our rescue centres.

Having rescued over 600 sloth bears from the barbaric, centuries-old 'dancing bear' practice, our veterinary team found these animals unfit for release into the wild as they suffered mutilation, severe physical and psychological trauma as well as chronic medical problems. The exploitation of these bears included being subjected to the painful trauma of having their delicate muzzle pierced by hot iron pokers and their teeth forcibly removed.

Dental pain is extremely severe as it involves countless nerves and blood vessels. With the injuries mostly left untreated, dental infections, rotting teeth and mouth ulcerations were common amongst these 'dancing bears'. As oral health is a reflection of body health, any decline in dental care can lead to the compromising of the entire health of the bear. Bacterial infections and permanent canine teeth damage are negative outcomes of declining oral health, often leading to poisoning of the blood stream.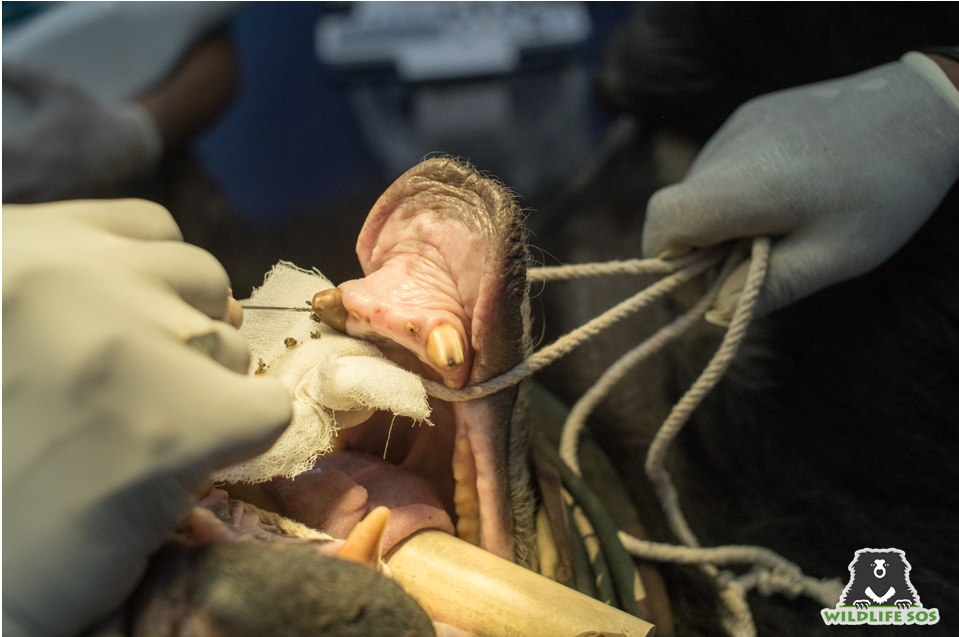 The various dental problems resulted not only from their former mistreatment but also due to the wear and tear caused over the years. Trained by experts from UK, the Wildlife SOS veterinary team found that dental surgery gave great relief to the suffering bears, in most cases changing their temperament remarkably and making them healthier and more active.

The Wildlife SOS rescue centres are equipped with state of the art equipment like Digital dental X-ray, Dental suite, Thermal Imaging Camera, Operation Theatre etc. to carry specialised veterinary care. The bears at the different rescue centres undergo regular dental procedures such as root canal treatment in cases of minimal damage, tooth extraction in cases of irreversible damage such as infected abscesses and dental scaling, to clean tartar build-up. Geriatric bears (older than 15) especially undergo regular dental scaling as neglect can lead to long term damage to the enamel and gums, making it very difficult for the animal to consume food. We have to ensure their food is prepared in a manner to ensure least stress to further make it easier for them.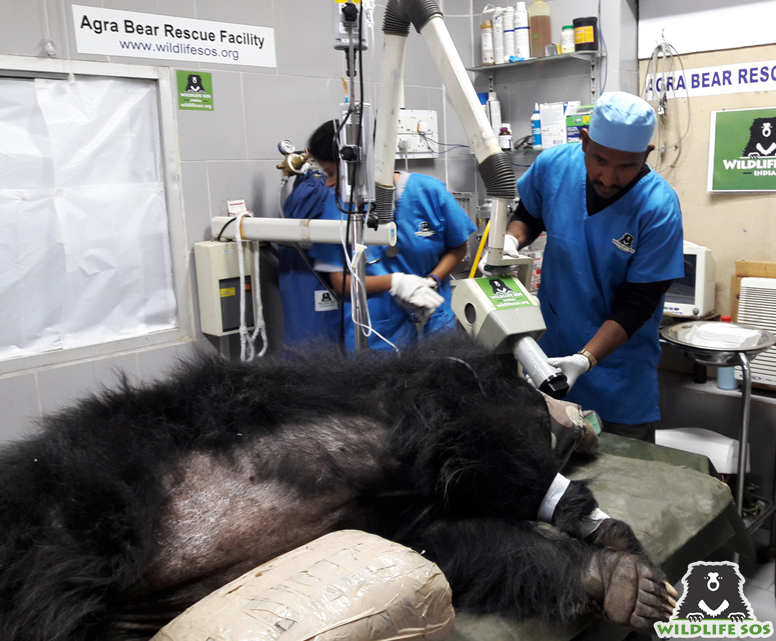 Though the canines are not useful in day-to-day activities, they are extremely helpful in dealing with threats in the wild. Dental ache can also build aggression in the bears, along with making it quite difficult to consume food. The importance of oral health care cannot be understated as no amount of medicines or treatment processes can help the animal consume food otherwise. This influences a lot of natural behaviour and can lead to difficult situations despite high standard nutritious diet and full time observation. Our veterinary experts conduct extractions and root canal treatments and various endodontic procedures and have successfully treated the bears living with abscesses, infections and broken teeth. They are also frequently called in to treat distressed wildlife, particularly those with dental problems in zoos and rescue facilities across the country.

Recently, a sloth bear named Durga had developed dental issues and an x-ray examination showed that her righter upper and her left lower canines were dead. After receiving a standard root canal treatment, her condition showed improvement fairly quickly. Evidently no longer in pain, Durga is much more energetic and is back to munching on watermelons and dates.