The Wildlife SOS team operating out of Vadodara, in collaboration with GSPCA (Gujarat Society for Prevention of Cruelty to Animals), was invited to conduct a workshop centred around snake awareness. The two-day program was aimed to sensitise the employees working for the fire department at Hindustan Petroleum Corporation Limited (HPCL).
The Wildlife SOS-GSPCA team travelled for almost 8 hours to Mundra Port near Kutch to conduct the workshop. The primary reason behind sensitising the fire department personnel is the frequent appearance of snakes inside their factory premises due to its remote location and the presence of wild spaces in the surrounding area.
The workshop was conducted for nearly 45 participants, and covered various aspects of snake awareness including snake handling, mythbusting and education about snakes in general. The Wildlife SOS-GSPCA team informed the employees about the snakes found in the region, the basics of identifying a snake and, most importantly, about venomous and non-venomous snake species.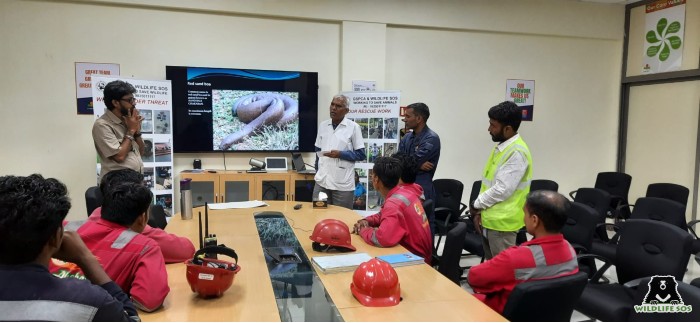 Apart from audio-visual presentations, the team also carried out a live demonstration with rescue equipment to show the participants the basics of handling and rescuing a snake. In case of emergencies, they were also taught the fundamentals of carefully extricating a snake with the help of rescue gears, and then safely releasing them in the wild.
Another important inclusion in the workshop on snake awareness was demystifying myths and superstitions surrounding the reptiles. A lot of these unfounded beliefs stem from their distorted representations in popular media such as movies and TV serials. Raj Bhavsar, Project Coordinator at Wildlife SOS and President of GSPCA said, "These workshops include busting myths believed by people. We told the attendees about the snakes' inability to digest milk, which is one of the most common misconceptions surrounding these reptiles."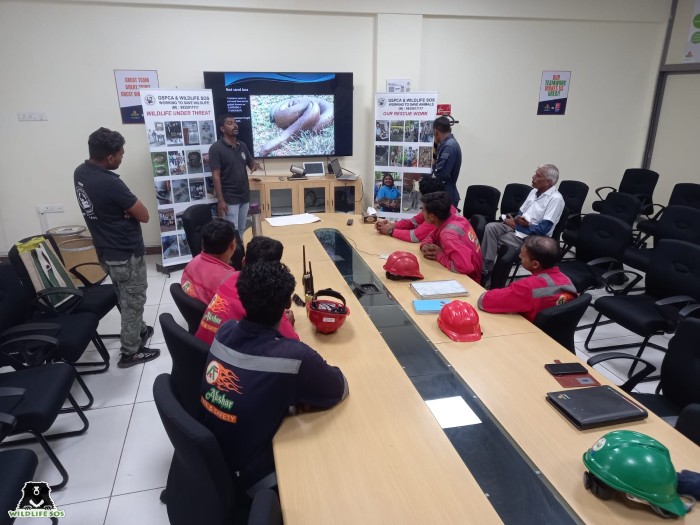 The team also imparted knowledge about the different species of snakes found in Gujarat, including the 'Big 4' venomous species, namely the Indian Cobra, Russell's viper, Common Krait and Saw-scaled viper. Additionally, non-venomous species such as the Indian Rock python, Common sand boa, Red sand boa, Bronzeback tree snake, Common cat snake, Buff-striped keelback, Indian Rat snake, Checkered keelback, Trinket snake and Banded racer are also found here.
"We always try to explain to people about the importance of snakes in an ecosystem and how harming even one individual in this delicate cycle can completely disrupt the balance. Due to their ability to monitor rodent population, reptiles such as snakes and lizards are extremely significant in our natural environment," Bhavsar added.
For over a decade, the Wildlife SOS-GSPCA team has been conducting awareness programmes and workshops to sensitise people about snake conservation in Vadodara and its surrounding areas. There are instances when people are completely unaware about the snakes found in their area, and therefore, the team takes an extra step to inform them about these reptiles as they perform rescue operations.
The awareness programmes and workshops are conducted to cover a wide audience that ranges from villagers to employees of a company. Using the vast network of rescuers and volunteers, along with years of extensive awareness generation and outreach, the Wildlife SOS-GSPCA team has shifted people's perception about this particular group of reptiles. As a result, people have learnt to coexist with these slithering serpents. From being terrified of snakes, to now taking a concerned step to save one, people have taken huge strides forward.
Every month, Wildlife SOS receives hundreds of calls regarding distressed animals trapped in urban areas. Wildlife SOS operates 24×7 emergency rescue helplines in four regions:
Delhi NCR – +91-9871963535
Agra & Mathura in Uttar Pradesh – +91-9917109666
Vadodara, Gujarat – +91-9825011117
Jammu & Kashmir – +91-7006692300, +91-9419778280
If you come across any wild animal in distress, do alert our rescue teams on these numbers as soon as possible.