Shirina Sawhney is the Advisor – Public Relations & Events at Wildlife SOS. With a passion for tigers and camouflage, she is the go-to person in the communications team whenever there's a crisis. Though not originally from a wildlife background, she is a testament to the fact that knowledge can be gained at any stage of life, as long as you are passionate! We interview Shirina, lovingly known as Shrine, for the Staff Profile Of The Month!
1. How long have you been a part of Wildlife SOS?
By February 2023, I will have been associated with Wildlife SOS for 6 years. I handle Public Relations and Events, which means that my work is a mix of celebrity visits, major projects like filming India's Jungle Heroes with Nat Geo, planning and coordinating the Founders' Trip, setting up the Advancing Bear Care conference…. And like my colleagues in the communications team, my work consists of various different tasks, and we all chip in wherever our strengths lie.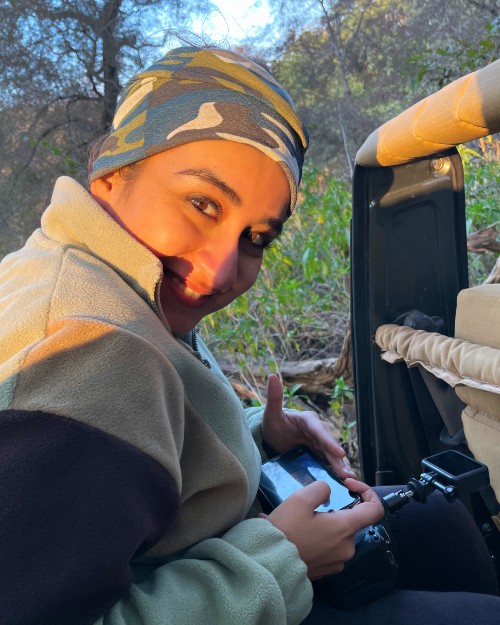 2. What was your first interaction with wildlife, and as a young child, did you ever imagine that you would be working for wildlife?
Let me answer the second part of your question first. Gosh, no! As a young kid, I would have never thought that I would find myself in this field. I never had any sort of exposure to wildlife in my childhood. Of course, like many other families, my family had dogs, so I grew up with them, but I didn't know anything about animals beyond that. And our family holidays and trips also never had anything to do with wildlife. I feel that if I was exposed to animals at a young age, I would have developed an interest in this field sooner.
I remember this one vacation though, when I was about 11 years old, when my family decided to go on a trip to Jim Corbett National Park. On the safari there, I saw tigers in the wild for the first time, and I was immediately fascinated by them. I started reading about them, and tried to learn more about them, but for the longest time, my world was limited to dogs and tigers.
When I had to pursue my higher education, I simply went with the flow of life and joined a college where I studied Fashion Public Relations. At that time, I had no idea of what I wanted to do, and was simply following in my family's footsteps. I still did some online fundraisers for tigers in India in my free time, but I would have never imagined working for wildlife as a career path. In my third year of college, I was attending a lecture on the use of exotic animals in the fashion industry, and why the price of their fur, skin and body parts was so high… and it made me sick. I realised that I could no longer be a part of this field.
When the chance for an internship finally came my way, I got two offers — one from Alexander McQueen and the other from PETA UK. That was the turning point for me as I decided to take up the PETA internship. It really gave me a new perspective. I did complete my degree, but after that, I adamantly searched for jobs in the field of wildlife and I finally landed up here.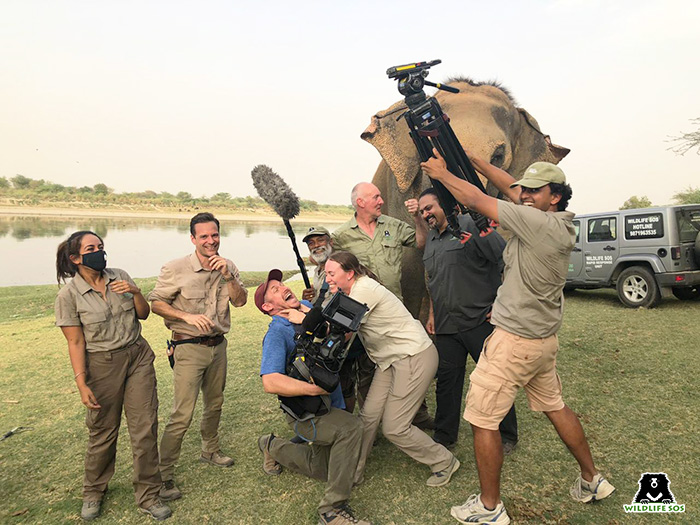 3. Who is your favourite resident animal at Wildlife SOS?
My favourite animal by far was Gajraj who passed away due to old age a while ago. I remember that I was just freshly out of fashion school, trying to navigate the world of wildlife conservation when I saw him for the first time. Gajraj looked so regal and stunning. There was something very calm and serene about him, and looking at him, it feels like you were watching your grandfather walking, and I felt that his name, which meant "King of Elephants", was really befitting. Gajraj had spent decades as a temple elephant in a village in Maharashtra, and though the people loved him, they knew that living there was detrimental to his health, so they surrendered him to our care.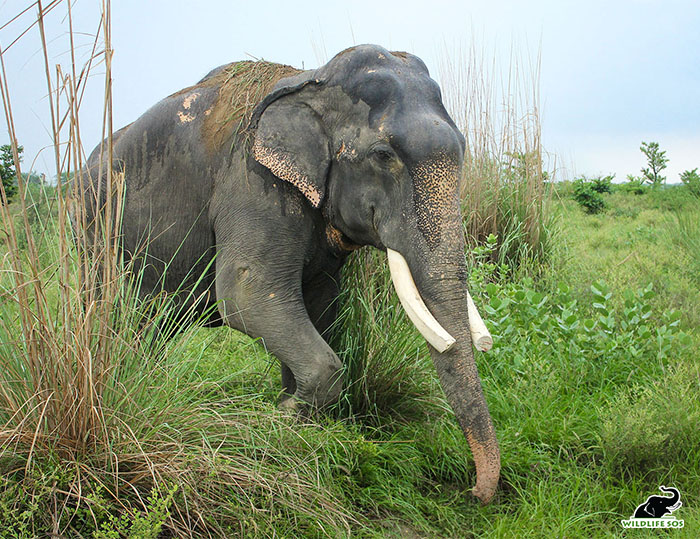 Watching him form a close bond with his caregiver and patiently wait while the vets conducted his treatments, I was in awe of his calm and forgiving nature, despite all he had been through. Gajraj passed away a day after my birthday, and I was absolutely devastated. He was a testament to his species and he will remain in my heart.
4. Who inspires you to keep going and continue the work that you do?
I thought about this a lot, since there are so many good people out there doing good work. I think the folks that stand out most in my mind would be the foot soldiers and forest guards that are patrolling the national parks and reserves in our country regularly, and risking their lives to protect their local wildlife. They have nothing to gain here, as this is a highly risky job with little payoff, but they still put themselves at risk to make sure that activities like illegal poaching do not harm wild animals.
They are the ones at the frontlines of conservation, and if you speak to them, you would realise that they are extremely knowledgeable. Their job is also so difficult and strenuous. For example, if they have been tracking a tiger for a while, they will know its habits, the places it frequents, and how often it is usually spotted. If they haven't seen that animal for some time, they will give it their all to track it and help it if it is injured.
There is also this author that really touched my heart. His name is Lawrence Anthony, and he has written a book called The Elephant Whisperer. That book is a truly wonderful and life-changing read.
5. How has working with wildlife shaped your personal experiences, hobbies and lifestyle?
Well, for starters, my wardrobe is only camouflage print now! And all my holidays now consist of safaris, or learning more about wildlife. I am also really fortunate to have a partner who will go to these far away wildlife sanctuaries and national parks with me at the drop of a hat.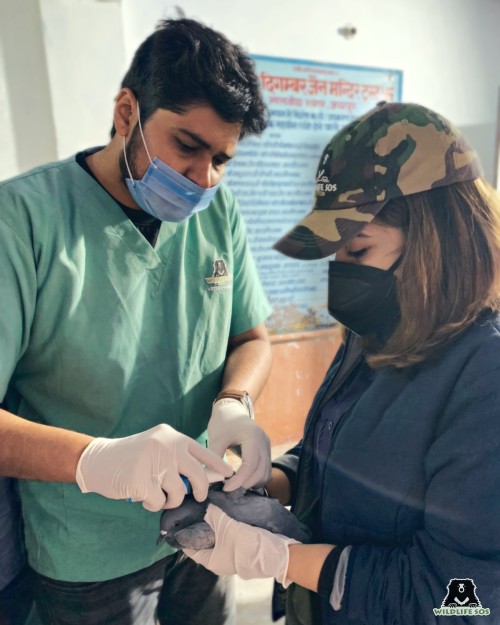 My mindset has really changed about what makes me happy. A younger me would have found her joy in parties and going out with friends, but today, learning about wildlife and having new experiences is what enriches me as a person. I aim to visit many tiger reserves, learn and know more about tigers, by talking to the experts, guides and the forest guards there. My taste in books has also changed a lot from simply thrillers and murder mysteries to books about wildlife. I also feel like I have become more aware of current events and policies in our country, and anything to do with animals in general.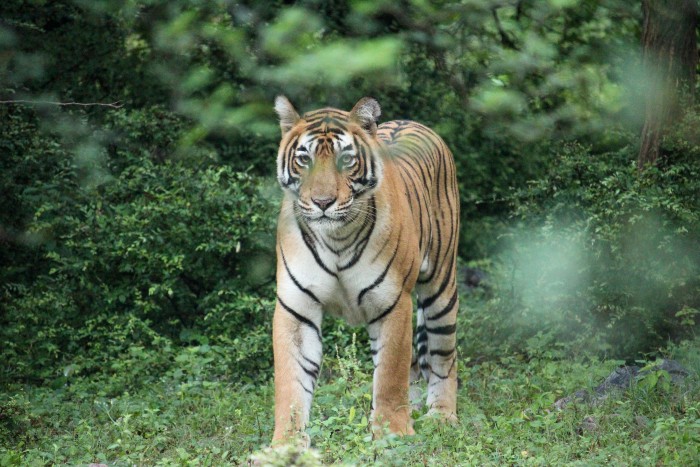 A thing that makes me really happy is that when I am just sitting on my balcony and sipping a cup of coffee, I have started to recognise bird calls. It feels wonderful to be more in tune with the nature around me, and the thirst to learn more about wildlife never gets quenched now. I always want to learn more!
6. Out of all the Wildlife SOS rescue centres that you have visited, are there any that particularly stand out to you?
Since the memory of my visit is still so fresh in my mind, I'd say that the Manikdoh Leopard Rescue Centre is stunning. I can literally call it a paradise for leopards. It is a magical place, and it is so green! It is located in this picturesque place between mountain ranges, and it is actually surrounded by forests. The foliage there is so green that you can't even spot a leopard, unless it is right next to you. Our rescued big cats are really good at camouflaging in their surroundings!
The leopards in our care have gone through so much and they really deserve that habitat for themselves. The staff there is also very knowledgeable and knows the behaviour of the leopards really well. The Maharashtra Forest Department is closely involved with our work and it is always wonderful to see support from the government for good work that is being done to help the wildlife of our country.
7. You have been able to witness the rescues and journeys of many animals Wildlife SOS. Is there any particular one that left an impression in your mind?
Earlier this year, 1,700 birds had been seized from the illegal wildlife trade and brought to us in really cramped cages that were even broken in some places. We had to transport the birds into various different cages and feed the baby birds round the clock. Since we were short-staffed and this was urgent, my colleague and I from the communications team were called to assist the bird-care staff since we were the closest to the location. It was an overwhelming experience and we had to be trained to feed these birds.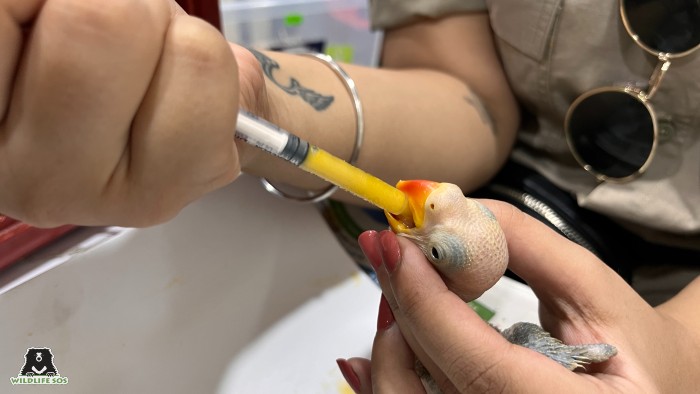 I will never forget the sound in that room. It was deafening to hear 1,700 birds chirping for food, and it was so loud that we couldn't talk amongst ourselves. We had to wear headphones and earplugs… whatever we had on hand to cancel out the noise and get to work. We worked round the clock and by the end of it, I can say that I really got the hang of feeding birds, and would be confident if such a situation arises in the future. It was a massive learning experience.
8. As a woman who works in the field of conservation, what would you like to say to the youth, especially young girls, who hope to work with animals in the future?
This is going to sound cliché, but there are two things that I have always stood by. The first is to have passion. If I was not passionate, I would not have been here and would have just gone along with the flow of life and ended up working for my dad's business or continued down the path of the fashion industry. You have to be passionate while working in this field because often, you might feel that this field takes a lot from you, but gives very little in return. There are a lot of struggles, and many times the work you do doesn't seem to make a massive impact. This field will really drain you out. But you have to do whatever needs to be done, because the life of many animals depends on your work.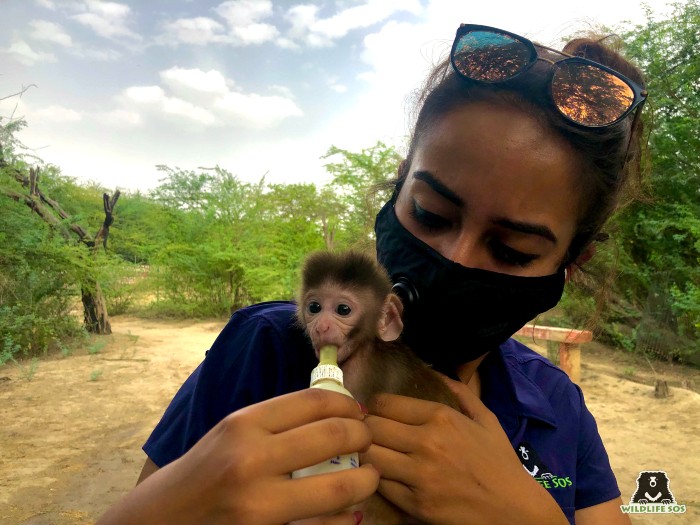 The second thing that I would say is that you have to always speak up! As a woman, the unfortunate reality is that unless you speak up, your coworkers may not value your opinion, and as a woman, you have to work a lot harder to earn respect. This is true for every field, but you have to keep pushing ahead. So remember girls — be passionate and speak up!