A major part of Wildlife SOS' day-to-day work includes running its rescue centres across the country to provide high-quality care to the resident animals – be it our elephants, bears or leopards. To keep the centres perfectly up and running in a seamless manner requires a passionate and loving group of people. The caregivers at Wildlife SOS fulfil this role perfectly.
It wouldn't be an exaggeration to say that the Wildlife SOS caregivers — as guardians of our rehabilitated animals — are the most important component of the centres. If Wildlife SOS was a living body, then the caregivers are its lungs, and there would be no happy bears, elephants or leopards without them. They help the animals in multiple ways: they smile at their arrival, form emotional bonds during their lifetime, and even lament their departure. Here, we honour our caregivers and highlight the key role that they play in the management of the various rescue centres operated by Wildlife SOS.
Managing Rescued Animals
From battered and bruised elephants to injured bears and traumatised leopard cubs, our caregivers have seen them all. They have even hand-reared a few rescued bear and leopard cubs, provided extra care to those who became old, and enjoyed the youth of some of the animals by being in their company. The caregivers are sine qua non when it comes to managing the daily activities related to the upkeep of the animals like preparing enrichments, feeding the animals and even assisting the veterinarians in their treatments at times.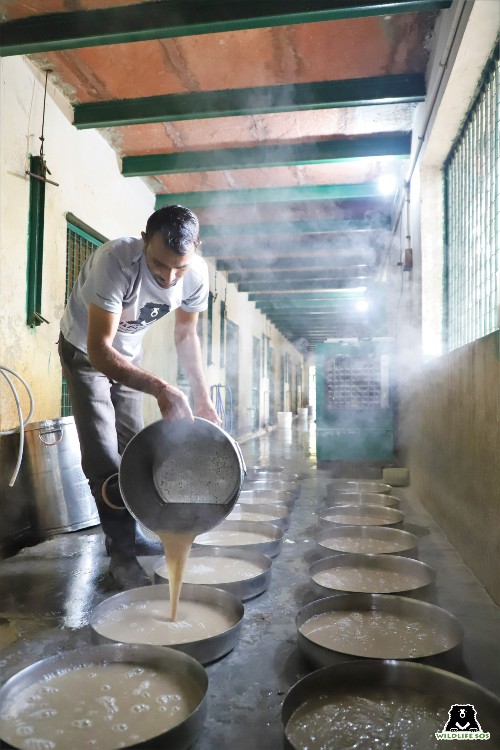 At the Wildlife SOS Van Vihar Bear Rescue Facility (VVBRF) in Bhopal, the experience of the care staff is paramount in keeping the bears at the facility happy and healthy. They understand the animals much better than anyone else because of the substantial amount of time they spend with the animals. If anything happens to the bears or if they are facing any issues, the caregivers are the ones to know first. Besides, they also notice the slightest of changes in their behaviour.
It is the nitty-gritties that matter the most when it comes to managing the rehabilitated bears at all our centres. Such is the bond between them that the bears feel relaxed in the caregivers' presence. Sometimes a single caregiver has to look after a multiple number of bears under him, some of whom are geriatric. The oldest bear at Wildlife SOS – Gulabo – passed away this year, and she too was under the care of one of the expert caregivers at VVBRF.
Caregivers are critical when it comes to determining a course of action when an animal is in poor health. Recently Bablu, a male geriatric bear at VVBRF, had stopped consuming his meals for a considerably long time. But he gradually returned to eating his regular meals on a normal basis. A major reason behind this was his caregiver, and his dietary suggestion for Bablu. Such resolutions come from the longevity of working with the bears and observing them, some of whom were cubs as young as one year old.
The story is no different when it comes to older elephants. Caregivers are essential when it comes to managing geriatric elephants such as Bhola, Suzy and Ella. Bhola suffers from complete loss of vision so the elephant care staff make sure that his enclosure is free from any sharp objects and soft cushioning is added to the edges to ensure that he doesn't bump into them and hurt himself. Meanwhile, 70-year-old Suzy has a specialised diet because of the absence of molars, which makes it difficult for her to chew and ingest sugarcane and other tough fruits.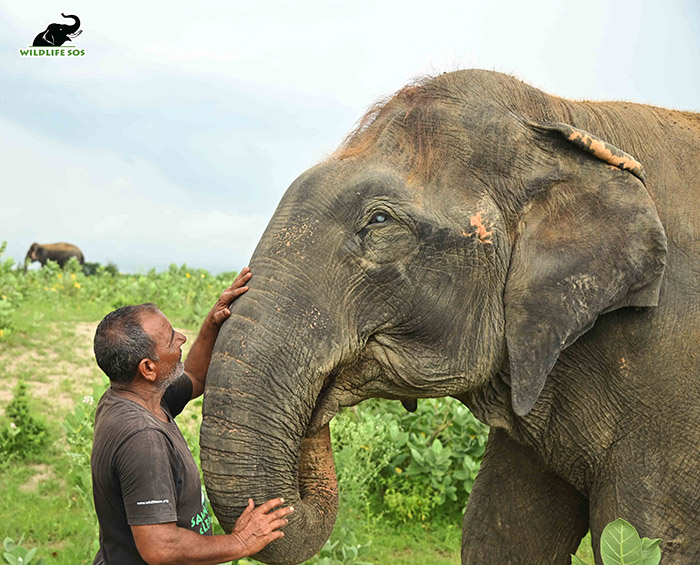 That is why the care staff prepare a special 'smoothie' for Suzy. It is made of a highly nutritious mix of fruits and vegetables turned into a watery slush that Suzy loves slurping down. The ingredients of this smoothie differ each day according to the diet and health plan prepared for her by WSOS veterinarians. Lastly, we have Ella, who is 79 years old and the eldest pachyderm under the care of Wildlife SOS. Even though age has caught up to her and she has grown a bit more temperamental than earlier, Ella's bond with her caregiver is still special and she goes on morning walks with him. Her caregiver understands that Ella requires her own time due to her age – she occasionally halts to pluck fresh fruit from the tree. This activity works as a perfect natural enrichment and keeps her busy.
Hand-raising Cubs
When bear or leopard cubs arrive at our centres, they are often victims of unspeakable trauma. Such was the case with Mowgli, a Sloth bear cub rescued from Madhya Pradesh after he lost his mother to an unfortunate poaching attempt. Mowgli was just 10 weeks old when he was rescued and brought to the Wildlife SOS Agra Bear Rescue Facility. Initially, he displayed fear and confusion about his new environment.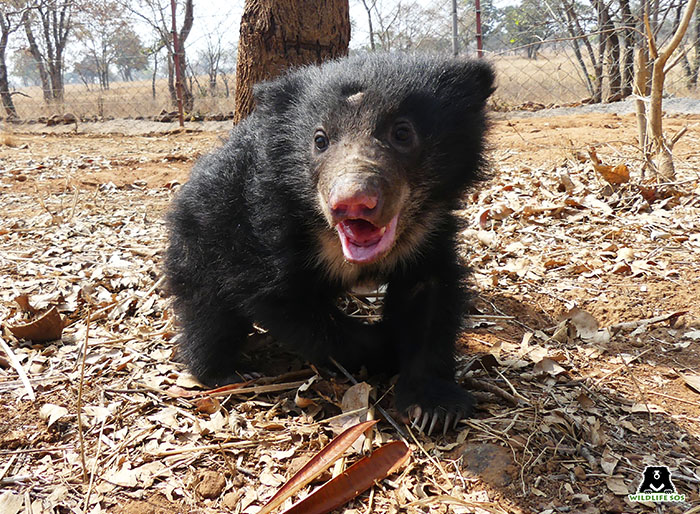 This is where the caregivers came in. He spent the first few months at a cub weaning centre where he was bottle-fed by his caregiver, who has over 14 years of experience caring for rescued Sloth bear cubs at Wildlife SOS. With time and patience, Mowgli developed a close and trusting bond with him. Today, Mowgli has grown to become a much stronger bear, largely due to the constant care of his caregiver, along with healthy and nutritious food.
For leopards, there are a few who arrived as cubs at the Manikdoh Leopard Rescue Centre (MLRC) in Maharashtra and were hand-reared. Raising orphaned and abandoned cubs requires special expertise which our experienced care staff at MLRC possess. Our team of leopard caregivers took on the responsibility of hand-rearing cubs like Jaya, Jiya, Simba and Shankar. These cubs were orphaned when they were either a few weeks or merely months old, and few have now grown into majestic, young leopards, with some even inching towards geriatric care.
Being separated from their mothers can be jolting for a small cub and so, when they are brought to the rescue centre, their fears and apprehensions are understandable. As soon as they arrive, they require immediate attention and adequate nourishment. Our caregivers, therefore, prepare a special milk formula in feeding bottles with the perfect temperature that suits the cubs. They then carefully lift the cubs and position them in an upright manner, supporting their neck as they feed from the milk bottles.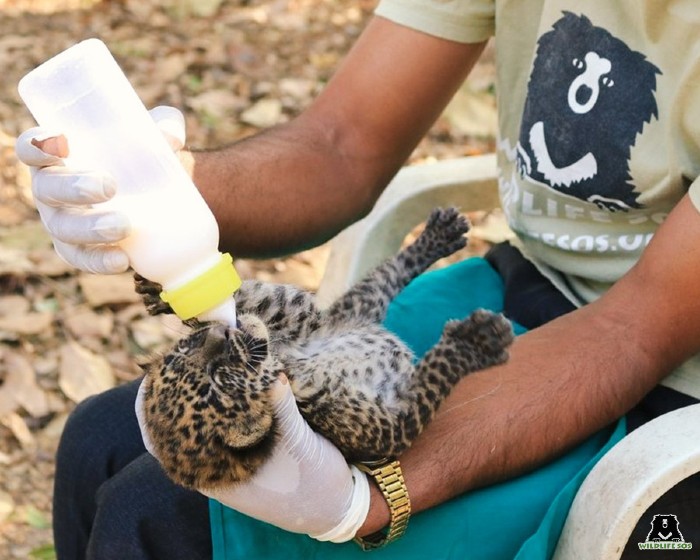 Another delicate aspect of hand-raising leopard cubs is that in the first 30 days, they need intensive care and attention. The leopard caregivers sleep in the same area as the cubs are housed for the first week, waking up every two hours to prepare the formula and hand-feeding it to them. This step is crucial as cubs often refuse to have the milk, and end up growing dangerously weak. The role of the caregivers, therefore, is clearly evident here for the cubs' growth and development, and it is not possible to rear the cubs without them.
Vets and the Caregivers
Just like any other aspect, the caregivers are intricately linked to the veterinary aspect of overseeing the rescued animals. Caregivers are the lifelines that vets seek during the treatment or handling of animals. Veterinarians often lean on experienced caregivers to understand the behaviour of a particular bear or leopard. If an animal is sick or not doing well, the vets turn to caregivers for their advice, which they know can be relied upon. The presence of well-versed caregivers makes it seamless for the veterinarians to guide the new ones as well.
There are instances when some bears or elephants do not comply easily during their medication, such as taking their deworming tablet or having their toenails trimmed. To get the animals to cooperate, the use of treats such as honey, dates or peanuts can crack the code. And usually the caregivers are the ones 'distracting' the animals with the treats while the veterinarians carry out their respective duties. A perfect example here would be Kuber, an extremely co-operative and calm bear who calls the Bannerghatta Bear Rescue Centre in Bangalore his home. Kuber undergoes occasional sessions of laser therapy and physiotherapy on account of his previous illness. While the vets perform the laser therapy sessions to comfort Kuber, the caregivers keep him occupied with a constant supply of his favourite treats like honey and peanut butter with the help of positive conditioning.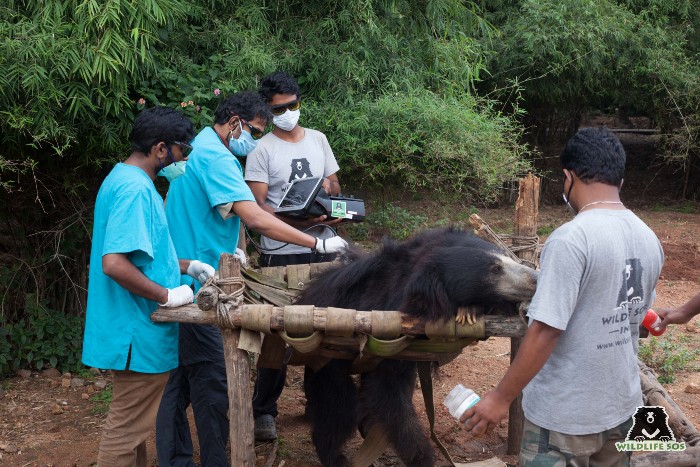 No veterinarian can do without a caregiver, and their trust and faith in them make a vet's job easier. Caregivers are therefore indispensable for running the Wildlife SOS rescue centres in a smooth manner. However, given the number of animals rehabilitated at our centres, a considerable amount of resources is always required. Become a monthly donor for Wildlife SOS by clicking here, and you can help us sustain green livelihoods and the upkeep of the animals.