Elephants are an endangered species. Recognised as ecosystem engineers, elephants are giants of the forest that modify habitats as they tread across jungles in herds, creating new microhabitats for other species. Elephants have evolved to be an inescapable part of our forests and landscape. For our beloved "Jai" however, his freedom and destiny were altered by human greed.
Poached from the wild as a young calf, Jai was forced to march on the hot tarmac and narrow village streets as a begging elephant to fulfil his owner's greed for money. This magnificent bull elephant who belonged in the wild was instead tortured and tamed using brutal methods by his captors, reducing him to a mere commodity that would work nonstop to earn them hefty profits!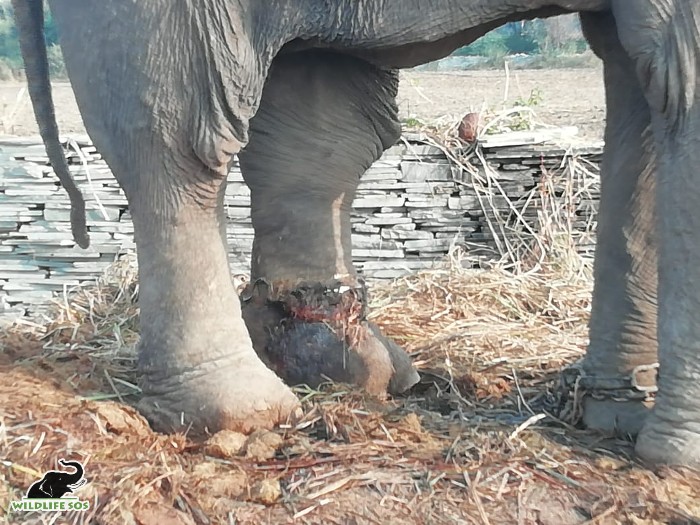 Jai was controlled using pain and fear by his owners who bound his legs with heavy spiked metal chains leaving him in excruciating pain from the pus-filled wounds and punctured legs. Jai was forced to walk thousands of kilometres across several states with minimal sustenance or breaks suffering this pain every single day!
In 2020, the Forest Department found Jai elephant in very poor condition and on the verge of death. The forest officers contacted Wildlife SOS and our medical team with vets and medical equipment arrived on the scene to help Jai elephant.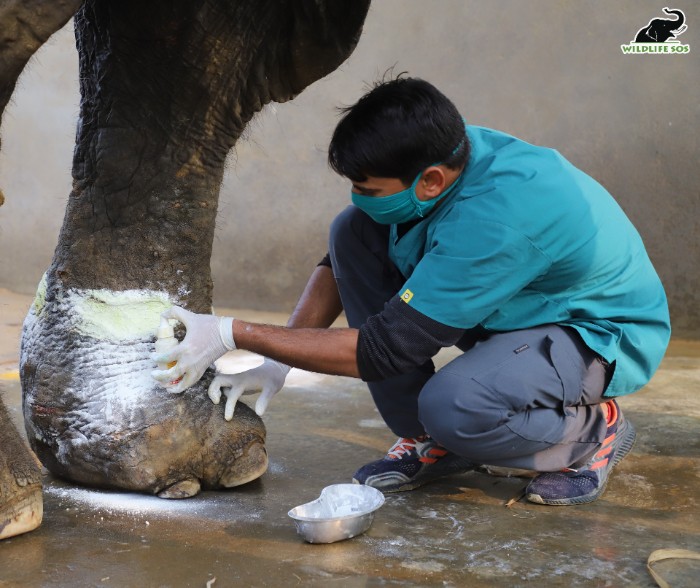 The Forest Department found the owner had no valid ownership documents and initiated charges against his captors. Appalled to see Jai's emaciated condition and rapidly deteriorating health, the Forest Department handed the elephant over to Wildlife SOS for long term medical care and treatment. Jai was moved to the WSOS elephant Hospital where state-of-the-art veterinary facilities were available to help him start his healing journey.
While Jai has been recovering slowly with our teams working round the clock to provide him care and treatment, his owner has been plotting to use twisted methods to gain back custody of Jai.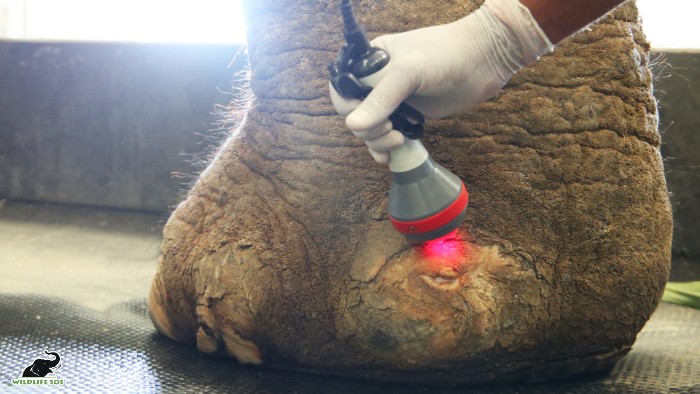 Sadly, once again, we are fighting a legal battle for Jai as his freedom stands threatened. Jai's former owner is using legal loopholes to try and get Jai away from our protection and care.
It's been two years since Jai arrived at the Wildlife SOS Elephant Hospital, where he continues to take slow steps towards recovery.
When Jai first arrived at Wildlife SOS, his body was riddled with neglected chronic wounds caused by spiked chains that had never left his feet. His tattered footpads, torn from decades of abuse of walking on hot tarmac roads reflected his abysmal state of health. Jai received medicated foot baths of Epsom salt and organic turmeric to heal his injured footpads. Each of his body wounds was covered with an antiseptic ointment and keratinising agent that helped control inflammation. Over this, he received love and prayers from our team. Jai's weary body slowly started responding positively to the treatment.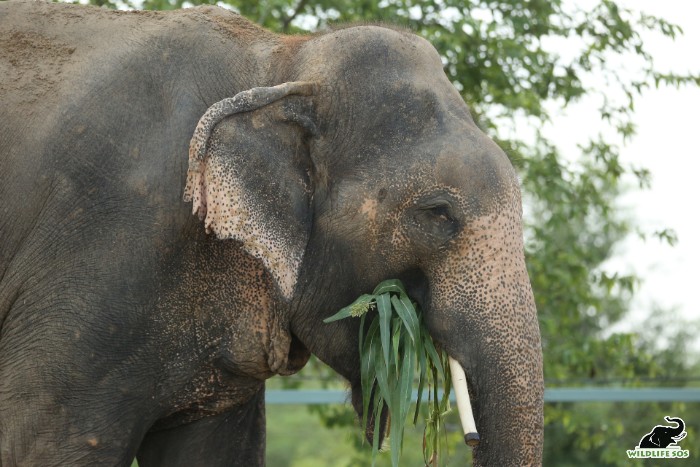 Jai suffers from severe arthritis and lameness, for which he receives laser therapy at the hospital. During his laser therapy and treatment sessions, Jai received delicious treats throughout the treatment procedure. Now Jai looks forward to each session.
As a result of bad handling by his owners, Jai was left blinded in his left eye, while suffering lacrimation in both eyes, which means we have to wash Jai's eyes carefully at regular intervals to prevent infection and discomfort.
Currently, Jai is undergoing musth, which every bull elephant undergoes. Musth is a natural, biological condition characterised by increased testosterone levels in male elephants leading to moody, irritable and often aggressive behaviour. Professional and sensitive care is essential for bull elephants during this period, which is why Jai is provided with a large enclosure giving him the space he needs, and reducing his interaction with people to help him feel safe.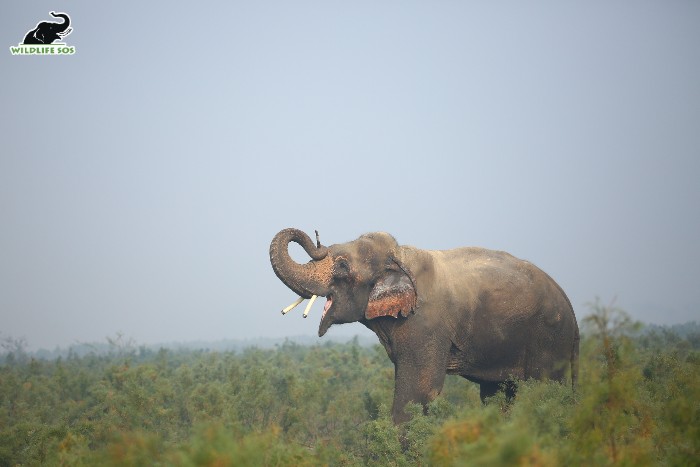 As a part of musth management for Jai, his diet currently consists of 160 to 200 kilos including green fodder, fresh vegetables, seasonal fruits and cooked porridge.
Jai still has a long way to go before he can recover from his mental and physical scars. To aid his healing journey, we encourage Jai to display wild behaviour by offering him an environment as close to his natural habitat as possible. His daily foraging walks through the forested areas enable him to walk on soft earth and soft green grass. It is during these walks that Jai is content and at his calmest, munching on the lush greens that he comes across. Jai is also provided with a plethora of enrichment by our team to encourage natural foraging behaviour. His favourite enrichment is the barrel feeder, which he enjoys shaking and knocking until the evasive delicious treats fall out! This activity helps Jai to exercise his neck, shoulder and trunk muscles. He can now spontaneously control how and when to retrieve his food while also being entertained.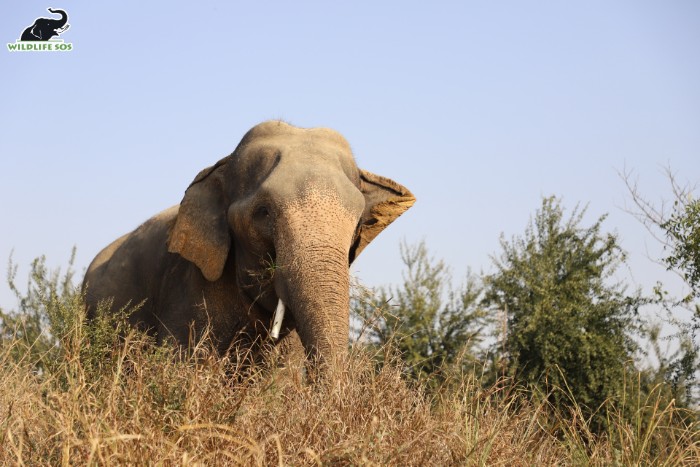 For an elephant who's never had a home, the vast enclosure within the Wildlife SOS Elephant Hospital Campus is the closest to a safe haven that Jai has ever had. Yet, once again, human greed is threatening Jai's newfound freedom, health and safety. The very captors responsible for the cruelty and well-documented abuse Jai endured in subservience, will once again be able to take command over his life if they succeed in this evil-intentioned legal battle.
We cannot allow Jai to be returned to their custody as it will destroy him completely. Jai's abscesses and wounds are chronic in nature and require continuous medical treatments for the duration of his lifetime. Moreover, to minimise Jai's joint pain caused by arthritis, he needs laser therapy and hydrotherapy sessions on a daily basis. Jai's blindness also makes him an anxious elephant, which means he needs peaceful and calm surroundings and not a loud, noisy environment with traffic and roads where he was once forced to beg.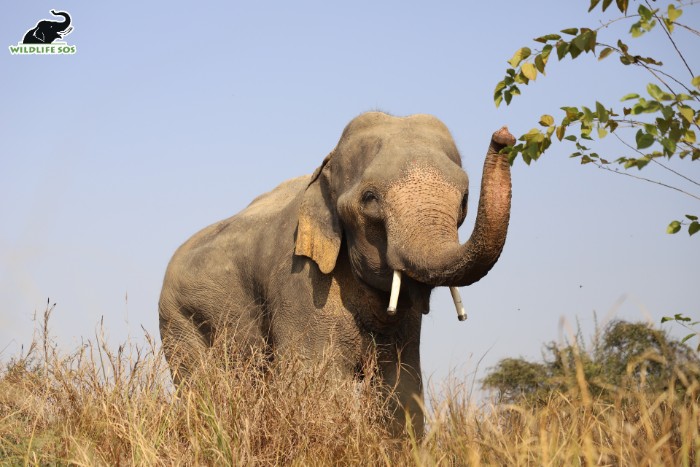 While his return to cruelty could have significant consequences for Jai's physical and mental health, the implications of this are sure to go far beyond Jai. If the owners win the custody of Jai, others like them may be motivated to do the same. One owner's win would be a win for all those who see elephants not as living beings, but as mere products of utility. The battle being waged by Jai's owners seems to be a well-funded effort backed by elephant trafficking cartels to disrupt our work and aims to set a legal precedent for all abused captive elephants to remain in chains.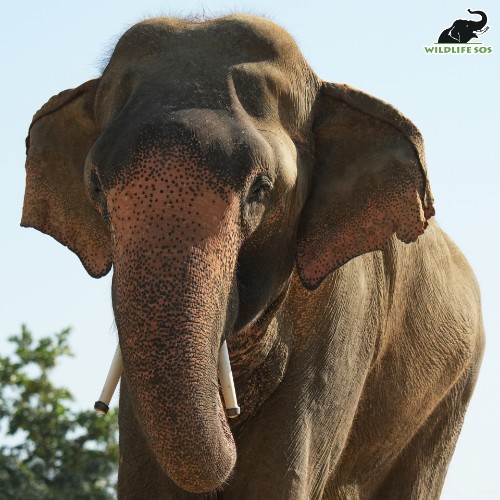 Everyone at Wildlife SOS is ready to fight for Jai and his freedom; And we cannot do this without you. You can support Jai's freedom by donating towards the efforts made by Wildlife SOS. Help us fight the legal battle to protect Jai and other elephants.