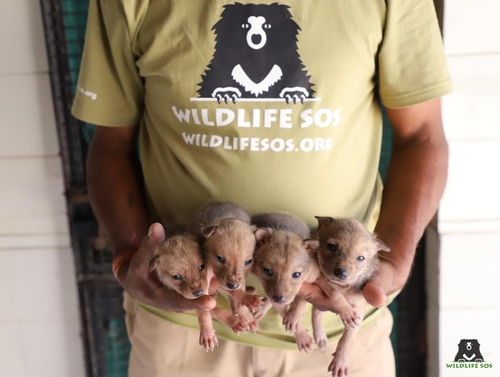 For animals in the wild, mum's the word and all little ones stay close to their mother to ace their survival skills and hone their instincts to be able to survive in the wild. Without their mother's guidance, the chances of survival for their offspring are bleak, especially in a rapidly urbanising world when the interaction, and subsequent conflict, is on the rise between humans and animals.
In one such incident featured in the Nat Geo WILD episode "Homecoming," four Golden Jackal pups were found trembling in fear and hunger outside their den, constantly crying out for their mother, who was nowhere to be spotted. Their distressed cries drew the attention of the occupants of a village in the Northern state of Mathura. Concerned for the safety of these helpless pups and fearing that they may face retaliation from the mother jackal, the villagers immediately reached out to the Wildlife SOS team operating out of Agra. This is owing to the years of efficient rescue and rehabilitation efforts carried out by our team across Agra and Mathura.
Upon preliminary examination, the pups were identified as 3 females and 1 male, only 15 days old! At this extremely tender age, the primary focus of our team was to reunite the pups to their mother as they would not have been able to survive on their own. The rescuers placed the pups near the location from where they were found, and eagerly waited in the hope that the mother would return looking for them. A long and patient wait, with bated breath, until the break of dawn, made the rescue team realise that these pups were, unfortunately, orphaned as their mother never turned up. Upon investigation with the residents of the village, our team was informed of possible poaching activities in and around the area, which led to the conclusion that the mother may have fallen victim to a trap set up by poachers, when out to hunt.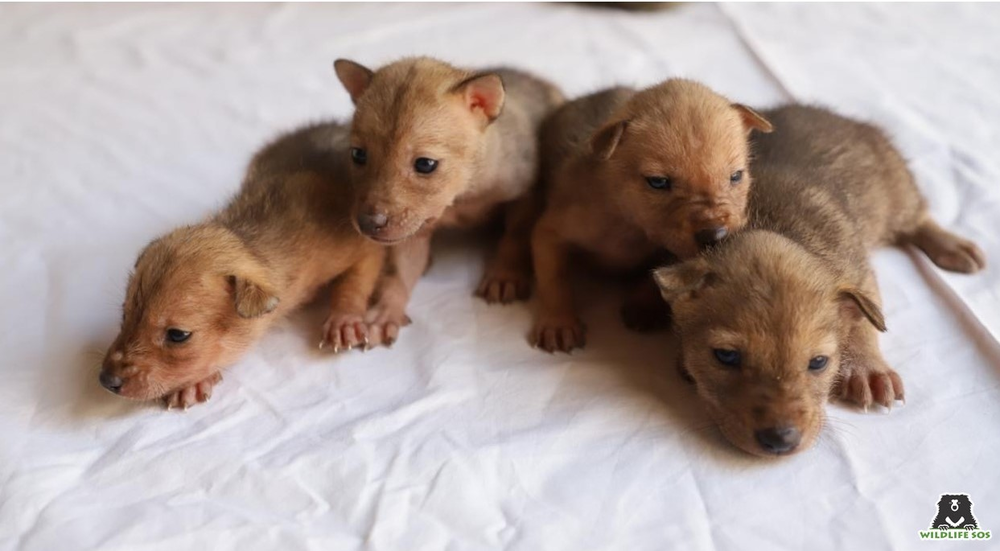 Leaving them alone in the wild would only make them direct bait for poachers who would kill them for their meat or their skin, therefore, it was decided that the four jackal pups would be cared for at the Wildlife SOS Rescue Facility until they were fit for release and survival on their own, in the wild.
A spacious and special den was created for the jackal pups, carefully bordered with stones and branches of trees for them to feel as close to their natural habitat, as they could. It was important that they do not starve themselves as pups tend to get dehydrated very quickly making their survival more complicated. They were placed under weeks of intensive care, and it wasn't long before they started getting healthier and stronger. A few months later, when they reached a more adaptable age, it was finally time for the young jackals to be reintroduced into the wild to a habitat far away from human settlement in order to avoid any untoward encounters. It was a remarkable sight to watch the young jackals run free and unhindered into the deep stretches of the jungle, beginning their new life in a place where they really belong!
The Golden Jackals are native to the Indian subcontinent and play a very important role in forest ecology. They are omnivorous in nature and feed on a variety of small mammals, birds, fish, hares and fruit, as well! Unfortunately, the Golden Jackals are rampantly poached for their meat, skin and pelts by poachers who sell them for illegal wildlife trade to Southeast Asian countries, under the pretext of having magical powers to heal. This species is protected under Schedule II of the Wildlife Protection Act 1972, and have a thriving population of 80,000 in the wild!
Watch how these four young jackals ran through the wilderness, upon release!