Education in any form is incomplete if limited to theory and text-book memorisation, its greatest value lying in the wholesome and comprehensive learning that only practical experiences can provide. At Wildlife SOS, we understand the importance of sensitising children to environmental problems and animal welfare and educating them about conservation, as problems like pollution, environmental degradation, man-animal conflict and animal abuse grow increasingly rampant and threaten the natural heritage of the country. We also understand that the best way to sensitise children to these issues is by providing them unforgettable first-hand experiences in conservation and the unique opportunity to witness for themselves the change they can be a part of and the animals they can help save. In keeping with this philosophy, Wildlife SOS was happy to host 350 students from Delhi Public School, Agra as the school administration decided to take a step in this direction, taking the initiative to give young students an experience of compassion and conservation via a visit to the Wildlife SOS Elephant Conservation and Care Centre at Mathura over three days.
The young students were visibly excited on what was their first experience at a conservation centre. After being shown around the centre, they were given a basic introduction to the routine and care taking of the elephants. The students were also shown a documentary on the elephant Raju, who was rescued after fifty years of torture and abuse, the plight of the elephant during his years of captivity moving them so deeply that they erupted in cheering when they saw the footage of him finally being rescued. It gave us great joy to see the love, affection and sensitivity that the little children showed towards the elephants.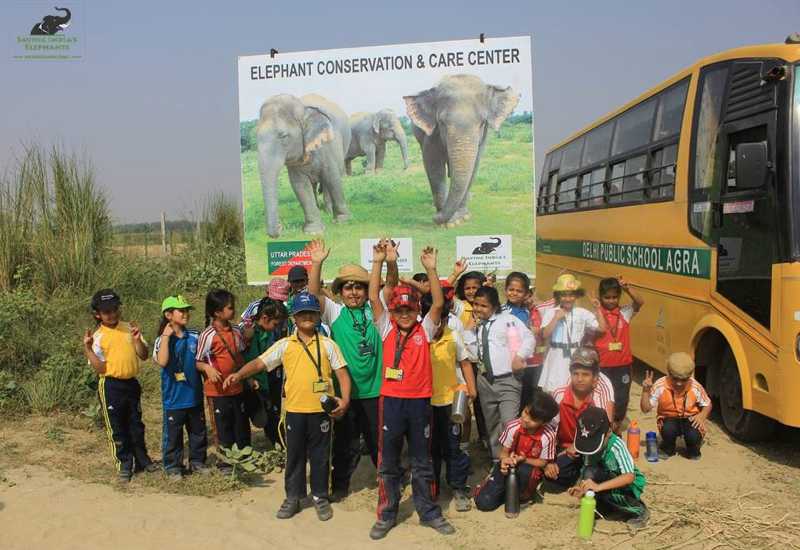 During the interactive session with our coordinators that followed, the children were active participants and had numerous relevant questions to ask. But the highlight of the day was naturally the chance to meet the rescued elephants in our care and see the wonderful life they are now free to enjoy. For the children, this was evidently the most joyful part of their trip, as it was for the elephants who were more than happy to be fed bananas and other fruit treats by the children, who were giddy with delight at the chance to get up-close and personal with these majestic beasts.
For these bright and sensitive students, the trip was both immensely enlightening and educative. They made friends with the elephants and promised to come back and visit again. For us, this means a lot. Children, after all hold the future in their hands. And only kind, compassionate and sensitive hands can protect and mould this future in a better shape.
If you are a teacher who would like to arrange for a similar tour for your students or parents interested in bringing their children to our centers, please write a mail to visit@wildlifesos.org and we will be happy to help you make this possible!