Sonu joined Wildlife SOS seven years ago, when his elephant Rajesh was rescued from the circus and brought to our Elephant Conservation and Care Centre, the first tusker in our care. As part of Wildlife SOS' holistic approach to conservation and rescue, the elephant's former mahouts are offered jobs at our centres to not only provide them an alternate source of livelihood, but also to teach them to properly care for and respect the animals they work with. We talked to Sonu about his experience with Wildlife SOS so far.
How did you come to join Wildlife SOS?
I joined the organization in 2010, when Rajesh elephant was brought here from the circus in Agra. I was employed as Rajesh's keeper in the circus, and after his rescue, was offered a job working with elephants at the Elephant Conservation and Care Centre. I had always worked with elephants, it's what my whole family was employed in, and it's all I saw myself doing- so I accepted. I was hired as an elephant keeper, and found myself really enjoying my job.
Describe a typical day as a keeper at ECCC?
For me, a typical day at ECCC, entails feeding the elephants, cleaning their enclosures, bathing them and taking them on walks. Besides regular checkups and medical care, many of the elephants require ongoing special veterinary treatment, and I assist the veterinary staff at ECCC when they are doing this. We also have an ethical management process called 'target training' with our animals, so I spend time with professionals learning about it and working on it with the elephants, giving me a chance to really appreciate how incredibly smart these animals are.
What, in your opinion, has been the best part of working with Wildlife SOS?
The facility, the life I have in ECCC is incomparable to my former life. I love my job and the animals I work with and am truly grateful that both myself and Rajesh have been given this chance at a new, better life. Now, not only do I get to look after Rajesh, but also other amazing elephants, like our newest family member, Gajraj and its always fantastic to learn more about their distinct personalities and care for them!
What difficulties do you face, working with elephants?
It was a little difficult in the beginning, I suppose, getting used to working with an animal this size, but I've been doing it for so many years now, it gets easier every day. As much as I love going on rescues, and bringing new elephants back to the sanctuary for the care and love they need, these can be dangerous and difficult – but despite the stress, it's always an adventure, and I wouldn't trade the experience of bringing elephants to safety for anything.
Is there an elephant you're particularly fond of?
I've learnt so much more about elephants since I started working here, and I've found it impossible not to love them all because they're all special and amazing in their own way. I suppose I'll always have a little extra love for Rajesh, since he and I started our journey here together. And with tusks like his, I also think he's the most handsome elephant I've seen yet.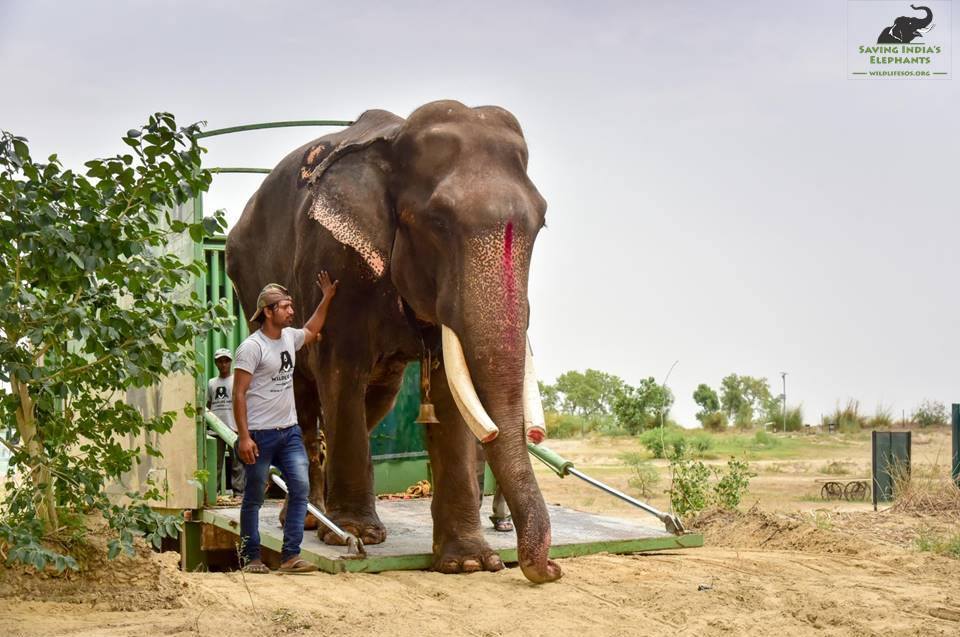 What do you love most about your job?
I like everything about my job, working with elephants is fun and rewarding work. Target training is something I'd never heard of before- it's very interesting and I've found myself really enjoying working on it with the elephants. Going on rescues and being a part of the team is even better! I have so many stories to tell when I get back home 🙂