The Wildlife SOS Rapid Response Units responds to numerous snakes-related calls almost everyday. From the venomous Indian Spectacled Cobra and Common Krait to non-venomous ones like the Red Sand Boa, Indian Rock Python, and Indian Rat Snake; we've had a host of reptilian encounters over the years! Let's get to know some of the more frequently rescued snakes at Wildlife SOS.
1. Indian Spectacled Cobra
The Spectacled Cobra (Naja naja) is highly venomous  and can be easily identified by the spectacle pattern on its hood. This snake species is one of the four most venomous snakes of India. Snake charmers are known to defang these snakes when they are trained to perform for the street audience. Defanging is often done without anesthesia, leading to a high number of deaths of this species.
Spectacled cobras are found throughout the Indian subcontinent. They feed on frogs, rats and other small snakes. The Wildlife SOS Rapid Response Team rescues cobras regularly.  In February 2022, the team rescued a cobra from the storage room of Agra's Raja Balwant Singh College.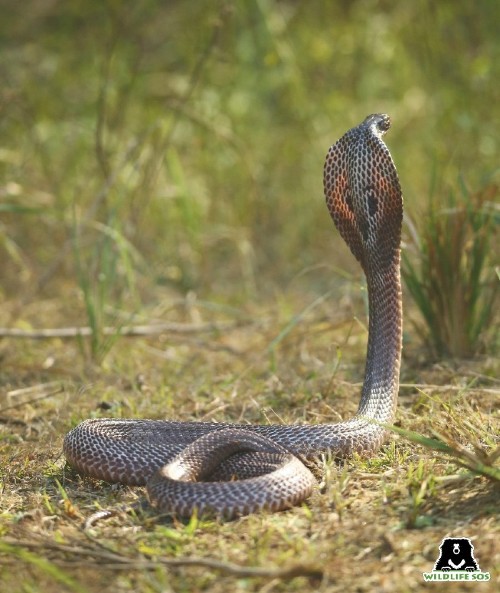 2. Indian Rat Snake
The Indian Rat Snake (Ptyas mucosa) is also known as nature's pest control. This non-venomous member of the colubrid family is about 2.5 metres in size. It feeds mainly on rodents, along with various insects, lizards and eggs. Rat snakes are commonly found within urban cities. These snakes are killed out of fear as they are mistaken to be venomous.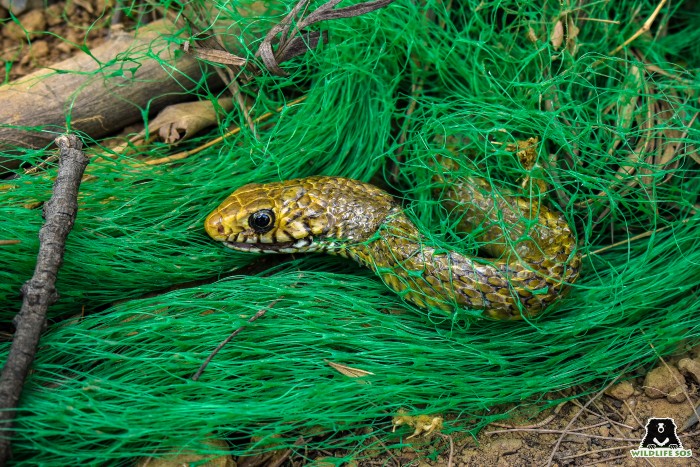 3. Red Sand Boa
The Red Sand Boa (Eryx johnii) too is a non-venomous snake, usually lethargic and non-aggressive. It is found in India, Pakistan and Iran. The Red Sand Boa has a thick body with a rounded tail that gives it the appearance of being "double-headed". This snake is reddish-brown in colour, and some may even have black bands across its tail, right at the end. They feed on rodents and small snakes. Much like many other animals, the Red Sand Boa too is a victim of superstitions and is believed to possess magical powers that bring good luck and even cure diseases. These beliefs, and the benign nature of the snake, make this species ideal for trafficking.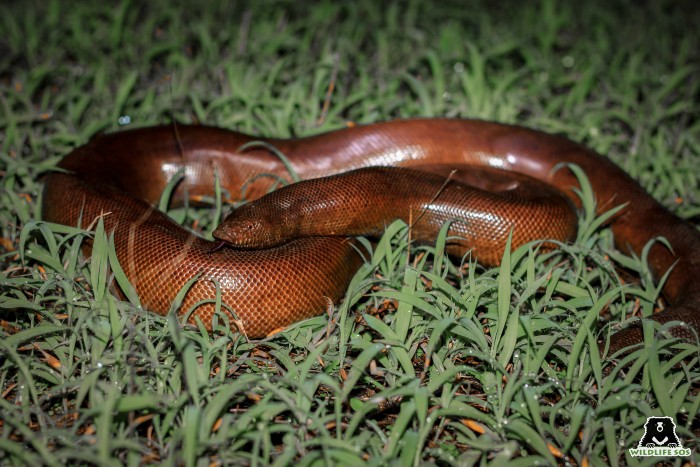 4. Common Sand Boa
The Common Sand Boa (Eryx conicus) is a non-venomous snake, listed as 'near-threatened' in the IUCN assessment of 2019. It is yellowish in colour, has dark zigzag patterns on its dorsal surface, and a white belly. This snake, also known as Russell's Boa or Rough-scaled Boa, is found in parts of southern Asia. Its average size is about 70-80 centimetres. It is viviparous and gives birth to 5-14 offspring.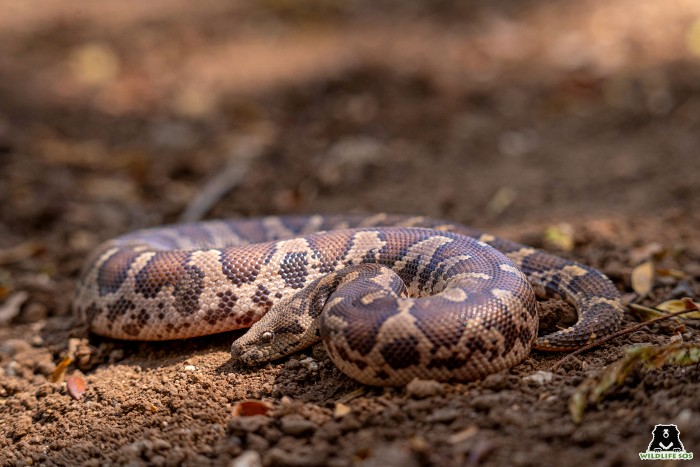 5. Black-headed Royal Snake
Black-headed Royal snakes (Spalerosophis atriceps) are non-venomous and are found in the drier regions of India. Their dorsal is usually shaded in yellow, orange and red, with a black head. This snake is often used by snake charmers because of its vibrant colours and attractive pattern. Nocturnal in nature, the snake consumes rodents, birds and lizards. It is oviparous and has a clutch size of 3-8 eggs. These snakes can grow up to a length of 200 centimetres.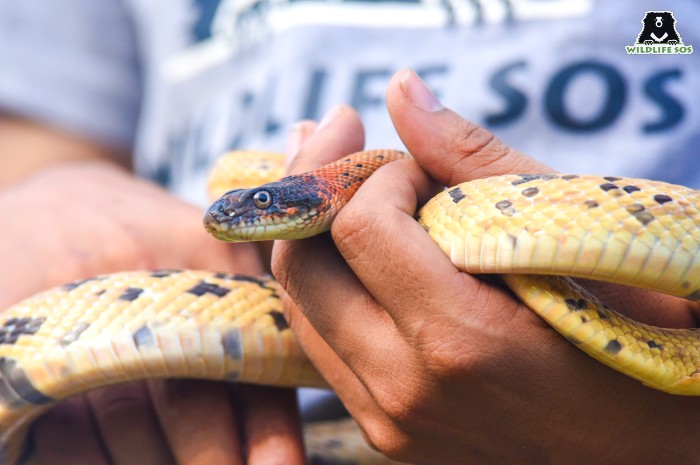 6. Indian Rock Python
The Indian Rock Python (Python molurus) is a large, non-venomous snake that grows over 3 metres in length. It is yellowish in colour, with blotches of brown spots across its dorsal portion. It is nocturnal in nature and feeds on a variety of animals like birds, mammals and reptiles. They are known to first constrict their prey, and then swallow it. After their heavy meal, they do become lethargic and can go without food for a long time. While they are terrestrial, these snakes are excellent climbers and swimmers as well. The Indian Rock python is oviparous, laying up to 100 eggs in one go!
According to the IUCN Red List assessment of 2019, these snakes are listed as 'near threatened' owing to habitat loss, killing and illegal wildlife trade.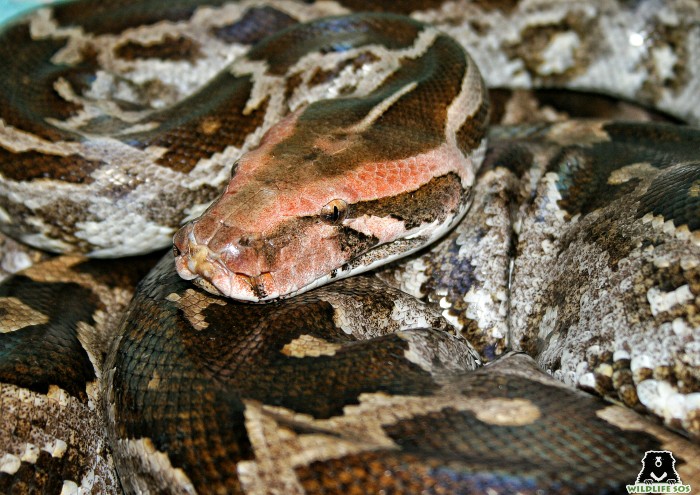 7. Common Krait
The Common Krait is highly venomous and is among the four most venomous snakes of India. It is usually about 90 centimetres, has a flat head and a tapered tail. Its glossy body is largely black, mixed with various shades of blue, brown or grey. It also has various white bands running across its dorsal. Common Krait is known to prey on other snakes. It also feeds on rodents, frogs, toads and lizards. It is oviparous, with a clutch size of 6-15 eggs.
The Common Krait often enters fields and rural settlements, and hides under loose soil or around a water source. It is a nocturnal species: Docile in daylight, but extremely alert and defensive at night. Its venom contains potent neurotoxins that cause muscle paralysis. One must never attempt to approach this snake. Sightings of this snake must be reported to the nearest wildlife rescue agency.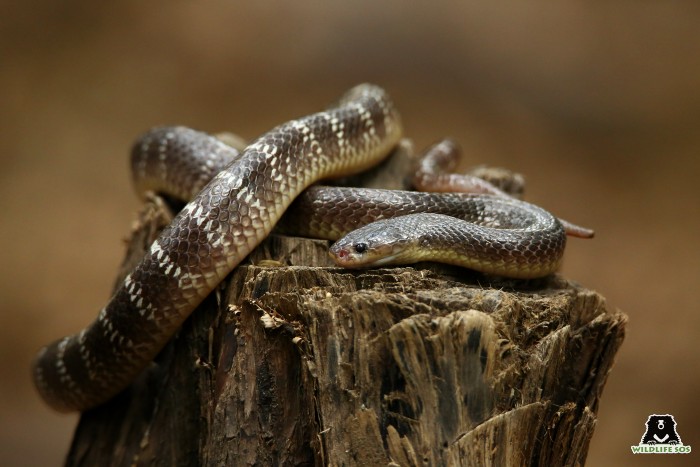 8. Common Indian Wolf Snake
The Common Indian Wolf Snake (Lycodon aulicus) is a non-venomous snake found across the Indian subcontinent. This snake is about 50-70cm in length and has glossy brown or black scales, interspersed with white bands. It is often misidentified as being the venomous Common Krait, and is therefore feared. This nocturnal species feeds mainly on geckos, skinks and rodents. The Common Indian Wolf Snake is oviparous and lays up to 7 eggs under rocks or in small crevices. Though it is shy, this snake is highly alert. If threatened, it usually tries to escape but it may also bite multiple times in the act of self-defense.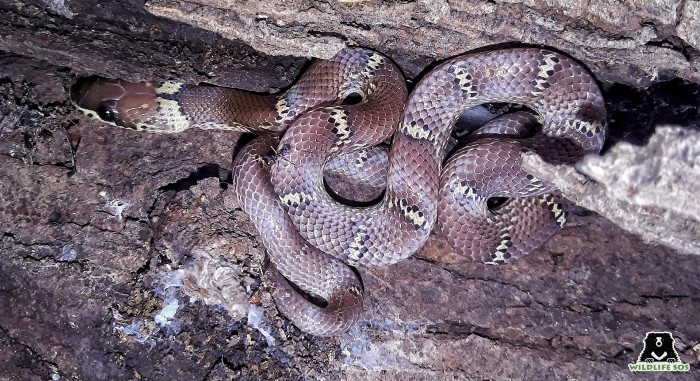 9. Common Cat Snake
Common Cat Snakes (Boiga trigonata) are mildly-venomous; their venom does not pose danger to human beings. This snake feeds mainly on geckos, frogs and birds. It is largely found in the Indian subcontinent. The Cat Snake gets its name after its cat-like eyes that are large and yellow, with vertical slit-shaped pupils. It has a triangular head with a distinct Y-shaped pattern. This snake is small and thin, growing up to about 60 centimetres. It is often mistaken as being the highly venomous saw-scaled viper due to its greyish-brown colour and a resembling zigzag pattern on its head.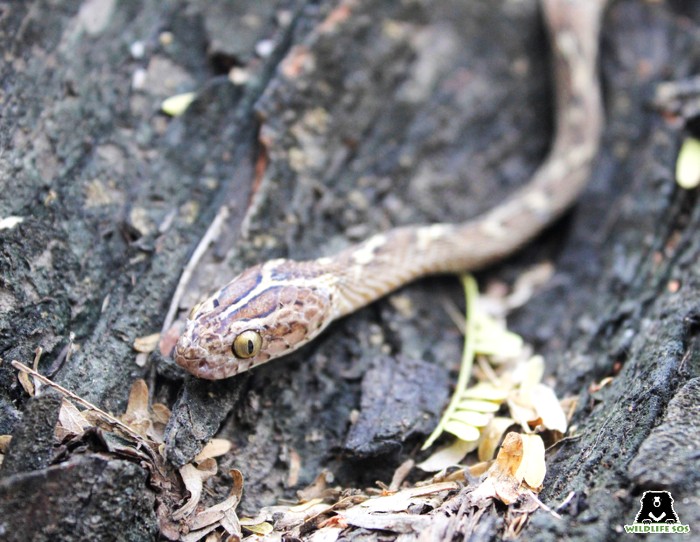 10. Checkered Keelback
The Checkered Keelback (Fowlea piscator) is a non-venomous snake that grows to about 1.75 metres in length. This snake is liable to bite if disturbed. Usually yellowish-green or brown in colour, it has checkered patterns all over its body. It is an oviparous snake, with fluctuating clutch size. It is mainly found near water bodies and paddy fields. Its diet comprises amphibians, fish, birds and even rodents.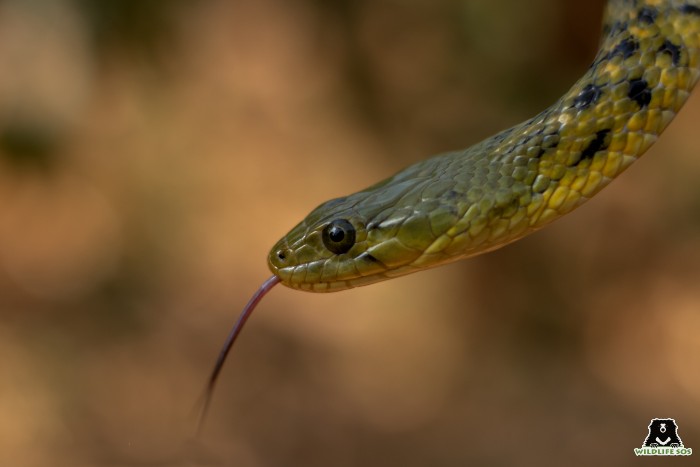 Snakes are not inherently aggressive, but one should never approach a snake without proper training! In case you spot a snake inside your house, at a parking lot or at any non-forested area, contact Wildlife SOS 24×7 emergency rescue helplines in the following cities:
Delhi-NCR – +91 9871963535
Agra & Mathura in Uttar Pradesh – +91 9917109666
Vadodara, Gujarat – +91 9825011117
Jammu & Kashmir – +91 7006692300, +91 9419778280
If you encounter a snake in regions not listed above, please contact your nearest wildlife rescue organization at once.