With summer temperatures soaring and India experiencing a massive heatwave, especially in the central and northern parts of the country, the Wildlife SOS Rescue Hotline has been busy ringing off the hook with multiple calls about animals suffering due to the severe heat.
Birds face summer's brunt in Delhi
With the onset of summers, there has been a sharp rise in bird rescue incidents. Birds stuck in stressful situations can be seen across Delhi-NCR and a major reason for that are rising temperatures, leading to dehydration.
A Black kite was found caught in a deadly manja (glass-coated nylon strings), hanging from a tree inside a residential complex in Sheikh Sarai Phase-I of south Delhi. The bird was rescued through a collaborative effort of the Wildlife SOS Rapid Response Unit and the Delhi Fire Service. It was suspected that the bird may have been stuck there for two days, and hence was severely dehydrated.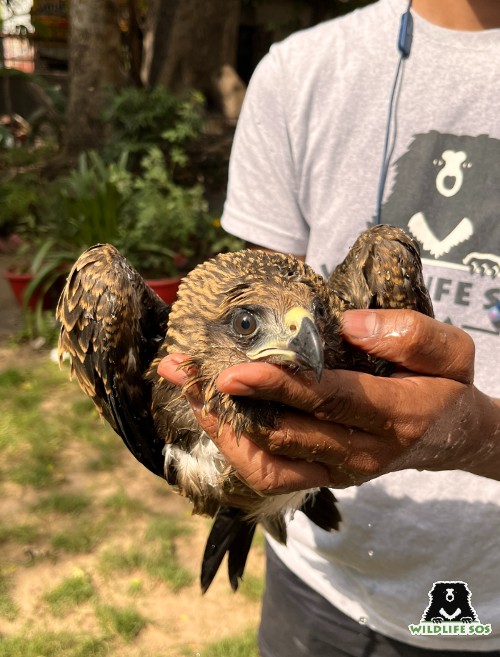 In two separate incidents, the Wildlife SOS Rapid Response Unit rescued kites from New Delhi's Malviya Nagar and Chanakyapuri. In the second instance, a fledgling kite was found in the garden of a residence, lying motionless on the ground. The excessive heat further aggravated the situation and made its condition even more critical. Upon reaching the location, the Wildlife SOS team first ensured that the bird was hydrated by providing drinking water.
With maximum temperatures reaching 42 degrees Celsius during the day, a large percentage of the avian population in Delhi-NCR is becoming a victim of dehydration, heat exhaustion and lack of shade. They are often found lying on the ground unconscious and some even suffer from heatstroke. That is why when we rescue birds from such stressful scenarios, the first thing we do is to provide them with water and oral rehydration.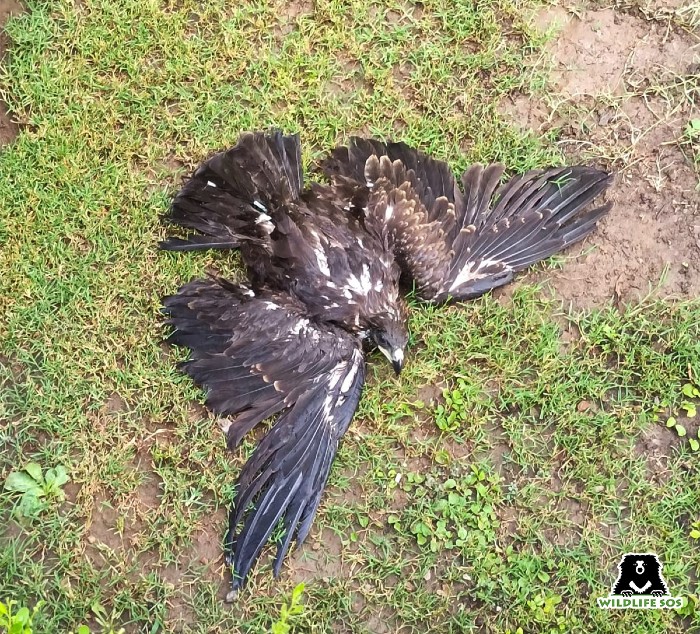 The Delhi rescue team was also busy saving snakes from unforeseen situations. In a heartwarming incident, concerned citizens came to the rescue of an Indian Rat Snake which was caught stranded in the aftermath of a fire. The 5-foot-long snake was spotted lying injured in Noida Sector 63 and sustained minor burns on its mouth and skin. The Wildlife SOS Rapid Response Unit safely extricated the injured snake, which was then treated at the NGO's treatment facility. In another incident, Wildlife SOS also rescued a Black-headed royal snake which was found entangled in a synthetic net in a residential colony in Ghaziabad's Indirapuram.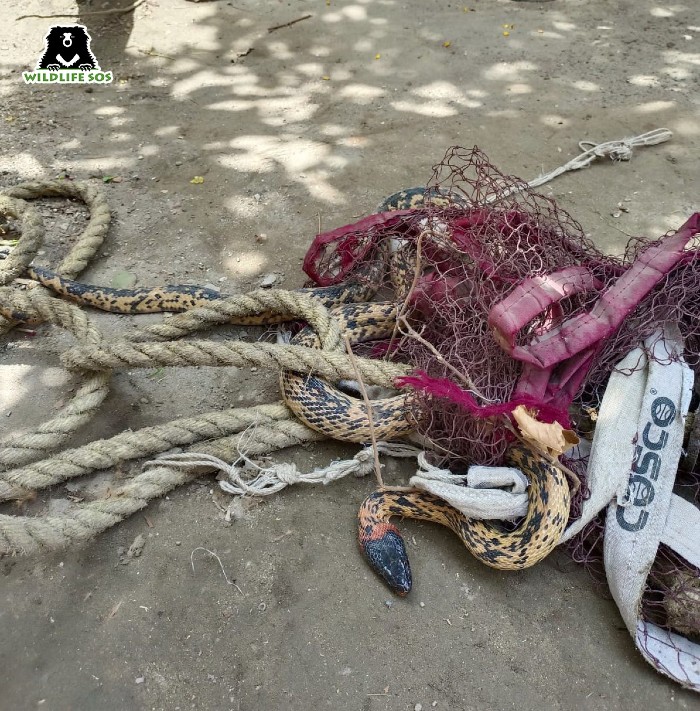 April remained extremely busy for our Rapid Response Unit as they rescued a whopping 156 birds including 82 Black kites and 42 pigeons. Other birds included eagles, myna, peacock, Barn owl, Shikra and dove, to name a few. The team saved 15 mammals, and 14 reptiles, all of which were snakes including Indian Cobra, Common krait, Common wolf snake, Black-headed royal snake and Indian Rat snake. Wildlife SOS saved 185 animals from Delhi-NCR in the month of April.
Agra dominated by primate rescues
The Agra rescue team meanwhile had its hands full with mammal rescues dominating the month of April. In a case of illegal wildlife exploitation, an Indian Gray Langur was rescued by Wildlife SOS along with the Uttar Pradesh Forest Department from a house in Lajpat Kunj, Bagh Farzana area of Agra. The langur was tied with a rope around its neck on the terrace. The Wildlife SOS Rapid Response Unit carefully removed the rope, checked the animal for any injuries and after an on-site medical examination, released the langur back into its natural habitat.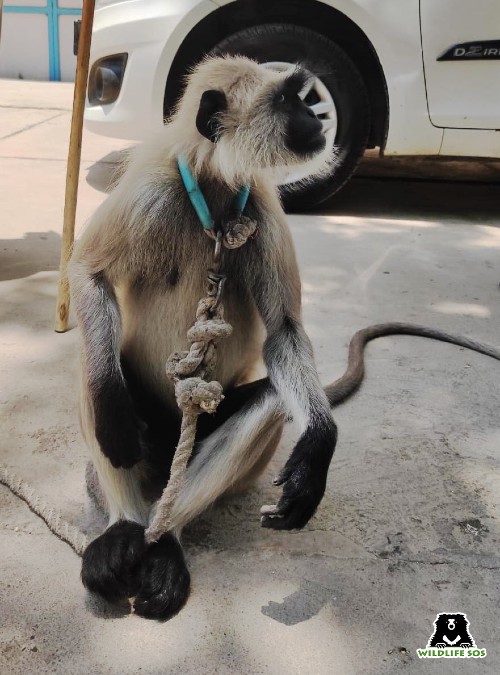 Wildlife SOS conducted eight such langur seizures across Agra. Misguided by the myth that Rhesus Macaques are afraid of langurs, poachers capture Gray Langurs from the wild so they can be trained to drive off monkeys in the city. After completing the seizures, the Wildlife SOS and forest department teams also educated the people there about this illegal practice.
Additionally, our team rescued 34 Rhesus Macaques in and around Agra. Human-primate conflict, often termed as monkey menace, is on the rise due to fragmentation and encroachment of the wild habitat that these animals used to depend on. Today, cities generate enough garbage which provide feeding grounds for rhesus macaques.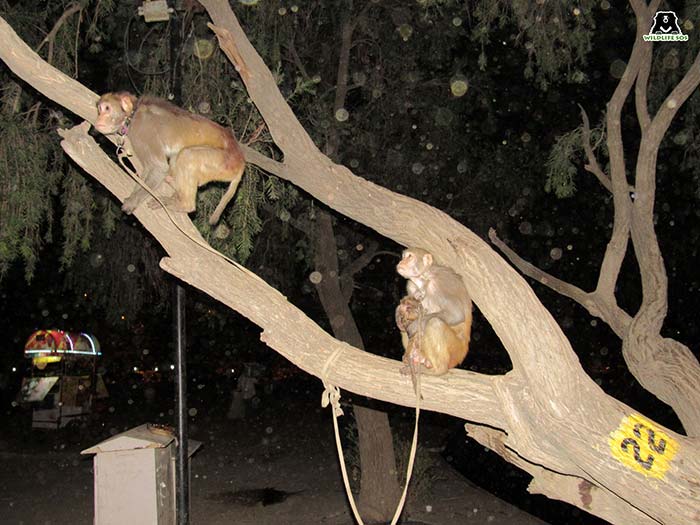 The rescue team carried out a total of 52 mammal rescues, which also included blue bulls or nilgai, hog deer, blackbuck and spotted deer. The team also rescued 38 birds, and 19 reptiles including a couple of monitor lizards, and snakes such as Indian Rock Python, Common Sand Boa, Red Sand Boa, Common Krait and Spectacled Cobra, to name a few.
Wildlife raid seizes the day in Gujarat
The Wildlife SOS-GSPCA (Gujarat Society for Prevention of Cruelty to Animals) team was also kept on its toes in the western part of the country. The most important moment was busting a large-scale illegal trade racket consisting of wildlife contraband to be used in occult rituals in Navsari, Gujarat. The team seized rare black corals, porcupine quills, wild pig teeth, owl nails and peacock feathers.
This anti-poaching operation involved months of undercover vigilance, followed by a covert operation by our team along with the Gujarat Forest Department. This led to the seizure of 990 black corals, 1,491 porcupine quills, 7 monitor lizard genitals and 14 wild pig teeth.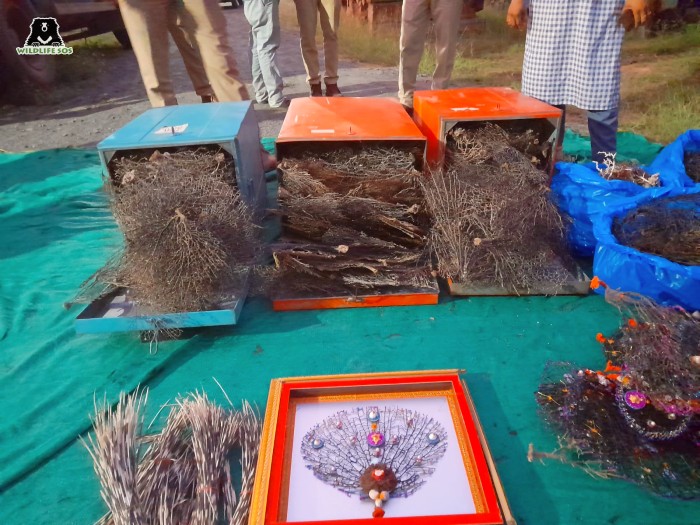 Additionally, the Wildlife SOS-GSPCA team rescued a 5-foot-long Mugger crocodile from Rajpura village, located 15 km away from Vadodara. The crocodile had entered a farmhouse and the owner immediately alerted the rescue team upon spotting the reptile. Upon arrival, the team safely extricated the crocodile following all safety precautions, and handed it over to the Gujarat Forest Department.
The Vadodara team saved 144 lives in April, which included seven venomous and 29 non-venomous snakes, two monitor lizards and 89 birds, among others.
Hide and seek with snakes in Kashmir
April welcomed our Kashmir team with the rescue of a nearly four-foot-long Levantine Viper, found inside a residential area in Srinagar, located in Zabarwan Forest Range of Jammu and Kashmir. The panicked residents first spotted the snake in their backyard sunbathing in the garden, and immediately informed the Wildlife SOS Rapid Response team.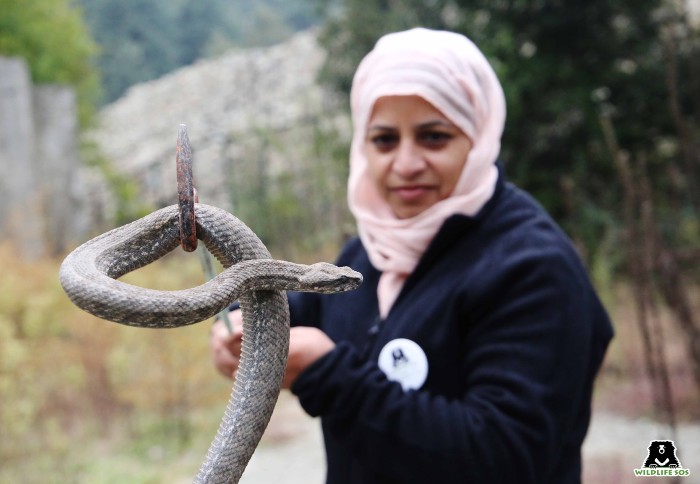 After an hour-long operation, the rescue team finally extricated the venomous snake and put it into a safety box, in what was the season's first viper rescue. After a few hours in medical observation, the viper was found fit and released back into its natural habitat. Another Levantine viper was rescued from the mess of a government office.
In a rare incident Aaliya Mir, the Wildlife SOS Programme Head for Jammu and Kashmir, rescued a juvenile Sand Boa. Oddly, this snake is not native to J&K and was suspected to have boarded a transport or goods carrier truck coming from another state. So this instance can serve as an example for people to be careful and check their vehicles thoroughly for the presence of wildlife, especially for such goods carrier vehicles, before moving from one state to another.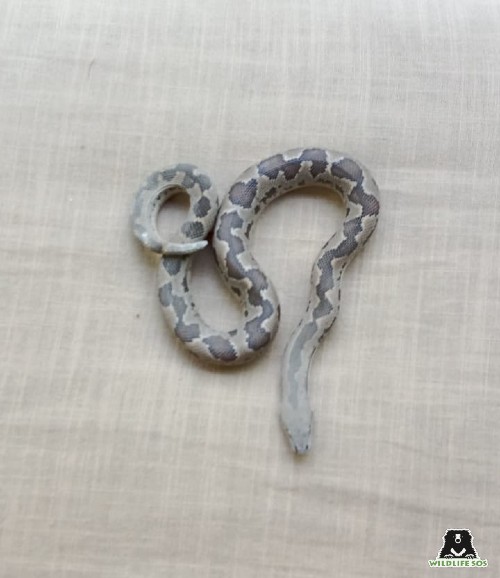 19 snake rescues, including 15 rat snakes, three Levantine vipers and one Sand boa, and a black kite rescue rounded off the month of April for the J&K Rapid Response Team.
Every month, Wildlife SOS carries out numerous rescues of wild animals. Our Rapid Response Unit is established in the following regions and can be reached out for assistance:
Delhi NCR – +91 9871963535
Agra – +91 9917109666
Vadodara – +91 9825011117
Jammu & Kashmir – +91 7006692300, +91 9419778280
As a wildlife rescue and conservation organisation, we encourage people to immediately alert the Wildlife SOS team on these numbers if you ever spot a wild animal in distress.