In a bizarre event that took place in March 2022, employees of the Mercedes-Benz factory in Chakan, Maharashtra found a leopard wandering in their midst. Bewildered, the employees were unsure of how to tackle this situation. They contacted the Forest Department, who in turn alerted the Wildlife SOS team operating out of Manikhdoh Leopard Rescue Centre in Maharashtra. After the leopard was successfully rescued by Wildlife SOS, questions arose on why a leopard had wandered into a factory. Furthermore, it was necessary to know what the correct procedure to be followed was, if such a situation were to arise again. To help the staff be better prepared for any such event, Wildlife SOS conducted an awareness workshop with Mercedes Benz.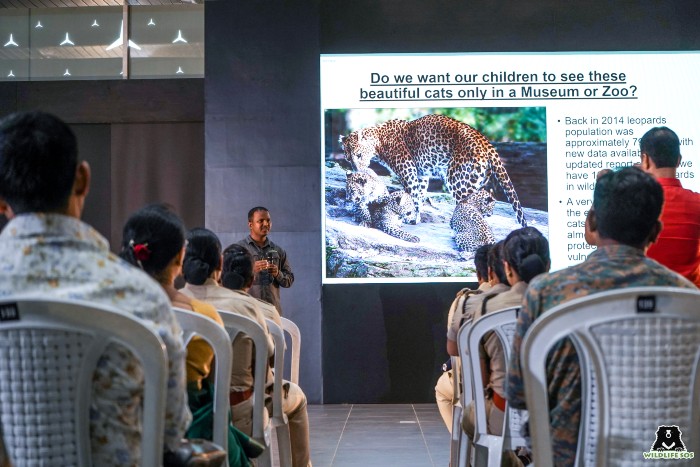 This conservation awareness workshop was spearheaded by Dr. Nikhil Bangar, wildlife veterinary officer at Wildlife SOS. With vast experience in leopard rescues, Dr. Nikhil was able to provide meaningful insight into the challenges of leopard conservation in India. The workshop lasted for approximately two hours and was attended by 25 employees from the Mercedes-Benz factory, as well as 30 officials from the Forest Department.
Dr. Nikhil began the workshop by first providing background on leopards, their habitats and their lifestyle, along with the various threats that leopards face in India. Leopards in India are fighting a battle against deforestation and rapid urbanization, which has increased their sightings outside of forests. The presence of a leopard within the Mercedes-Benz factory is a consequence of the dwindling leopard habitat. Leopards wandering into human settlements is especially prevalent in Maharashtra, the state which has the third-largest leopard population in India.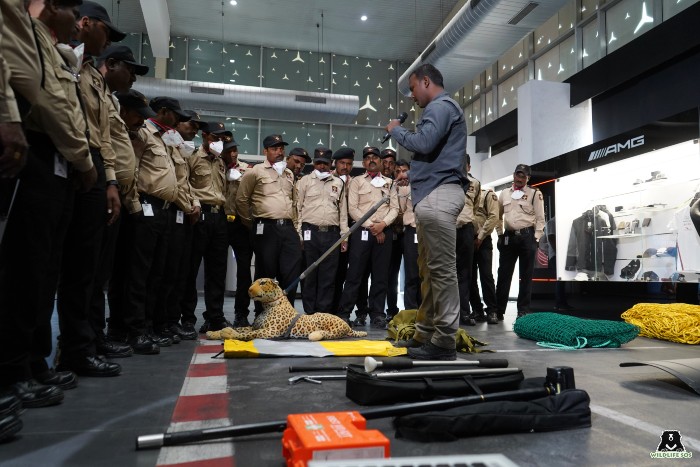 The workshop delved into some of the work done by Wildlife SOS, and how leopard rescues are carried out. Our veterinarian showcased various equipment used in leopard rescue operations: dart guns that tranquilize the leopard for its safe transportation, a snare pole to reach the leopard in tricky situations, safety nets to cover exit points and other openings that might allow the leopard to escape, transport cages to safely bring in the rescued leopard for medical examination.
The conservation awareness workshop allowed our team to connect with curious employees at Mercedes-Benz, and inform them about leopard conservation in India. An encounter with a wild animal is indeed confounding, which is why it is important that more and more people become aware of the right way to react in such tricky scenarios. The safety of humans, as well as the wild animal involved, must be kept in mind.
Sign our petition here to support leopard conservation in India!