For years, conservationists have grappled with the quandary of human-wildlife conflict. When growing human populations overlap with existing wildlife territory, the competition for space and resources leads to rising cases of conflict. The consequences of conflict can be horrific and one, of the many species that have been struggling really hard to deal with this crisis, is the Tiger.
The history of the human-tiger conflict in India, especially in the central part of the country is a widely researched and talked about issue. Conflicts have existed since time immemorial, but they are brought to the foreground more than earlier due to the presence of local media houses and increased coverage. Two states are especially more involved due to the existence of prime tiger habitats and contiguous forests – Uttar Pradesh and Madhya Pradesh. In terms of the frequency of incidents, Madhya Pradesh arguably sits at the top due to its designation as the tiger state. But Uttar Pradesh has witnessed more gruesome incidents of the two states.
Trouble in UP
Human-tiger conflicts can take ghastly turns if not tackled properly. One case in point was July 2019, when a 6-year-old tigress was beaten to death inside the Pilibhit Tiger Reserve in Uttar Pradesh. The barbaric incident was captured on a video where a group of men were seen beating the tigress. The animal succumbed to several fractures and injuries, caused by sharp sticks and spears. Reportedly, the angry villagers even assaulted the forest officials and did not allow them to treat the injured tigress.
Again in May 2020, villagers living next to Pilibhit Tiger Reserve cornered an adult male tiger, 2.5 km inside the reserve's core area and bludgeoned him to death before slitting his throat. As per media reports, the Pilibhit district and Pilibhit Tiger Reserve witnessed 16 tiger deaths since 2012, where most of the mortalities were caused due to poisoning, being caught in a poacher's snare, ailments or diseases such as canine distemper, and a few due to infighting among tigers.
According to one report, most attacks of tigers on humans occurred during the daytime, and a majority of them were accidental encounters. This sheds light on the commonly mistaken belief that tigers attack human beings intentionally.
Conflict in MP
Madhya Pradesh (MP) has the highest tiger population in the country and is home to six tiger reserves – Kanha, Pench, Panna, Bandhavgarh, Satpura and Sanjay-Dubri. Therefore it is no surprise that more protected areas mean more tussles for space between humans and tigers. The forest area in MP reportedly shrunk by 3% as noted in 2017, and it is considered a major reason for human-wildlife conflict. Though in 2019, a 0.03% increase in forest cover was observed.
However, the overall decrease in natural cover has occurred due to mining and the felling of trees in the forested area. More settlements have thus bloomed close to the forest areas, which is why human encroachment has increased. Conflict is triggered when tigers venture into human settlements to prey on livestock. Also, construction activities inside forested areas affect the habitat of animals residing there. Illegal access into the core areas to gather minor forest produce, daily necessities such as sticks, branches and fallen leaves, and graze livestock are prominent causes of human-tiger conflict.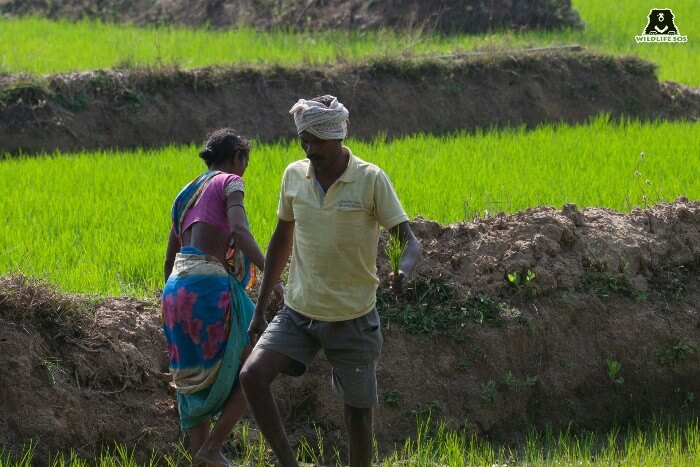 Habitat destruction and fragmentation are a thorn in these animals' lives. Encroachment also includes the natural forest habitats being degraded and replaced by expansive agricultural fields and dams that have been constructed without proper studies. Coupled with this is the "problem of plenty"— the number of tigers is much more than the space needed to accommodate them. 
Clashes between tigers are common phenomena too when the defeated one moves out in search of new territory, and ends up straying into human settlements as there is no more natural or forested habitat left to venture into. As a result, most of the human-tiger conflict cases involve older tigers who have been driven out by the younger, more aggressive ones. 
When one analyses these causes, it is not surprising to hear that a male tiger had ventured inside the National Institute of Technology campus in Bhopal – situated approximately 4 km from Van Vihar National Park – in October 2022. The tiger was eventually rescued and released back into the wild.
Consequences of Conflict
Encounters can often turn ugly with both tigers and humans having to possibly face negative outcomes. Tigers are often villainised in such cases and even face retaliatory attacks which can turn fatal. Situations can escalate for the worse when people themselves become aggressive toward the authorities and officials.
Such behaviour appears to happen often when one goes through the data of tiger attacks in the state. Madhya Pradesh recorded 17 instances of tigers attacking humans in 2020, compared with 10 incidents in 2019. Out of all the tiger reserves, Kanha experiences the highest frequency of conflicts as the buffer zone is not exactly free from human disturbance, closely followed by Pench Tiger Reserve. However, such a high frequency of tiger attacks also tests the patience of local communities who are co-living with the apex predator of the jungle.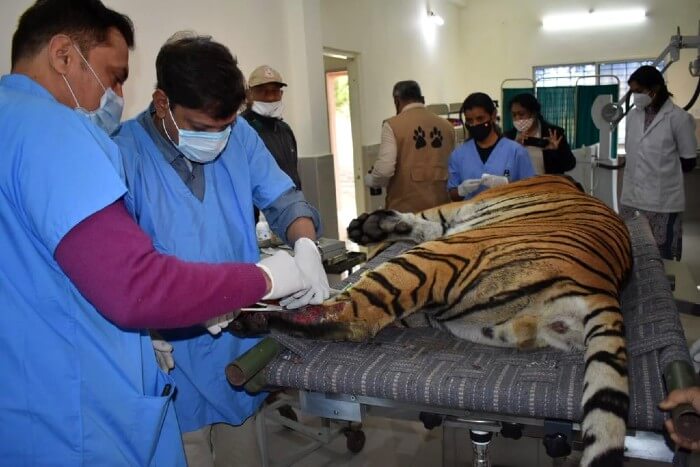 In the heat of the situation, sometimes a tiger has to face the brunt of a retaliatory attack from locals. In one such case in March 2021, the Wildlife SOS team based in Van Vihar, Bhopal was involved in the treatment of a male tiger rescued from a retaliatory attack. The tiger was brought to the Wildlife Hospital inside Van Vihar National Park after it sustained life-threatening injuries on his forehead from a brutal assault of pickaxes. The tiger was critically injured and the trauma of the attack was so severe that he was unable to even stand properly, let alone hunt.
Intensive medical treatment by the veterinary team led to the recovery of his fractures and considerable improvement of his wounds. Wildlife SOS is always at the forefront of such critical medical interventions. However, treatment itself is not the solution to mitigating human-tiger conflict. Sometimes, reaching a certain location on time and rescuing the animal from a huge swarm of crowd to ensure that the animal is not under too much stress plays an equal role. For instance, when in March 2022, Wildlife SOS and the Uttar Pradesh Forest Department rescued a tigress from a cattle shed in Nagla Samal village of Etah district.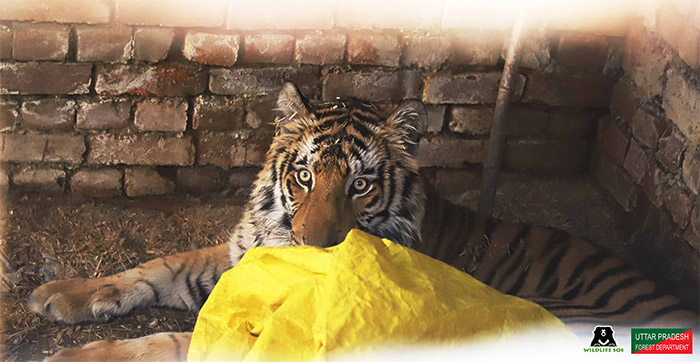 Even though the situation was settled successfully with the timely rescue of the tiger, a lot of the unfortunate animals can lose their lives given the lack of sensitisation among local communities living in the periphery of forests. Generating awareness about proper response mechanisms if such incidents occur in the future can prevent a negative outcome. Contribute to our rescue and awareness efforts by becoming a monthly donor for Wildlife SOS, and you can play a meaningful role in conserving India's tigers and her forests.