Universal Children's Day not only celebrates and encourages efforts to promote child welfare and addresses the need to  fight for the rights that they truly deserve, but is also a reminder that much remains to be done in securing economic, political, social, civil and cultural rights of children worldwide.
When Wildlife SOS started the Kalandar Rehabilitation Programme as an extension of the Dancing bear Project, we realised that extreme conditions of poverty and a dire lack of education had forced them to be wholly dependent on the bears to earn a livelihood. The answer therefore, lay in rehabilitation of these communities through education, alternative livelihood and skill training programs. Education is the key to empowering the younger generations to carve a better future for themselves.
Till date, we have provided support for educating over 1,300 Kalandar children by sponsoring their school admissions, books and stationery, uniforms, school bags as well their school fees. In fact every year, between the months of May through July our Kalandar Rehabilitation Programme team sets up an annual stationary and school book distribution camp across villages in various states. Wildlife SOS also provides financial assistance to those children who are keen on studying further.
12 year old Gulshana grew up performing magic tricks and acrobatics with her family on the streets of Uttar Pradesh. The family subsisted on whatever little they earned through the performances, and the meagre income her father procured from his job as a labourer-for-hire. Street performing was all she had ever known and despite being bright and hardworking, school had never even been an option for Gulshana.
It took a lot of convincing over several months before her parents succumbed and agreed to let their daughter enrol in a private school in the area and Wildlife SOS provided the tuition fees and school supplies. Gulshana had to start from the very foundation and is now in the second standard, but she's working hard and enjoying her studies, as her future looks a little brighter.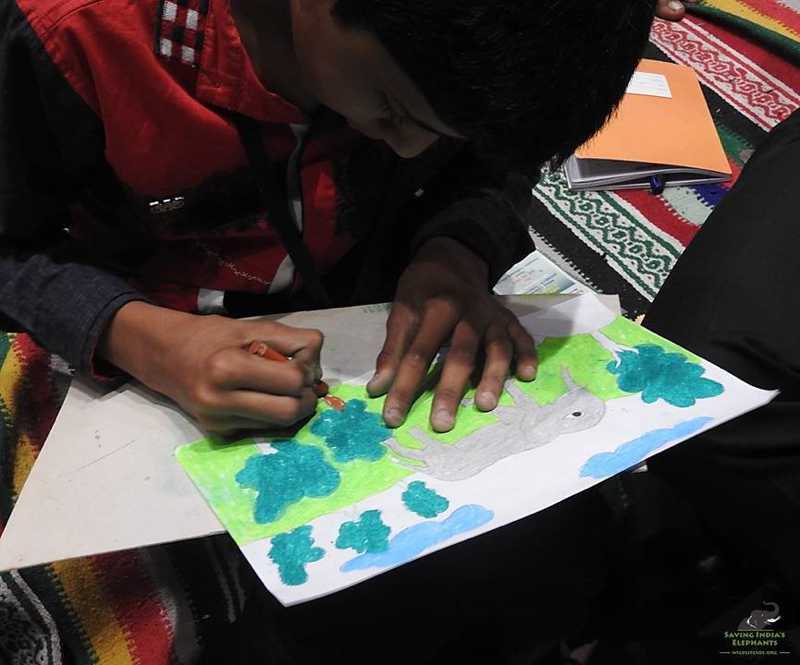 14th November marks National Children's Day in India which commemorates the birth anniversary of our first Prime Minister Jawaharlal Nehru, who was known for the heartfelt compassion and love he had for children. We decided to celebrate this wonderful day by working to raise awareness among our younger generations about wildlife conservation. Our team in Delhi participated in a two day workshop at the National Bal Bhawan to acquaint children from across the country with our efforts at rescuing and rehabilitating wild animals and restoring wasted habitats.
The students were a compassionate and curious lot and were moved at the plight of exploited bears and elephants. They were shown a short movie about our Sloth Bear and Elephant Rescue & Rehabilitation Projects, and then our team gave them a presentation explaining our work in detail. The response was extremely positive and enthusiastic as the eager faces promised to help us make the difference. They even promptly noted down the Wildlife SOS helplines for rescuing distressed wild animals in urban areas. Fun activities like a Wildlife Quiz and coloring competitions were also conducted for the children. We were extremely glad to realize that they were very aware about wildlife related issues. Prizes were distributed to the winners of both the competitions and we received a lot of happy promises from these amazing students that they will stay compassionate and supportive to our cause and do their bit in making the world a safer place for animals.