In a first of its kind meeting to conserve the unique and endangered species of sloth bears in India, Wildlife SOS hosted the First International Sloth Bear Expert Team Meeting at the Bannerghatta Bear Rescue Centre (BBRC) in Bangalore, Karnataka. The IUCN Sloth Bear Expert Team meeting held from 8th to 9th March brought together conservationists, scientists and field researchers from across the world who are working on sloth bear conservation and protection. Of all the eight bear species in the world, the sloth bears is the least researched bear in the world.
 The two day conference was an initiative by International Union for Conservation of Nature (IUCN) & the Bear Specialist Group established by Species Survival Commission (SSC) to achieve scientific conservation solutions to preserve the sloth bear population in its range. Our Bannerghatta Bear Rescue Centre run in collaboration with Karnataka Forest Department has rescued and rehabilitated for over a hundred Sloth bears rescued from poachers, human bear conflicts and also from the 'Dancing Bear' trade. Our team has also successfully released several rescued bears back in the wild.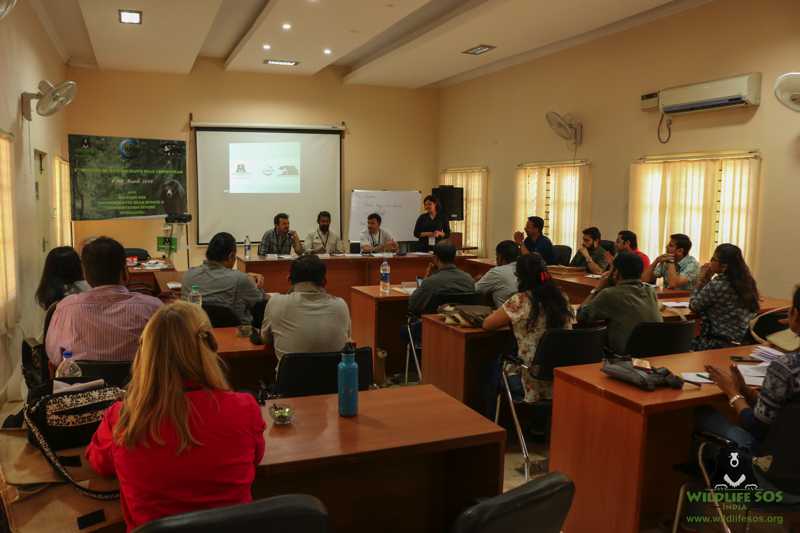 The Sloth bear (melursus ursinus), is one of the four unique species of Ursids that occur in the Indian subcontinent. The sloth bear population in the wild is severely threatened due to habitat loss, poaching, and retaliatory killing resulting in human bear conflict. The animal is listed as vulnerable in the IUCN Red List and listed under Appendix I of the Convention on International Trade in Endangered Species of Wild Flora and Fauna (CITES). In India, they are distributed across various states such as Uttar Pradesh, Madhya Pradesh, Andhra Pradesh, Karnataka, Gujarat, Maharashtra, Rajasthan, West Bengal, Assam and are marginally present in Arunachal Pradesh and Nagaland. The total population of sloth bears is estimated to be around 8,000-10,000 in India.
Attendees included Dr. Barbara Durrant from Institute of Conservation Research in California USA & former Principal Chief Conservator of Forests (Head of Forest Force) Karnataka Forest Dept – B K Singh who interacted with delegates. The Co-chairs of the IUCN Sloth Bear Expert Team released a compendium of 20 years of Bear Research Publications by Wildlife SOS.
According to Dr. Nishith Dharaiya, Co-Chair, IUCN Sloth bear Expert Team, this was a wonderful initiative and a first of its kind IUCN Sloth Bear Meet in India that provided a platform for Sloth bear researchers and scientists to share and exchange ideas for conservation of this species.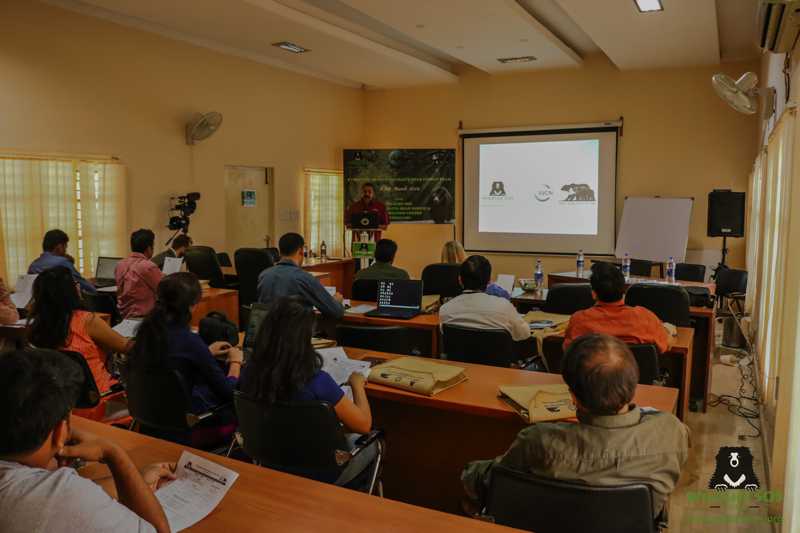 It was an honor for Wildlife SOS to host this conference. Our focus is to encourage sound scientific research aimed at conservation of sloth bears. We are currently studying the ecology & bear denning patterns and reproductive physiology of wild sloth bears in Karnataka. With the help of cameras traps, we have been able to closely monitor the movement and map the behavior of these bears. Our team is also engaged in educating the local communities about conservation ethics and the measures that can be taken to mitigate man-bear conflict situations in these areas.
Wildlife SOS & Bear Care Group will be hosting an International Conference on Advancing Bear Care in New Delhi from 3rd to 6th December 2018.