It was a fateful call from the local Forest Department that led to the rescue of Sanjay, our magnificent bull-tusker. Wildlife SOS was informed that Sanjay's owners had cut chunks of his tusk and sold them in the black market for illegal trade of animal parts. Sanjay was in a grave situation as his owners were cunningly planning to challenge his confiscation by the Forest Department. Wildlife SOS only had 24 hours to change the course of this pachyderm's life and bring him to the safe haven at the Elephant Conservation and Care Centre (ECCC) in Mathura.
At the time of Sanjay's rescue, we did not know even know his name! However, we knew that no elephant deserves to suffer through abuse in captivity. As this was a time sensitive matter, we did not waste any time in deploying a team for Sanjay's rescue. After a 36-hour journey, Sanjay arrived at ECCC in the dead of night on the 6th of February, 2017.
When he first arrived, our veterinarians found that Sanjay's feet were in a poor state. He had overgrown and cracked toenails, and painfully swollen foot pads. Adding to his miseries was a hairline fracture in one of his rear limbs. If not treated in a timely manner, fractures can lead to lameness in elephants and, in some cases, can even be fatal. Our team mobilized quickly to provide Sanjay with medical attention for his ailments. Veterinary treatment, combined with a complementary nutritious diet and Sanjay's strong will, healed his wounds gradually. Sanjay has come a long way and is now one of the healthiest elephants under our care!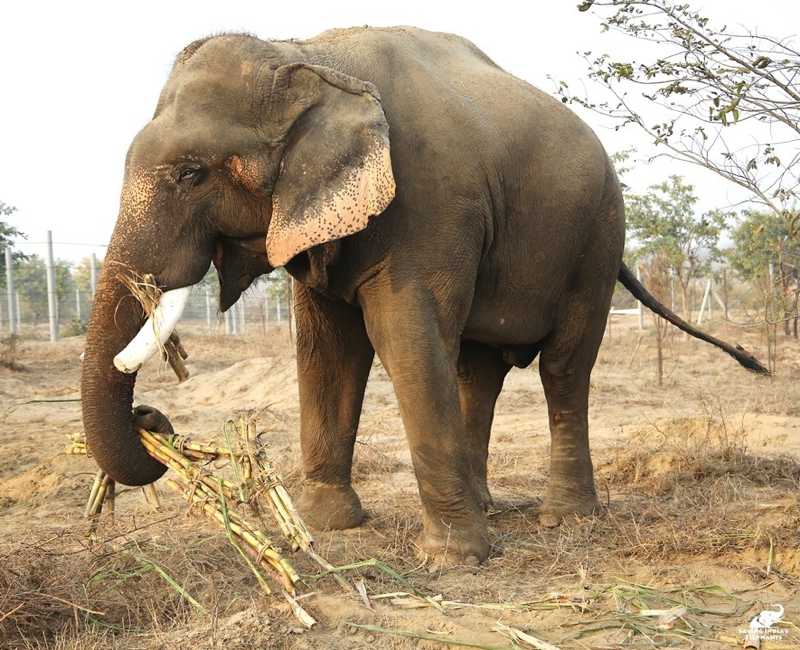 The new environment at ECCC can be daunting to the rescued pachyderms and this is where reassurances from the keeper help an elephant feel safe and at ease. Sanjay slowly developed a strong bond with his keeper, Nekpal, who was always ready with comforting words and treats for him. Gradually, as Sanjay grew comfortable at his new home, we got glimpses of his boisterous, colourful personality.
Sanjay's love for food has not gone unnoticed by our team. He believes in a zero-waste policy and eats every last bit of the fodder or vegetables and fruits given to him. Being the biggest elephant at the centre, he gets the largest quantity of food to eat. However, to this magnificent pachyderm even this does not seem enough! If he watches a team member walk past his enclosure, he quickly makes a loud noise to grab their attention in the hope that they will give him treats to eat. The team has now grown accustomed to his attention seeking habits and do not fall for his seemingly innocent calls. Sanjay's internal clock is well-oiled to know when to expect his keeper to fill his cage feeders or bring him fodder, and even a minute's delay finds him making loud noises repeatedly until Nekpal arrives.
Being full of energy, Sanjay's favourite activity of the day are his long walks in the field. Sanjay curiously sniffs to get a whiff of the new scents that he encounters, and uses his dexterous trunk to feel new textures on the way. These walks are immensely enriching for Sanjay's psychological health and, no wonder, he absolutely loves them!
Last year, in the month of November, Sanjay became the third elephant to move to the Field of Dreams (FoD). His new enclosure at FoD is much more spacious than his previous one at ECCC. Sanjay has grown fond of his new space as he not only gets a gigantic pond to himself, but also has many trees that he can uproot to test his strength. He is always exploring his new enclosure and still has not yet been able to find the best spot for sleeping. Every evening, our team would make a mud bed for him to lie down in at night, only to find that he chose a different place to sleep. The team would then make the mud bed at the spot where Sanjay laid down the previous night, only to again find that he had chosen a new sleeping spot. This continued on for a few weeks, following which our team gave up and decided to make several mud beds for him each night at the spots frequently used by him, so that Sanjay has ample comfortable options.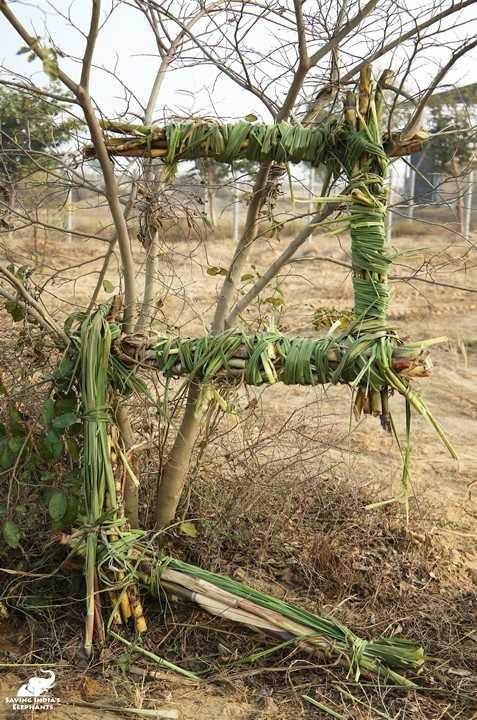 As today marks the second rescue anniversary of Sanjay's arrival at ECCC, our team decided to do something special for this playful pachyderm. The team spent their afternoon making an ornament shaped in number '2' using freshly sourced sugarcane. The next step was to find a place to station the ornament, which would throw Sanjay off the track as he came back from his evening walk.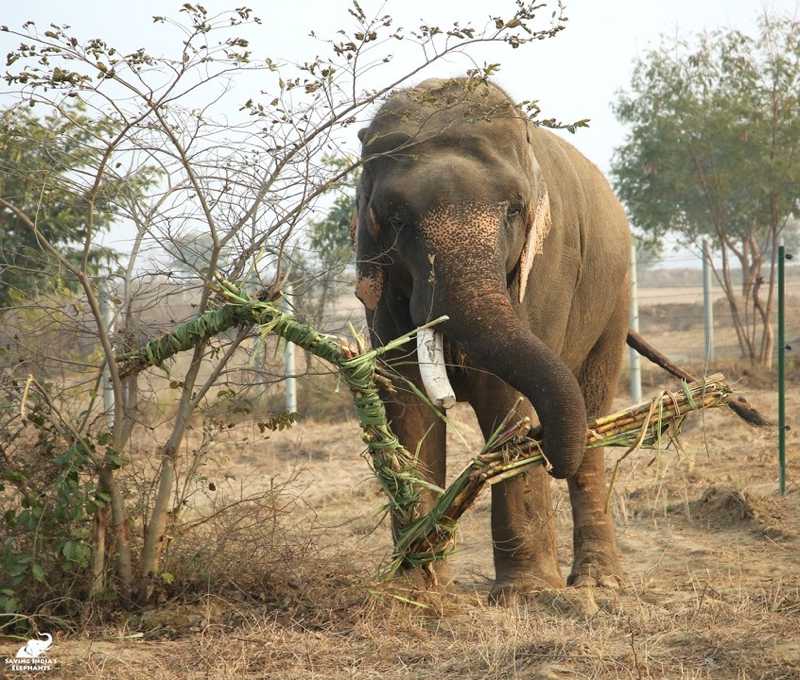 But we guess there is nothing that can surprise this enthusiastic foodie! He very nonchalantly walked to the sugarcane ornament, de-shaping it within a matter of seconds. Using the strength of his trunk, he ripped pieces of sugarcane off the ornament to devour them quickly. Once done, he carefully held the remaining stack between his tusk and trunk and walked inside his enclosure to savour his treat in peace without people watching him, leaving everybody in peals of laughter.
In the last two years Sanjay has truly emerged victorious and has shown determination to heal his past wounds. His peculiar habits never fail to win our hearts and we hope that the journey ahead of him will be filled with peace and happiness.