While all over the world people were readying themselves to welcome in the New Year with energized celebrations and new promises for 2019, a begging elephant named Luna was again spending her day working on the streets despite the unbearable pain that she was constantly in. Luna's story is yet another tale of the suffering endured by begging elephants throughout their life at the hands of their greedy traffickers: for over fifty years of her life, Luna worked day after day walking on congested, tarred roads to beg for alms for her owner. She would be worked constantly till she earned the daily "quota" of her earnings and the greed of her indifferent owner was quenched.
However, this came at a great mental and physical cost to Luna. Elephants are social animals and they form complex social bonds within their matriarchal herds that last a lifetime. Under stressful situations, it is the reassurance and the support of the herd that makes it easier for an elephant to survive and cope with challenging times. But like other begging elephants, Luna suffered in isolation as she walked through jam-packed places and received "taming" hard blows from her owner's laathi (stick) and bull-hook. All this was done for her to always appear to be friendly and well-tempered with the humans who would pay to interact with her. She eventually resorted to exhibiting stereotypical behavior like strongly tugging on her teats using her trunk, a physical manifestation of the mental stress she was in. With not a friendly face in sight, every day of her life was nothing short of a tragedy that never seemed to end.
Luna's unnatural life wrecked her body greatly. She lacked proper nutrition and care since she was a calf. This led to the development of a deformity in her hind legs which curve inwards and are weak. Despite her painful condition, she spent prolonged time on concrete that led to an early on-set of arthritis. As if this was not enough, her apathetic owner allowed passers-by to feed her everything under the sun, not giving a second thought that it was slowly making her obese and putting extra pressure on her already delicate feet and joints. Conditions such as obesity and arthritis are rare in wild elephants as they are naturally long-ranging animals and spend the greater part of their day walking through the soft forest floor to forage new vegetation. Had Luna not been snatched from her maternal herd, it is all but certain that she would not be suffering from these life-altering conditions.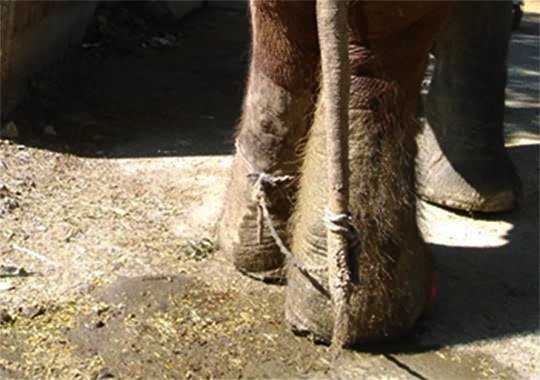 When our informants found out about Luna, they immediately knew that the condition of this elephant was dire and that she needed critical medical attention. She spent her day either on the streets with her master sitting atop her, or she was chained for hours straight standing in her own dung and urine. Her lifestyle was nothing short of an invitation for diseases and chronic ailments. The team was shocked to see that Luna avoided walking and preferred to stand still in one place. In fact, even a hard blow from her master's laathi would make her hesitantly take only a few steps forward. Later on, we learnt that she had severe inflammation in her legs and cracked toenails. Her body was not only covered in scars from the frequent use of a bull-hook, but it was also marked by prominent wounds that were still oozing with pus. Despite her seemingly gigantic stature, Luna was much too weak.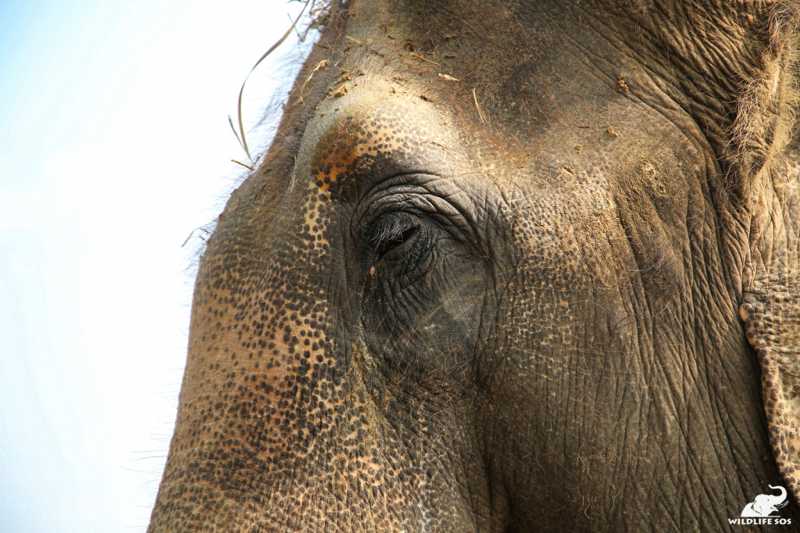 As  much as we wanted to bring Luna to the Wildlife SOS Elephant Hospital as soon as possible for her treatment, we also knew that the long journey to the hospital would be overwhelming for her. So our team of experts decided that it was in the best interest of Luna if we worked on the ground with her till she had gained substantial strength. We put her on a nutritious diet of sugarcane, soft green fodder and seasonal vegetables, and gave her ample quantity of water to drink. We also made sure that she had had enough time to relax every day so that her battered feet got a chance to rest.
On the 27th of December, our team was prepared to trans-locate her to the Wildlife SOS Elephant Hospital, but the night before Luna suffered from a painful bout of inflammation in her feet that left her unable to get up from her resting position. The team quickly arranged for a crane to help this poor pachyderm back on her feet. After giving her enough time to relax and enough food to eat, our team knew that the moment to take Luna to the Wildlife SOS Elephant Hospital for treatment was now or never. We slowly loaded her onto the truck, which was packed with essential food and water supplies, and we headed off for Luna's road to recovery.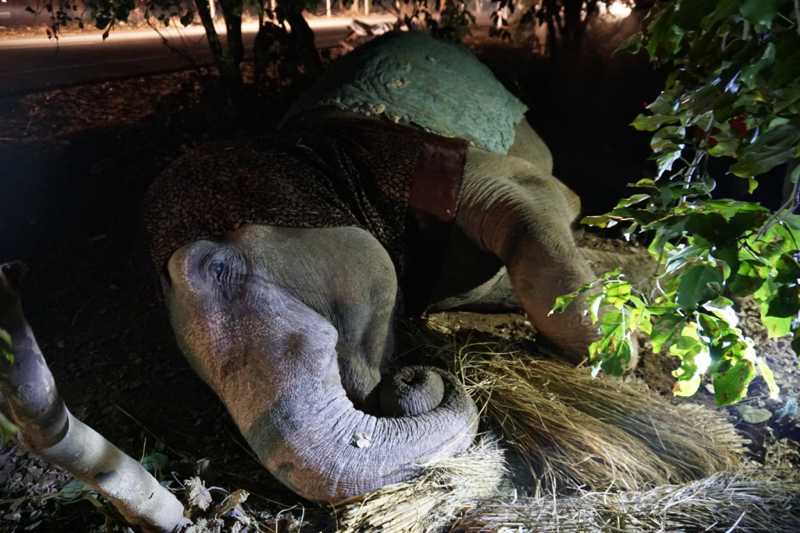 Our team took several stops on the way to ensure that we did not put her feet under unnecessary stress. On the last leg of the journey – only a short distance away from the Wildlife SOS Elephant Hospital –  when Luna had been unloaded from the truck to rest for a while, the pain in her feet again got the best of her and she was unable to stand back on her feet. Our team covered her with a blanket as she was feeling cold, and mobilized to arrange for a crane to lift her. The entire process of helping her stand up took nearly four hours as we had to ensure that her comfort was not compromised.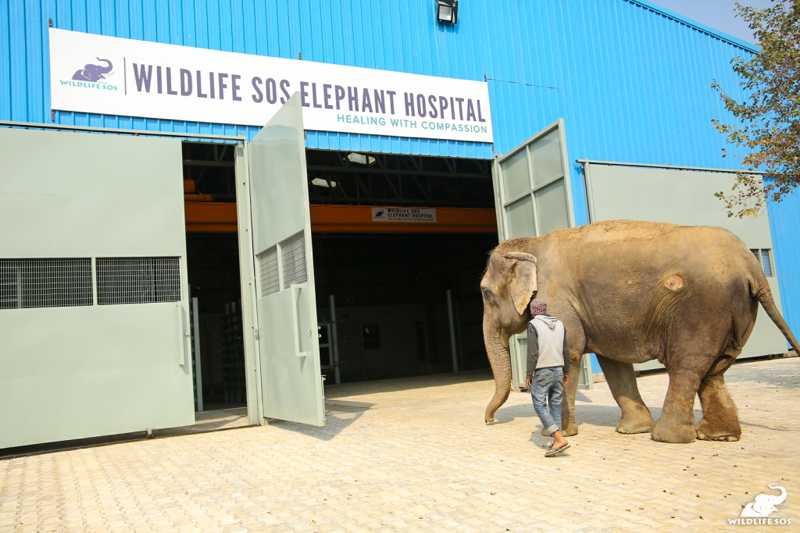 Luna finally arrived at the Wildlife SOS Elephant Hospital in the wee hours of the morning. She stepped off the truck after an incredibly challenging journey to take her first step towards the critical medical aid she needs. Our team of experts will be diagnosing her for health issues and planning an effective treatment plan.
We would like to thank all our supporters for standing with Luna through this tough journey!