It is, indeed, true that when duty calls, one must respond, and respond certainly to deal with crisis! Our medical frontliners have been working day-in and day-out to take care of the rapidly rising cases of the coronavirus pandemic that has paralysed the world and have proven their mettle in the race against time to save lives.
In one such heroic act by the frontliners, the veterinarian team at Wildlife SOS in Bengaluru, Karnataka, has surpassed locked down borders of states to reach one such wild elephant who was in excruciating pain in the state of Tamil Nadu.
In the early hours of 5th April, 2020, Tamil Nadu Forest Department were informed of an injured tusker, about 15 years in age, who was standing a few kilometres away from a village settlement in Krishnagiri, Tamil Nadu. His visibly compromised gait and swelling on the left hind leg caused complete immobility and it was imperative that he needed urgent medical attention for immeidate relief. Another cause of concern was how the injured tusker was standing dangerously close to human settlement, especially when he was in substantial amount of pain, this would imply that a passing vehicle or a crowd of onlookers would further stress the elephant out and cause furore in the village, becoming a direct and escalating situation of conflict.
When Tamil Nadu Forest Department reached out to our senior veterinarian, Dr. Arun A Sha, at the Wildlife SOS Bannerghatta Bear Rescue Centre, he was quick to spring to action and quickly assembled a team of para-veterinarians to leave for the injured elephant. The location in Tamil Nadu was 70km from the Centre and the team left at 3:30 am in the morning. The Animal Ambulance was well-equipped with portable X-ray machine, pain management medication and tranquilising gun and the team reached the location by 5am in the morning, to be assisted by the Forest Department. It very important to note that the elephant's entire body weight is divided in a proportion of 60% to his front limbs and 40% to his hind legs, which is why front limb injuries always take much more time to heal than hind limb injuries. In this tusker's case, his left hind leg was swollen which made it very difficult for him to walk long distance to look for food and water making him weak and hugely affecting his ability to cope with pain and heal.  
Upon reaching the location, the team immediately got to work, all necessary precautions were to be taken to not cause any discomfort to him. Our senior veterinarian decided to tranquilise the elephant so as to conduct a proper and detailed medical examination of his leg, for a proper X-Ray to be conducted and pain medication to be administered to him. As soon as he was sedated, a series of pain management medication were administered to him and the X-Ray revealed no bone injury, but merely inflamed swollen tissues, indicating that it was an unhealed injury, that happened a fortnight ago when he fell into a deep well and was rescued by the Tamil Nadu Forest Department. Understanding his proximity to human settlement, it was important that he had to be translocated to a different area away from human interaction. For Wildlife SOS, it is of utmost importance that an animal in the wild remains in wild, unless there is absolutely no other option left but to bring him in lifetime care. At just the young age of 15 years, this male elephant could heal on his own time and in a large expanse of forest that is his natural home, without any interference.
With the help of a crane, the elephant was lifted and moved to an Ambulance that would take him to his new home at the Kempagari Reserve Forest, Denkanikottai range, which borders to the Cauvery Elephant Reserve and has a large population of wild elephant herds. The availability of a fresh flowing watering hole at the leisure of the elephant will hugely supplement his healing and allow him to take the weight off his injured leg each time that he takes a dip. Upon successful translocation, the elephant was lifted out of the Ambulance and carefully placed on the ground, though still limping, he was gradually adjusting to his new surroundings, picking out branches and lifting his trunk every now and then! For him, the healing may take some time but the veterinarian of the Tamil Nadu Forest Department will visit this range time and again to check on this elephant.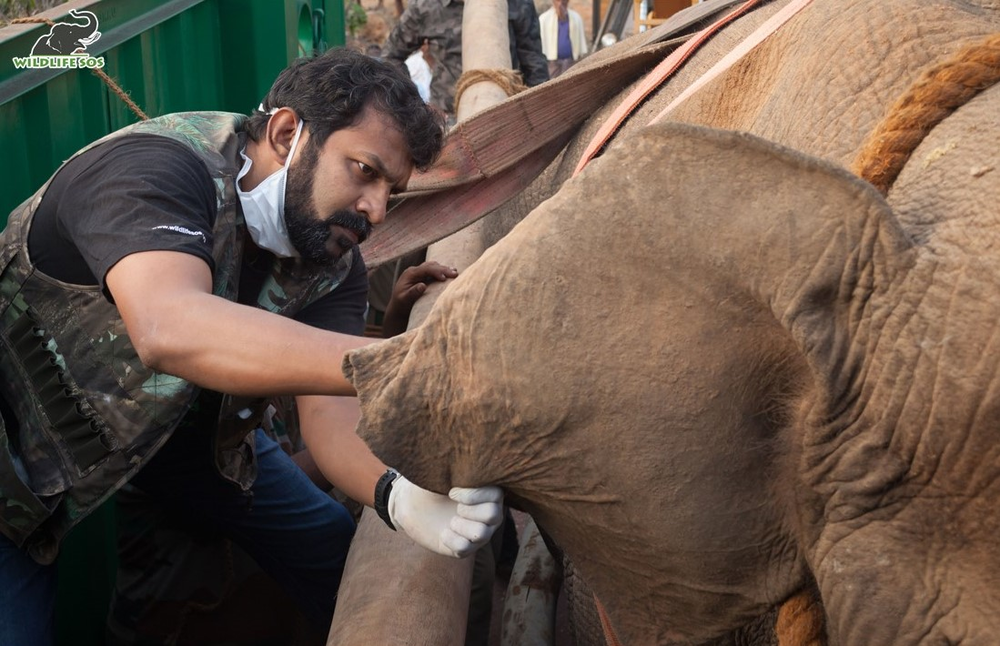 By this successful joint effort by the Forest Department and Wildlife SOS, a potential and serious situation of human-elephant conflict was averted, and an ailing jumbo was put on a road to recovery. As the COVID-19 pandemic makes the nooks and crannies of the country appear as ghost-towns, this dedication, commitment and hard work by the veterinarians of Wildlife SOS as well as the team of Tamil Nadu Forest Department stands out to truly inspire one and all!