It has been a month since the arrival of Holly at the Wildlife SOS Elephant Hospital, and since then a lot has changed for her. Having spent nearly six decades of her life begging for alms on the streets, Holly's health was severely neglected and compromised. Today she is finally receiving the critical medical care that she was in dire need of.
Being chronically blind in both eyes, the new surroundings and voices that she was encountering were initially daunting to her. We tried not to overwhelm her and let her take her own sweet time to adjust to this major change in her life. Being the intelligent girl that she is, she soon realized that she was at a safe place and had nothing to fear.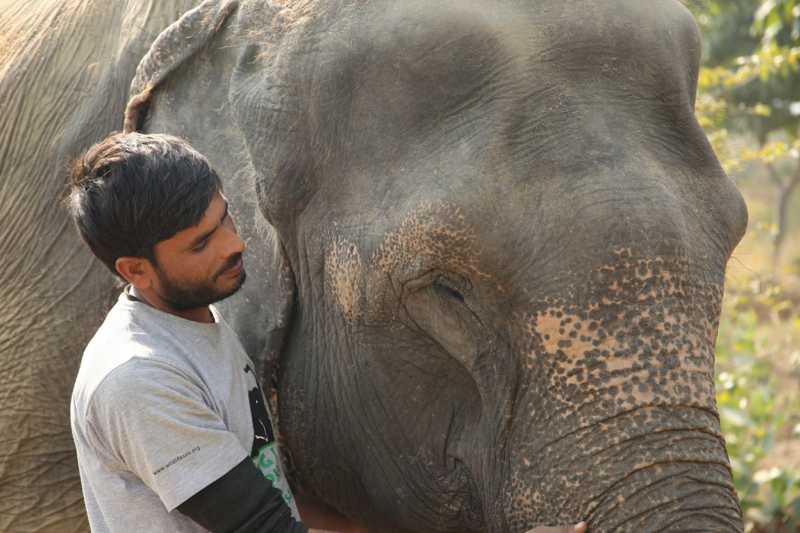 She has slowly grown fond of her keeper, who is always ready to comfort her with soothing words and of course, her favourite bananas and papayas.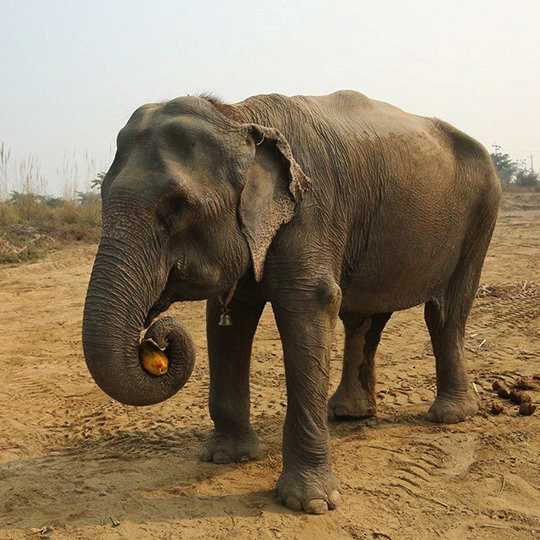 Gaining Holly's trust has played an important role in facilitating her smooth treatment. Just like every other begging elephant in India, Holly was worked to the point of over-exertion that completely shattered her body.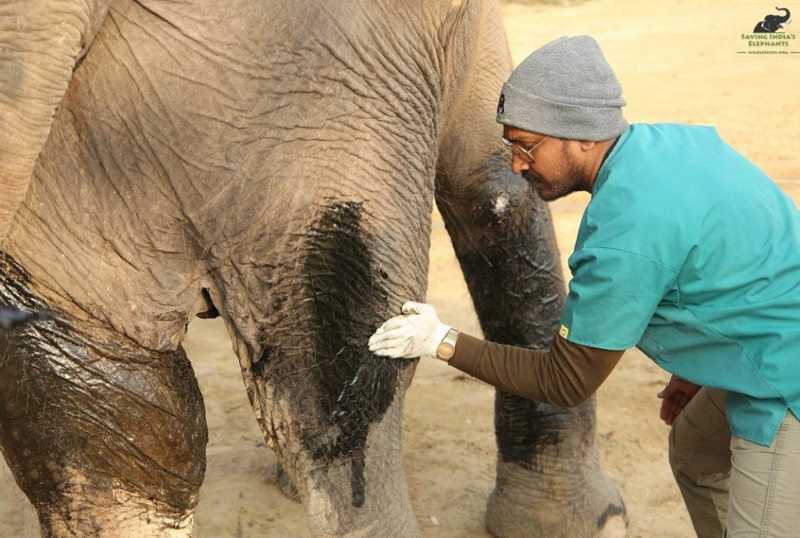 Watching Holly walk was a sorry sight- her gait was abnormal and her hind leg joints made a strange noise. Diagnosing the medical condition of her legs became our team's utmost priority. The vets found out that she was suffering from stiff joints and severe arthritis in her hind legs, probably as a result of walking on hot concrete for long periods. The team wasted no time in treating her stifle joints with cold laser therapy.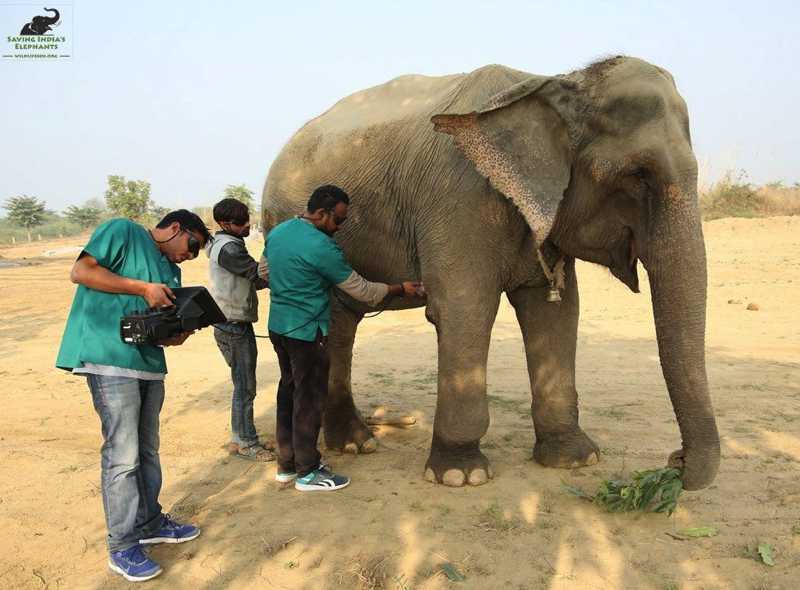 She has taken an immediate liking to her therapies as they bring the much-needed relief to her weary and over-worked limbs that she was denied for many years.
Holly's body is covered in several wounds that are remnants of her stressful life. Not only does she have untreated abscesses on her elbows, but she has septic open wounds as well. Providing timely treatment to for her septic wounds was absolutely essential as the risk of the infection spreading to her bones was grave. As such, we are now treating her with anti-biotics to contain the infection and other topical medicines that the veterinarians use to dress her wounds daily.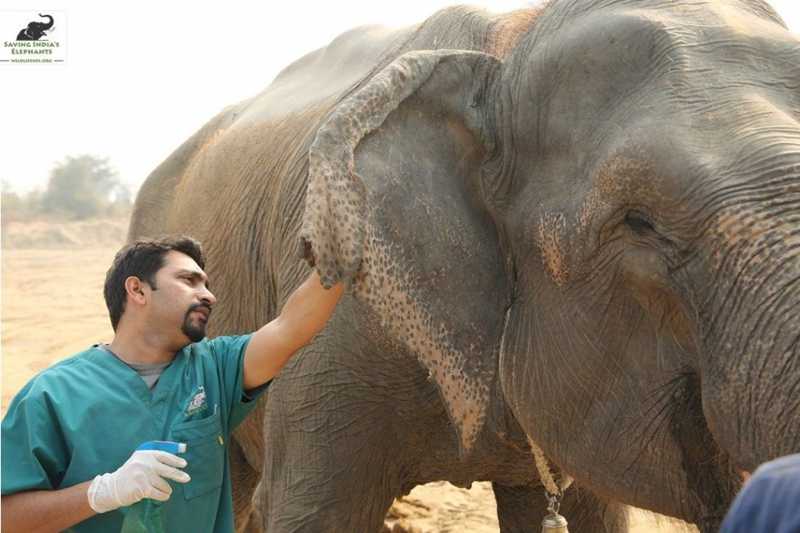 At Wildlife SOS we believe that a healthy diet is an essential component for any treatment to be successful. Having suffered from prolonged malnutrition, Holly's body is deficient of vital vitamins and minerals that are essential for her well-being. She has been relishing on a healthy diet consisting of fresh sugar cane and seasonal fruits and vegetables. She is also being fed a protein rich snack made using raggi flour, that her keeper cleverly uses to hide her general multivitamins in. She has additionally been put on vitamin E and calcium supplements to help strengthen her weak bones. The team has been careful in trying not to overwhelm her gut lest it becomes stressful for her, and as such any additions to her diet have been slow and gradual.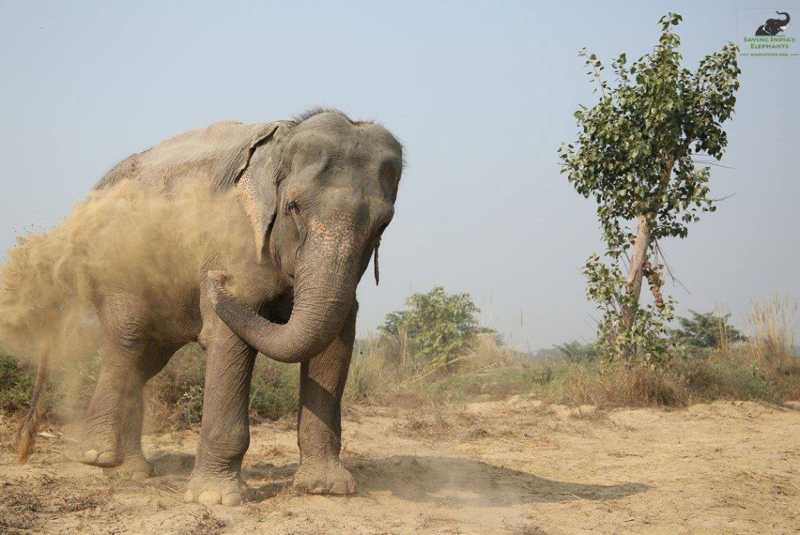 With ample dust around for her to enjoy, Holly absolutely loves giving herself dust-baths while basking in the warm winter sun. Spending her time on the soft earthy surface is also good for her feet as it prevents her arthritis from further deteriorating. She prefers to keep to herself to soak in the peacefulness of her surroundings. She has slowly become confident in herself and does not shy away from going on walks with her keeper and exploring the new smells or textures that she might encounter on her way.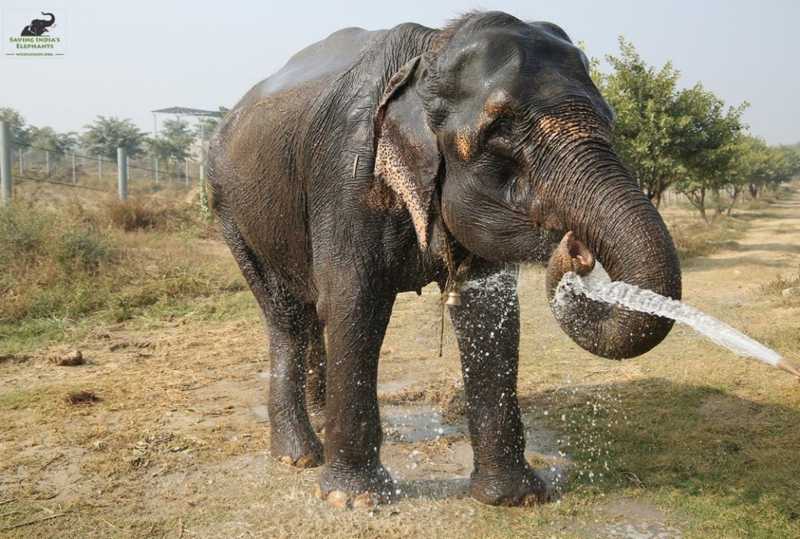 Although Holly has a long journey ahead of her before she recovers from the physiological and psychological trauma that she had suffered for decades, her first month at Wildlife SOS is an important milestone for her recovery. We are grateful and honoured to be able to provide this beautiful pachyderm with the care and love she deserves.