The newest member of our pachyderm family, Lakshmi, continues to settle in her new home, surrounded by love and care provided by our dedicated team. We think now is the right time to draw your attention to the two (very different) elephants – Laxmi and Lakshmi. Due to the same pronunciation of their names, we understand where your queries lie. Both come from a life of complete apathy, facing abuse and torment each day from their captors. Broken, starved, and neglected in their past, their lives took a 180-degree turn the moment they took their first steps towards freedom at our centres.
Despite the heartbreaking similarities of their past lives, these two elephants are unique in their own ways. Here we are with an outlined set of differences to clear any and all confusions that you may have.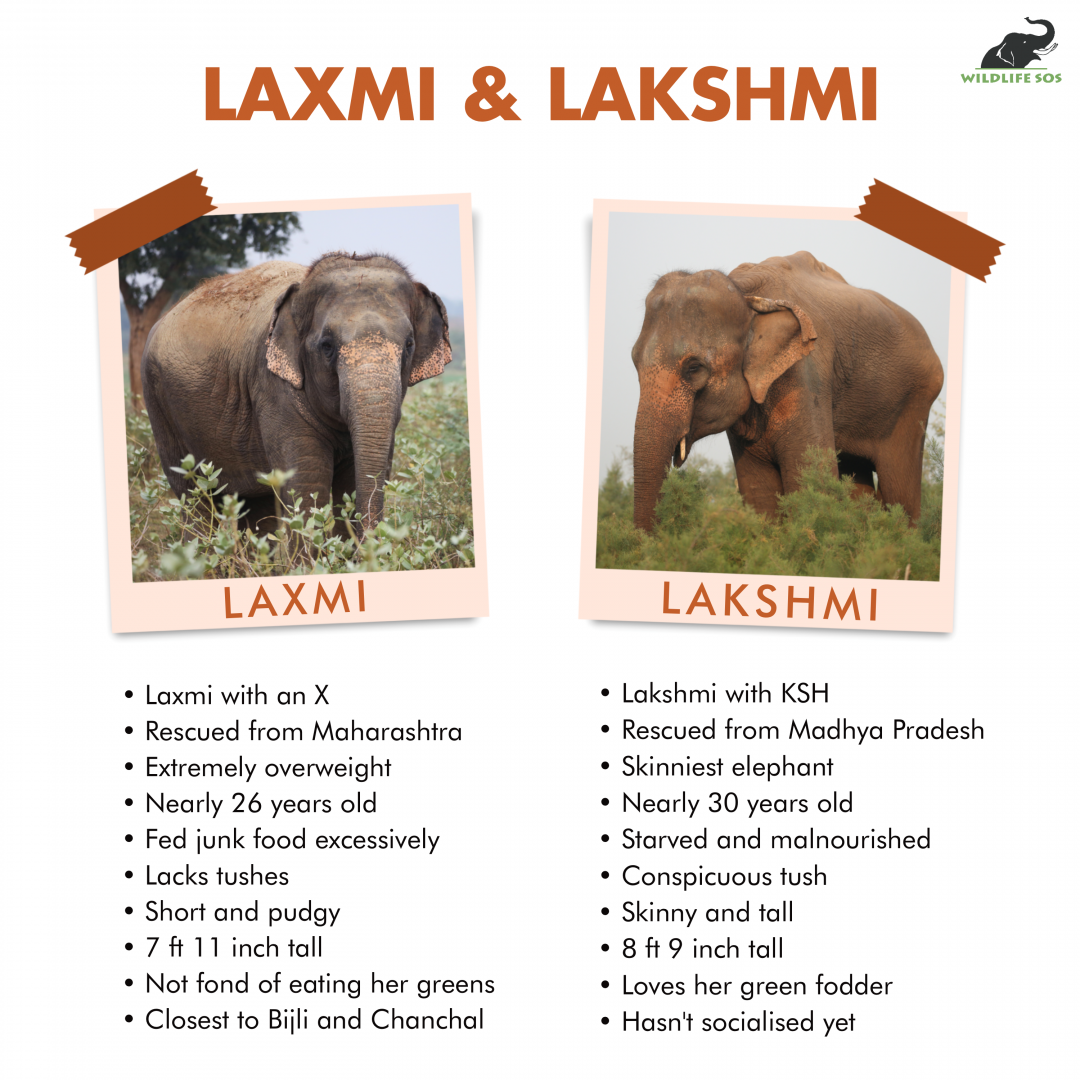 Names
First and foremost, the two elephants have slightly different spellings of their names. While the new Lakshmi is spelled with KSH, the older one has an X in her name. Both names are of Indian origin, referring to the Goddess of wealth and good fortune. The terms are generally used for prosperity, a sign of good luck, and success in Hindi. They are also quite popular names for girls, as it signifies auspiciousness in the Hindu tradition.
Amongst the Wildlife SOS community, Laxmi is popularly called the "Munchkin of Wildlife SOS" due to her plump and pudgy stature. Lakshmi, on the other hand, has been proclaimed as "India's Skinniest Elephant."
Physical Features and Personalities
LAXMI – An extremely overweight elephant, she is nearly 26 years old. Standing 7 ft 11 inches tall, she is relatively short and chubby. Depigmented borders of her floppy ears are also one of her unique features. At the time of her rescue, Laxmi weighed nearly 5000 kgs and is currently about 4580 kgs. Brimming with exuberance, Laxmi has an extremely delightful and playful personality. Generally a spirited pachyderm, her caregivers have even described her as moody and stubborn. Laxmi's closest companions are Chanchal and Bijli.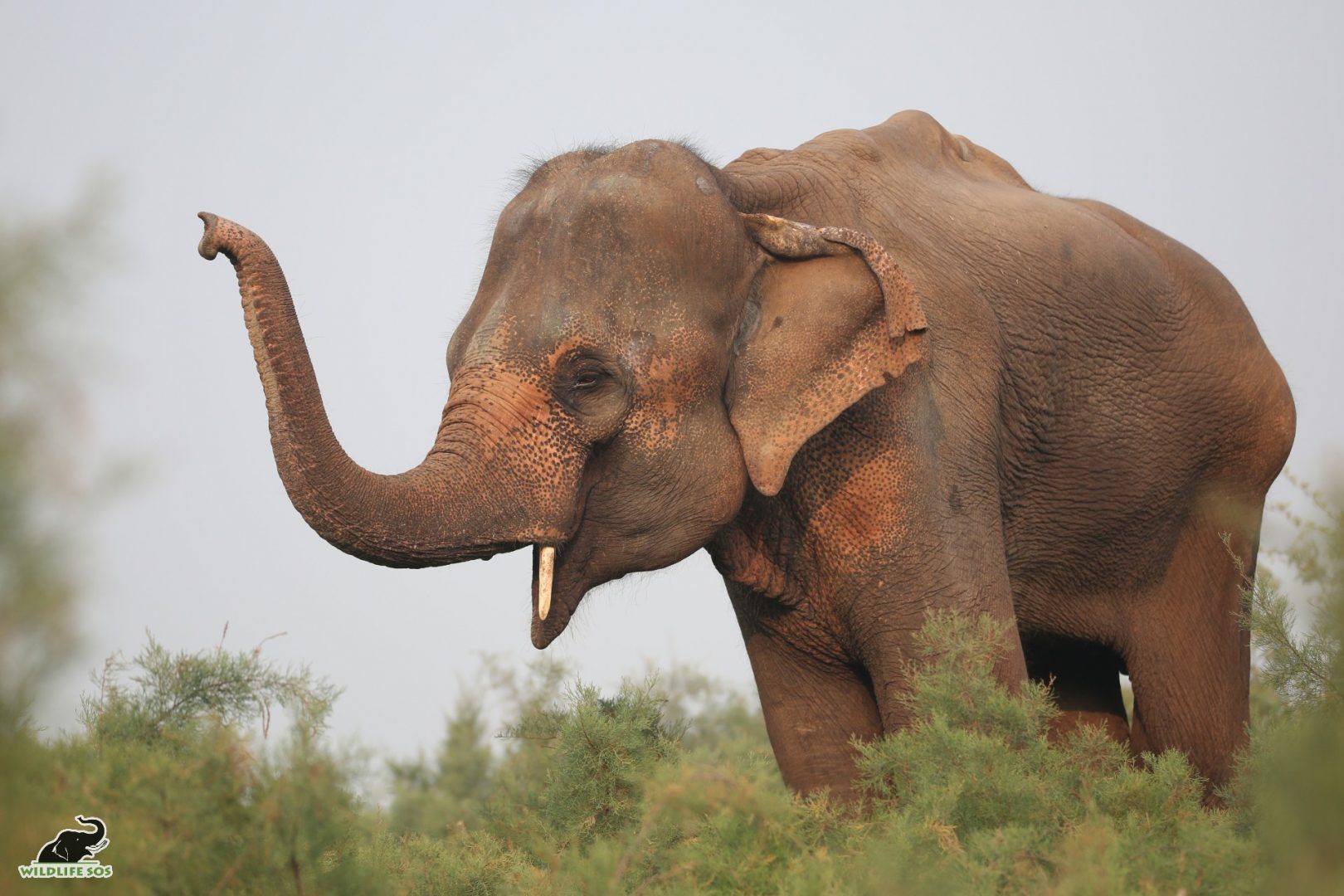 LAKSHMI – Nearly 30 years old, Lakshmi stands 8 ft 9 inches tall. Her altered gait and lean structure are distinctive. Weighing almost 2900 kgs, she appears emaciated and skeletal, standing true to her title as India's Skinniest Elephant. Lakshmi's conspicuous tush also distinguishes her from Laxmi. She has an inquisitive nature and is still becoming cognizant of her new environment.
Past Life and Rescue
LAXMI – Standing outside the temples of Mumbai, she was compelled to beg for alms. When not begging, she was made to walk on hardened surfaces and had to survive on an unhealthy diet of sweets and fried food items. It is believed that she was fed with over 200 vadapavs or burgers and sweets each day! Needless to say, the excessive amount of junk food led to her gaining weight. During her rescue in July 2013, our entire team was taken aback seeing her mismanaged weight and failing health. Rescued at the young age of 18, Laxmi's rescue was indeed a peculiar experience.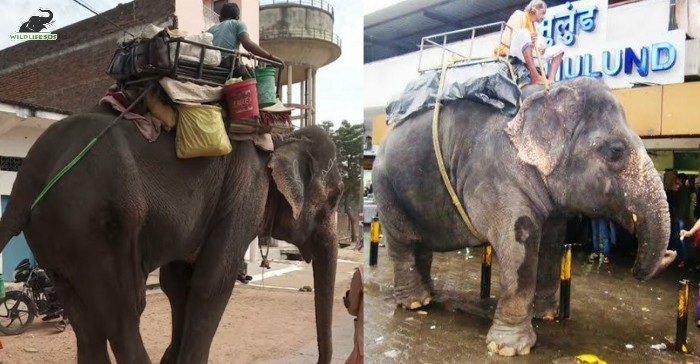 LAKSHMI – Made to beg and walk miles on hot tarmac roads, Lakshmi was rescued from the streets of Madhya Pradesh. She was starved and malnourished to the point that her bony structure was evidently visible. Soon seized by the Forest Department, she was given shelter at the Department's premises in Bada Malhera, Chhatarpur district. Keeping her deteriorating health and critical condition in mind, the Bada Malhera Court ordered her permanent rehabilitation under Wildlife SOS. Due to the much-needed medical attention and special care, our team had to act immediately by travelling all the way to Madhya Pradesh to safely bring Lakshmi to the Elephant Hospital.
Health Conditions
LAXMI – The copious amount of unhealthy food took an expected toll on her health – Laxmi was barely able to stand without support. Endless hours of walking on the busy streets of Mumbai took a severe toll on her delicate footpads and resulted in aching limbs. Moreover, she developed severe osteoarthritis at an early age due to her unnatural and rapid weight gain. Ever since she was brought to the Centre, our veterinarians were concerned about how her weight has been adversely affecting her internal organs, limbs, and joints. The staff made it their priority to reduce her weight to avoid any pulmonary diseases and further severity of arthritis. Her weight was managed by mapping out and planning more exercises and meals with large proportions of green vegetables and fodder. Daily walks are still included in her exercise and health care regime.
LAKSHMI – As a result of severe neglect and abuse, Lakshmi now suffers from serious issues like chronic abscesses, overgrown toenails, arthritis, joint deformities, and abnormally deviated limbs. Malnourishment and dehydration have led to her conspicuous bony projection and bulged and protruding spine. Stressed limbs due to fractures near the wrist joint impact her altered gait. The radiography technique suggests osteolytic changes, which indicate the loss of calcium in bones, adding to the difficulty in bearing weight. Our team is offering her top-notch treatment including laser therapy for her joints, massaging of anti-inflammatory medicine, painkillers, and other supplements.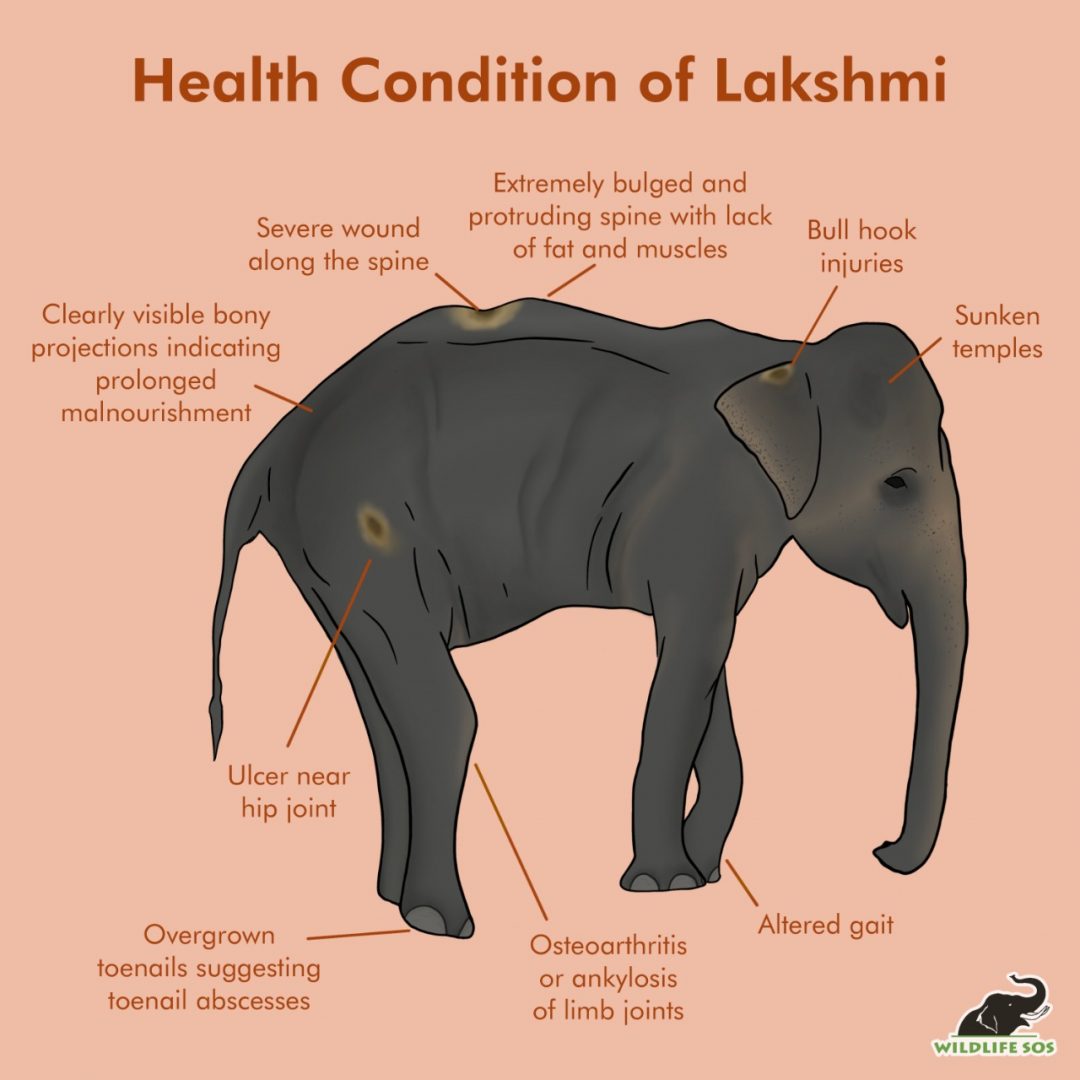 Recovery and Life at Wildlife SOS
LAXMI – Now a resident at our Elephant Conservation and Care Centre (ECCC), Laxmi has come a long way from her life as a begging elephant. She is quite intelligent and uses her dextrous trunk to untie knots of her hay-net enrichment. With time, she has learnt that once unfurled, the food is much easier to gobble. She enjoys her long walks along the banks of the Yamuna river, even engaging in dips during the summer season. Laxmi has bonded with Bijli and Chanchal over the years and the trio enjoys going on walks and splashing about in the river.
With a happy-go-lucky personality, food is her all-time inspiration and motivation. When she gets distracted during her walks, her caregiver lures her with dates and green cherries. It is a well-established fact amongst our staff that Laxmi is not fond of eating her greens. The plan of switching from sweets and burgers to green fodder was a difficult transition for her. She prefers apples, whole bunches of bananas, and watermelons over all other fruits. Lakshmi often displays her dissent with a loud trumpet and faces away from her caregiver. The way to her heart is precisely through her gullet.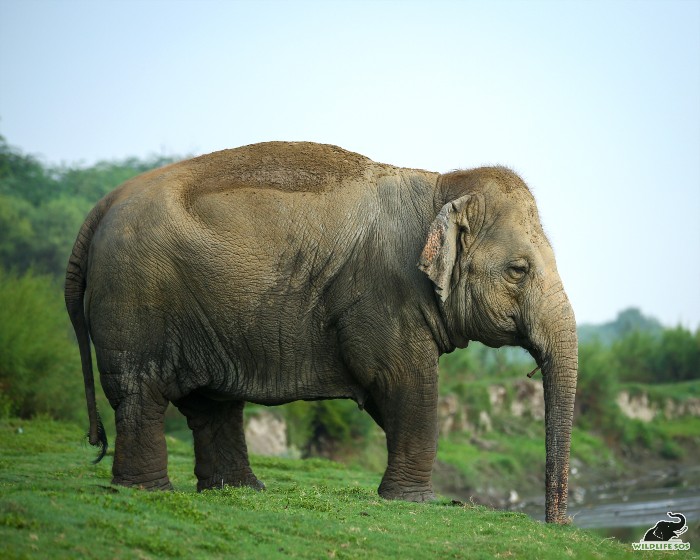 LAKSHMI – Our most recent resident at the Elephant Hospital, Lakshmi is gradually easing her way around the campus. She is navigating her way through daily treatment and routine while discovering new experiences. We have witnessed many of her firsts including the first feast, bath, and walk – all with utmost joy. To keep her physically and mentally healthy, the caregiver and our veterinary staff have meticulously planned a nutritious diet. A well-charted diet and exercise plan is essential for Lakshmi since the team needs to ensure that her body mass doesn't affect her stressed joints.
Since the day of rescue, she has displayed a keen affinity for sugarcane, bamboo leaves, and watermelons. She prefers consuming green fodder and pumpkins over other food items. A special diet for winters including a mix of spices along with jaggery is used to keep her warm and healthy. She hasn't socialised with any of our rescued residents yet. Our care staff and veterinary officers are ensuring her safety and well-being with us.
Regardless of the similarities and differences, aren't the two rescued elephants remarkable in their own elements?