We live in a world where screeching tires and shattering sounds of metal have taken over the harmony of the wild. In this unfortunate reality, wild animals often find themselves at the mercy of expanding human infrastructure and the roads connecting them. Massive vehicles are now predators in concrete jungles, and animals, big or small, often fall prey to them. One of the major victims of road accidents are elephants. Wildlife SOS has often been beckoned to rescue these gentle giants that were struck harshly by vehicles. These elephants have been found with shattered bones and broken spirits, and such profound impact has changed the course of their lives.
In India, over 2,600 elephants continue to live in captive conditions as they beg for alms and entertain people. These elephants are susceptible to the danger posed by the several roadways that have come to exist. Road accidents pose a significant threat to elephants, often resulting in severe injuries with long-lasting consequences. We explore the physical and internal damage caused to elephants as a result of road accidents, as well as the treatment methods employed by our veterinarian officials to aid their recovery.
Impact of Road Accidents on Elephants
Fractures, internal bleeding, and organ rupture have been detected in elephants rescued from road accidents, and these require specialised care and attention. As an initial assessment, the injured elephants undergo an X-ray examination to determine the location and extent of bone fractures, if any. With their massive size, obtaining clear X-ray images can be challenging, but it is crucial to identify broken bones, especially in their limbs.
If fresh wounds are devoid of maggots, they are typically treated by flushing (washing out with a stream of fluid) and allowing natural healing. However, if maggots or worms are present, an anti-maggot spray is applied, followed by thorough wound cleaning. In the case of wounds that are infected with pus, topical aeration is employed to aid external healing. Additionally, swabs are taken from the wound to assess the presence of microbes, and an antibiotic sensitivity test (AST) is carried out to determine the appropriate course of treatment. Antibiotics are administered for a specified duration, typically ranging from five to 15 days, to combat infections systematically. Given how thick the skin of pachyderms is, wounds may take up to three months to completely heal. While external injuries are visible, the true extent of internal injuries can remain largely unknown. Road accidents can cause severe damage to elephants' internal organs, such as the lungs, leading to ruptures and other life-threatening complications.
Hydrotherapy plays a crucial role in rehabilitating elephants who have been in lateral recumbency (the inability to get up after lying down on one side) for extended periods. It helps improve blood circulation, alleviates numbness caused by reduced circulation, and aids in the prevention of bedsores. Elephants generally have uneven weight distribution; 60% of their body weight is borne by their front limbs and 40% by their hind limbs. Thus, any damage to the forelimbs significantly impacts the elephant's natural gait. Class IV laser therapy provided by our veterinarians has proved beneficial in healing wounds and managing fractures. Laser treatment boosts healing and reduces swelling.
In the past, our team has provided a similar course of treatment for elephants like Siddha, Mohan, and Moti. Currently, the veterinary staff is caring for Bhola and Chanchal, both of whom survived traumatic road accidents.
Bhola's Second Chance at Life
Bhola, an extraordinary bull (male elephant), faced a large share of hardships before finding solace and care at the Wildlife SOS Elephant Conservation and Care Centre (ECCC). For years, Bhola was forced to endure a life of begging, navigating narrow village streets while being cruelly prodded with a bullhook. Deprived of basic necessities, the elephant's suffering was further intensified by his malnourishment, impaired vision, and advanced age.
One disastrous night in 2010, Bhola's owner illegally took him on a journey across state borders along a dimly lit highway. Tragically, a speeding truck collided with Bhola, leaving him gravely injured. Bhola was fighting for his life, yet, he held on, summoning every ounce of strength. The Wildlife SOS rescue team arrived to provide the care and medical attention he desperately needed. Bhola has called ECCC his home for nearly 13 years now, and each passing day marks a milestone in his remarkable recovery.
The accident had left Bhola with multiple wounds, abscesses, several broken bones, and a degenerative joint condition. His body was found covered with chronic and infected abscesses on the right side of his hip, both his elbows, his thigh region and at the base of his ear, along with his mandible region. Initially, the bull also required mechanical support to be lifted each time he would lie down, as his weakened legs could not support his weight.
Since his arrival, Bhola's specific needs have been addressed by the dedicated veterinary team at Wildlife SOS and a specialised treatment plan has been devised for him, which also includes a carefully tailored diet. The veterinarians at ECCC continue to provide him with medicated foot baths with Epsom salt to heal his injured foot pads and prevent maggot infestations. A paste comprising antibacterial materials like neem leaves and turmeric is applied to his abscesses to facilitate healing. Throughout these treatments, Bhola's caregiver offers him comfort and reassurance with treats like raw bananas and roasted nuts as part of his positive conditioning.
Chanchal's Unbreakable Spirit
Chanchal's journey at ECCC began almost 11 years ago when our team rescued her after a tragic road accident in Noida, Delhi NCR. A speeding truck without reflectors had hit two elephants — killing one on the spot, and leaving the second, Chanchal, with major internal and external injuries. Our medical team immediately attended to her wounds and carefully pulled out the metal nails, shreds of glass, and shrapnel that were lodged inside her skin. Chanchal arrived at the centre, battered and bruised. Her physical wounds included a permanently damaged hind leg. Weak, malnourished, and traumatised, Chanchal had injuries on her entire body and a gash on her right knee. She was unable to bend her hind limb due to a possible ligament tear that caused her extreme pain.
Much like other rescued elephants, the pachyderm displayed signs of stereotypy such as head-bobbing and pacing. Stereotypic behaviour reflects the stressful conditions elephants have endured. However, with the dedicated care and treatment provided by the veterinary team, Chanchal slowly began to feel comfortable. First and foremost, her chronic hind limb injury was tended to using local anti-inflammatory medication. Along with this, she was provided with medicated foot baths using lukewarm water containing Epsom salt and turmeric. These techniques provided her relief and healed Chanchal's wounds effectively.
Over the past decade, Chanchal has found companionship and support in Bijli and Laxmi, and the three pachyderms are inseparable. While she experienced extreme physical distress due to the accident, this friendship helped her to recover from the trauma that Chanchal had faced. The veterinary team conducts regular medical checkups to ensure her well-being and protection from any parasitic infections and administers necessary supplements and feed additives. Chanchal also receives toenail trimming which helps maintain healthy cuticles and reduces discomfort caused by torn foot pads. Although her hind limb injuries cause pain and make extensive walking challenging, the pool is where she experiences comfort. Chanchal expresses her enjoyment by splashing water all around!
During one of her initial medical checkups, it was discovered that Chanchal had an internal ear infection called otitis, which causes inflammation. Our dedicated team charted out a comprehensive treatment plan for this. Her ears are now cleaned and dressed regularly, and she receives oral and topical medications to prevent further infection. Furthermore, Chanchal has a corneal opacity in her left eye, which is being closely monitored by our team. Methylcellulose eye drops and washing of the eye with a saline solution are periodically administered to stabilise the condition and maintain her eye health.
Chanchal continues to thrive at ECCC owing to her strength and willpower along with the constant care by our dedicated team of veterinarians and caregivers!
Unfortunately, Chanchal's herd member, Bijli, is also a victim of a tragic road accident. The begging elephant was hit by a large truck, the impact of which left her with an injured hind leg and a diffused joint. Weak and malnourished from the insufficient care she had been receiving, Bijli was found in a critical condition. This collision brought her under the purview of the Forest Department and Wildlife SOS, who took swift action in rescuing her. In 2010, after three decades of abuse, Bijli was rehabilitated at ECCC to receive the lifetime veterinary care she needed.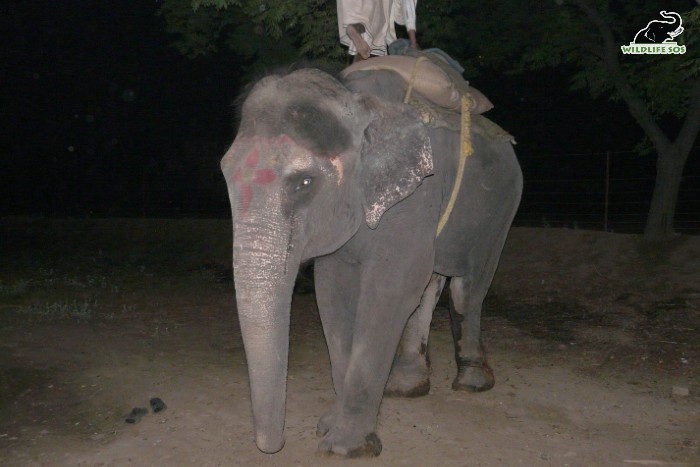 How can you Help?
From a life of pain, abuse, and neglect to one of healing, freedom, and affection, the journeys undertaken by Bhola and Chanchal have become testaments of their resilience. However, it is crucial to remember that not every elephant involved in a road accident survives. Team Wildlife SOS remains unwavering in their commitment to providing comfort and care to these victims in their critical moments. In a tragic incident that took place on a highway in Tamil Nadu, a 40-year-old tusker elephant suffered a fracture in the hind limb when he collided with a container truck. The Wildlife SOS team operating out of the Bannerghatta Bear Rescue Centre was contacted with the Tamil Nadu Forest Department for medical and radiography assistance.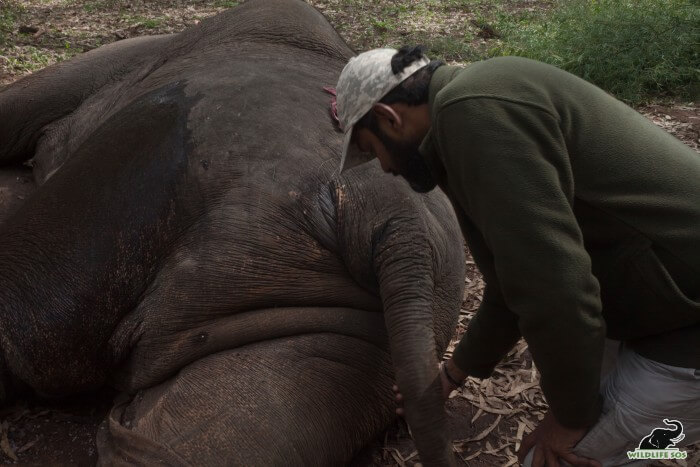 Wildlife SOS has launched a petition that urges the government to take necessary measures in safeguarding all captive elephants. Our earnest plea is to reinforce bi-annual physical verifications of privately-owned elephants and their owners to ensure that the latter can provide adequate care for the elephants and maintain their well-being. Additionally, we propose a mandatory submission of certificates of health issued by veterinarians as a prerequisite for maintaining ownership rights.
Wildlife SOS offers complimentary training and workshops on elephant care and evaluation at our facilities to increase the number of qualified veterinarians and enhance medical access for elephant owners. By lending your voice and signing our petition, you can contribute to seeking justice for these elephants who continue to lead their lives in captivity. If, like us, you wish to make a significant difference in the lives of Asian elephants, sign the petition today.