Two men driving a transport truck reach the outskirts of Agra city only to be stopped by a few police officials on duty. The unsuspecting men are asked to step out of the vehicle to produce their licences and permit papers, while another officer goes around inspecting the vehicle.
He sees over a thousand domestic ducks stuffed into tiny cages and immediately informs the rest of the officers. Upon further questioning, they learn that the ducks were being transported from Karnataka and were being taken to a slaughter house in Uttar Pradesh. Moreover, the truck failed to fulfil the standard requirements of motor vehicles transporting livestock under the Bureau of Indian Standards. The men were immediately taken into police custody and a case was filed against the transport company for violating the Motor Vehicles Act 1988 as well as for breaching the guidelines stated in The Prevention of Cruelty to Animals Act, 1960.
In the meantime, the police department contacted the Wildlife SOS team based in Agra and requested them to keep the ducks under their safe guardianship till the court gave its final verdict regarding the case at hand. Initially, there were about 2100 ducks, but unfortunately only 1839 survived the brutal cross country journey and the rest were found dead at the time of their seizure from the transport truck.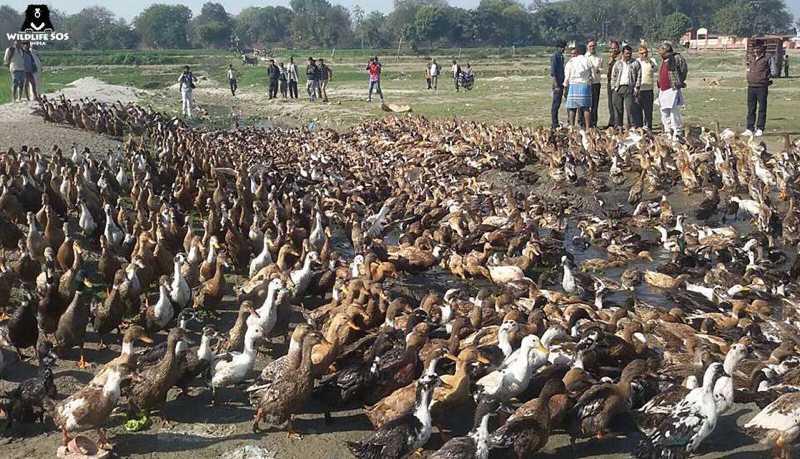 The traumatized and starving ducks were transferred to the Wildlife SOS rescue facility in Peprot, located a few kilometres away from the Bear rescue facility. Here they were set free from their tiny inhumane cages and were released into a big open field. It was quite a remarkable and heart-warming sight to watch them run about the field enjoying their new found freedom and relishing the feed that our team prepared for them.
Our team of veterinarians conducted a general medical check-up for all the ducks to ensure that they didn't sustain any injuries and have them under close observation to monitor their health. They will continue to remain under our care and protection till the court settles on a suitable decision regarding the case.