The ever-changing landscape in Kashmir has been a leading cause of human-leopard conflict in that region. However, conflict is not a new scenario. The primary reason behind more cases getting highlighted is the advent and reach of social media. Earlier, the number of conflict cases highlighted were not as frequent as they are today, and this is a direct result of increased social media presence and a more active role of traditional media.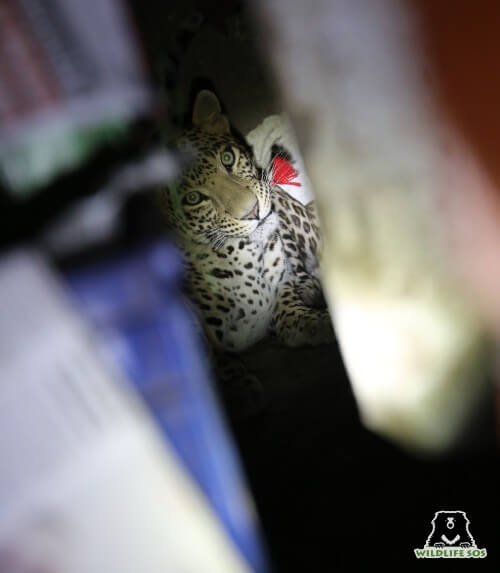 Based on the frequency of incidents occurring in this landscape, Wildlife SOS understands that the North division of Kashmir is more prone to leopard conflicts. The reason behind this is actually not that complex, and that is what we will attempt to break down here.
Understanding the Changing Factors
The landscape in the North division is a prime and suitable habitat for leopards and the area is also adjoining the India-Pakistan frontier. The border area being extremely sensitive due to military presence and landscape modification, the leopards' habitat has been largely fragmented. Due to this fragmentation, the leopard population has become isolated.
The severe habitat fragmentation has made it difficult for leopards to access forests as well, and the natural environment has been left degraded. According to Aaliya Mir, Education Officer and Programmer Head – Jammu and Kashmir for Wildlife SOS, this is the biggest hurdle to tackle human-leopard conflicts in the North division. Earlier there used to exist a buffer land between the forests and human settlements in this region, which has disappeared now. Gradual human encroachment has taken over the land, which has put the settlements in direct contact with the forest area. Now hardly any gap exists between the forest and the human habitations, and it is difficult to even distinguish that thin line clearly.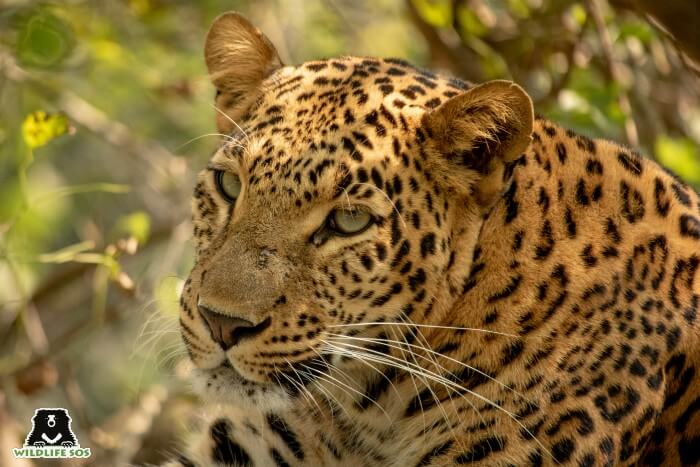 The landscape in Kashmir is therefore dotted with houses and villages in a scattered manner, including the foothills of the forest. The entire area is the leopard's habitat and being experts in adapting to different situations, they have masterfully managed to navigate these lands. Leopards, by nature, are active hunters; human beings can often appear to them as soft targets in terms of prey. In the villages there, every family has at least one or more cattle whom they take out for grazing. This attracts the leopards and leads to a mistaken attack on people occasionally.
Analysing Causes of Leopard Conflict
This altered behaviour is attributed to a possible decrease in their prey species' population caused by habitat fragmentation and degradation of forests, and for that reason leopards have turned toward human habitations. The year 2022 has been quite intense in terms of human-leopard conflict with a total of five such instances – the highest number in recent years. Despite living with these big cats for such a long time, the locals have scarce knowledge about them, including their active period, and little awareness of what is leading leopards towards their own habitation. Possessing information about basic avoidance behaviour about leopards and taking precautions can help evade conflict.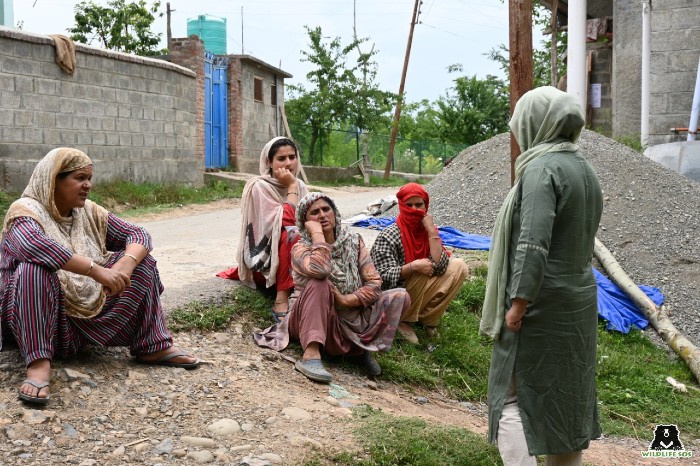 Some locals even claim to have seen 6-7 leopards together, which is a direct contradiction to their solitary nature. Another common understanding among the people is to constantly rely on the government. However, Mir feels that in addition to assistance from the government, people can follow Standard Operating Procedures (SOPs), precautionary measures and dos and don'ts to mitigate conflict to a certain extent. The major challenge however is to make the people co-operate and follow these SOPs.
Not following these measures leads to extreme conflict situations, which hurts the leopards more than the humans. When such incidents occur, it is always the leopard who has to bear the brunt as they are declared a nuisance. As a result, orders are issued for these leopards to be caught and a lot of them lose their lives in the process.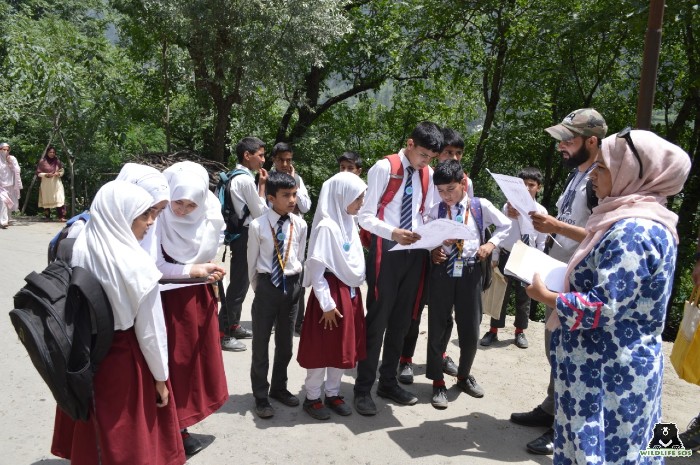 When Wildlife SOS conducts awareness programmes, we provide guidelines on how to avoid confrontation with leopards in the wild. One of the most crucial steps is to keep the children safe by not sending them out alone after sunset, since they might end up becoming soft targets. When it is the question of taking the cattle out for grazing, it is always recommended to go out in groups. Most of the incidents occur because of the failure to comply with these guidelines.
Where We Achieved Success
All is not doom and gloom, and there are areas where Wildlife SOS has seen positive outcomes from their awareness programmes. Education related to waste management is a significant aspect in deterring conflict. The moment people allow waste to accumulate in their surroundings, it attracts stray dogs, and following their trail come the leopards. Clearing excessive growth of bushes is also recommended in the SOPs, as bushes give leopards the perfect place to hide and ambush.
People have been following these guidelines dedicatedly in and around Srinagar. This happened when in 2021, a nursery in Ompora Budgam was left abandoned, thereby facilitating the wild growth of vegetation and creating an ideal leopard habitat. One of the most highlighted incidents involved the tracking of a young male leopard which had been spotted on multiple occasions in different parts of Srinagar. Even though a rescue operation was initiated, constant interference from hostile mobs intending to harm the animal prolonged the process.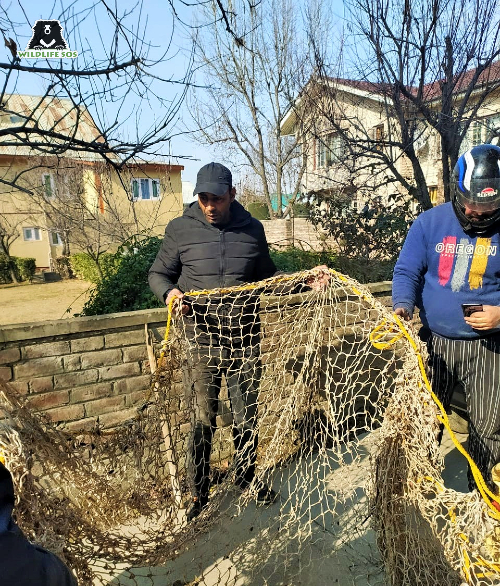 It was only after five long days that the leopard was found in an abandoned house on the outskirts of the town. The rescue team was able to tranquillise the individual from a safe distance. The leopard was deemed to be of good health by the wildlife veterinarian and was later released back into its natural habitat, away from human habitation.
However, the threat of other leopards remained and people needed to be cautioned. Wildlife SOS, along with the Jammu and Kashmir Wildlife Protection Department, Social Forestry Department, Forest Protection Force and other stakeholders, carried out an extensive awareness campaign for nearly three months to control this situation and avoid any untoward incident. It included mapping the entire area, creating various groups and identifying high-risk zones.
Twenty villages were pinpointed, talks were held with the village sarpanch (head) and pictographic flyers were distributed in heavily populated places such as markets, mosques, and busy roads to reach as many people as possible. The team also met local leaders such as counsellors, panchayats and religious heads to increase the extent of the campaign and garner their support.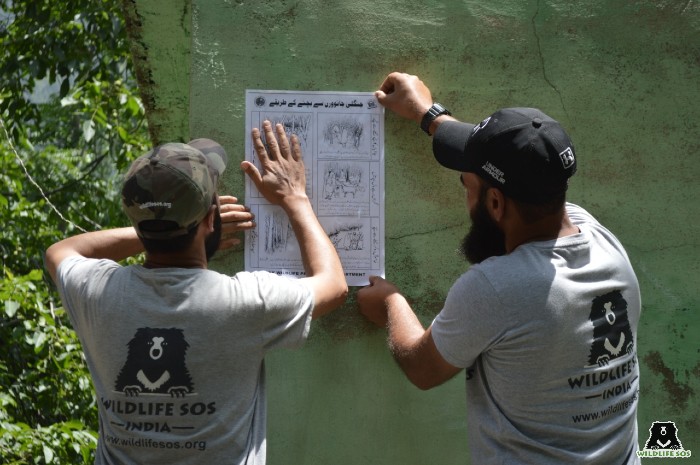 Efforts such as these always create hope for coexistence, along with a pinch of caution. Conflict with wild leopards can often lead to unwanted circumstances, and most of it stems from a lack of education and awareness about this big cat's behaviour. If you are an animal lover or want to contribute to wildlife conservation, you can simply become a monthly donor for Wildlife SOS and support our leopard conservation efforts remotely from your home.